MAX10 Fitness 10-Week Boot Camp:
Fall into Fitness
10-Week Boot Camp: September 10th – November 17th
When you

have fun

working out it won't feel like work!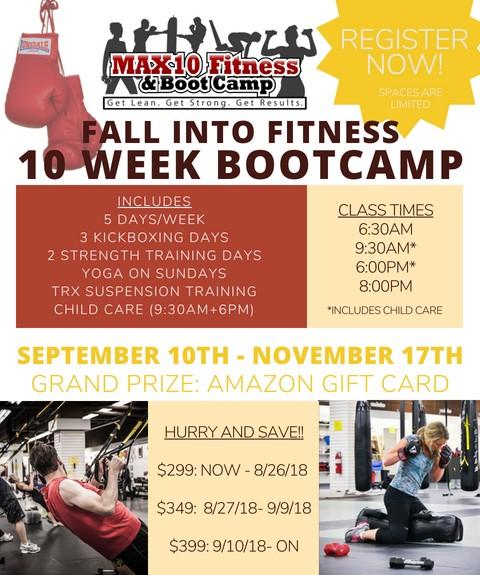 This dynamic fitness boot camp shreds fat with kickboxing and boxing classes and builds and tones muscle with TRX Suspension Training, kettlebells, dumbells, and much more so you burn more calories all day long!
"… FOR THE FIRST TIME IN MY LIFE I ACTUALLY ENJOY WORKING OUT. I FEEL REALLY GOOD (PHYSICALLY AND MENTALLY), CAN SEE AND FEEL CHANGES IN MY BODY, AND AM DISAPPOINTED WHEN I HAVE TO MISS A DAY." GRETCHEN Z.
Each participant is assigned a personal fitness coach to provide accountability, inspiration and nutritional counseling. For women AND men.
Get Lean. Get Strong. Get RESULTS!
This fitness boot camp is going to be 5 days a week, Monday-Friday or Saturday.
TIMES:
Here are the 4 time options:
6:30am
9:30am (Childcare provided)
6:00pm (Childcare provided)
8:00pm
DETAILS: (What's Included and What to Expect)
Focus on Fitness, Weight-Loss and Fun * Free Gloves * Small Group Training * Private Facebook Group * Prizes * Weight and Measurement Tracking * Group Camaraderie * Bootcamp Coach for Nutrition and Motivational Support * 5 Classes Per Week * Kickboxing, Strength, TRX and Circuit Interval Training *
If you need more information visit our registration page.
Don't wait because these prices won't last and sessions DO SELL OUT.
PRICE:
$299* – Early Bird Registration (Now – Aug. 26th)
$349 – Pre-Registration (Aug. 27th – Sept. 9th) *
$399* – Registration (Sept. 10th – On)
Register HERE now.
* Terms & Conditions: Online only. While supplies last. Must be used for Sept 10th – Nov 17th Boot Camp. No refunds. Can be gifted to a friend.