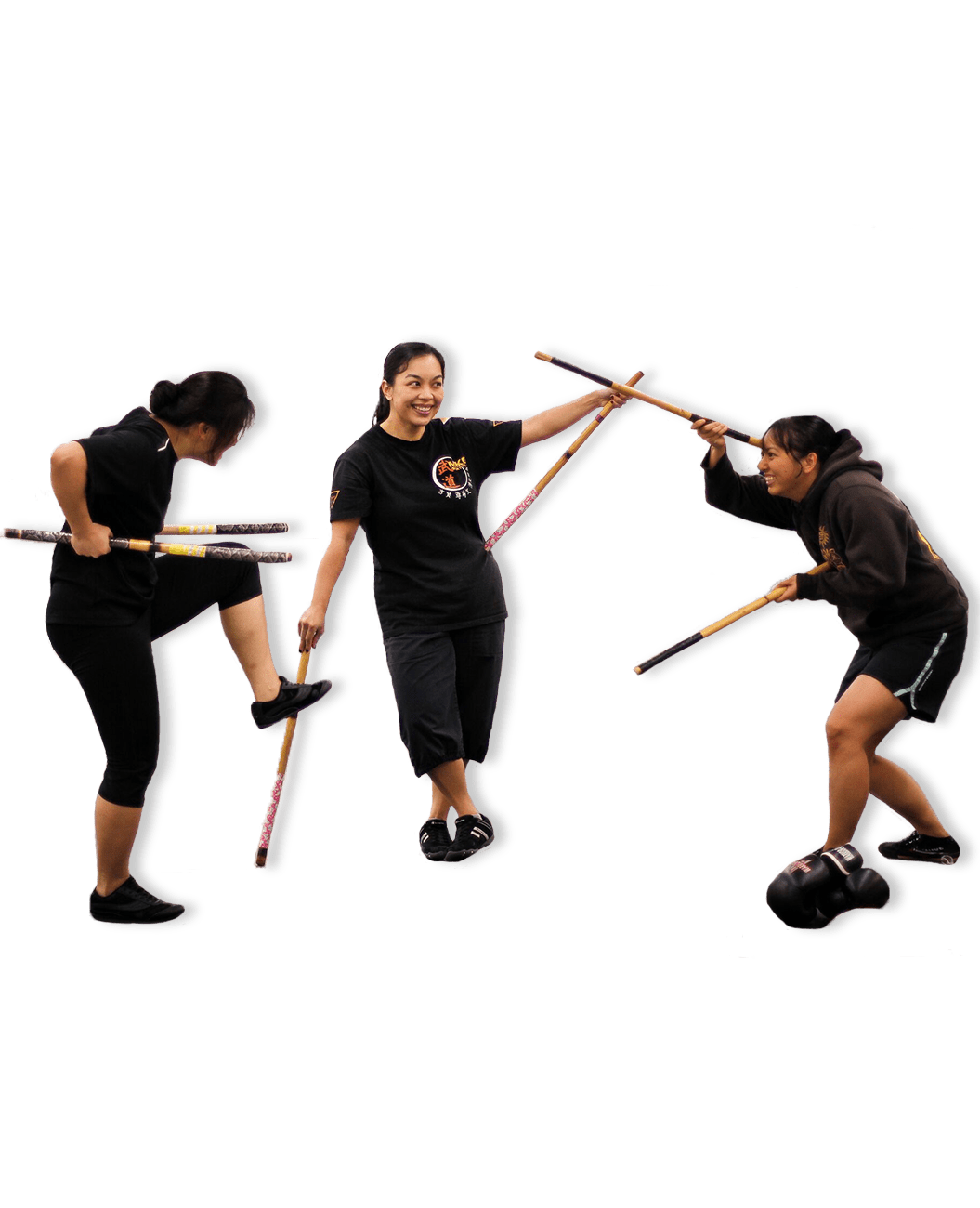 The art that accelerates your development
Kali and Filipino Martial Arts
The namesake of MKG Seattle, Minnesota Kali Group Seattle Branch, the Filipino martial arts are known by many names but most commonly Kali, Arnis or Escrima. At MKG you will hear it referred to simply as Kali, Kali Weaponry or Kali Panantukan. Kali is an ancient word that serves as an umbrella term for all the Filipino martial arts. The word itself translates as the study of "Body Motion".
While FMA starts with weaponry we emphasize the 'fun' factor and always teach with a sense of humor and irreverence.
Things you will learn
Here are a few things you will learn when you take MKG's Kali classes

Kali curriculum is an art in itself but essential for self defense
Although the base of the system is in weaponry, its empty hand systems feature some of the most sophisticated techniques and training methods in existence.  The weaponry training covers a wide spectrum featuring stick, blade and knife as well as flexible weapons and weapons of opportunity.  Weaponry training in our Kali classes emphasizes safety first.  Movements are broken down into easily learned segments.
Kali is famous for its flow drills that are both fun and give a real feel for the movement and speed of combat.  You will be given the ability to perform techniques such as counters, disarms, sweeps and locks in real time.   Kali, like its modern cousin JKD, is an interpretive art.  This means that each student will come out of the training slightly different and with the freedom to adapt the art to their own bodies.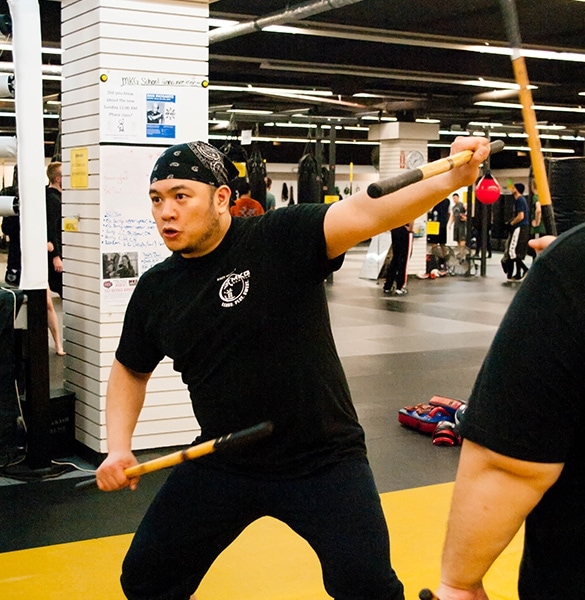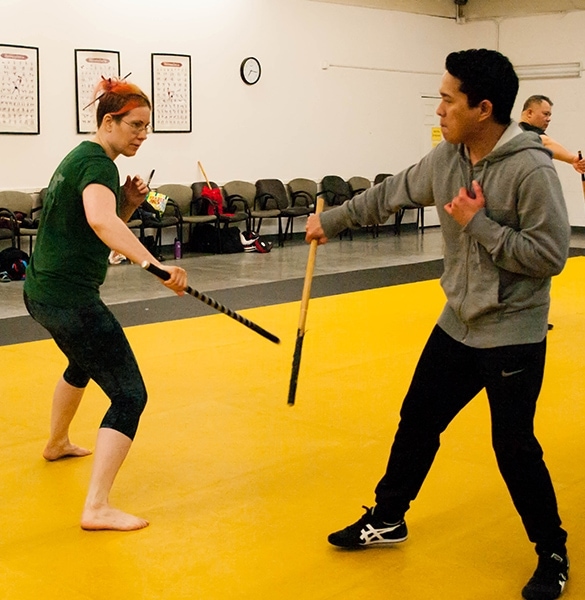 Highlights or our Filipino martial arts classes
Absolutely essential for a true martial artist our study of the Filipino Martial Arts involves the combative motions and their applications.  The training is safe, exciting and practical.  Benefits include:
Classes are intellectually and physically stimulating to the martial artist at any level.
Personal exploration and discovery, coordination, balance, self defense, health and fitness are just a few benefits of this beautiful and functional art.
Appropriate for students of all ages and abilities.
Kali Seattle seminars and workshops have included Guro Dan Inosanto, Guro Rick Faye, Grand Tuhon Nene Tortal, GM Tony Somera and more.  Styles include Inosanto Lacoste Blend, Pekiti Tersia, Doce Pares, Sayoc Kali…
Give us a call at 206-789-2411 or click on the Get Started Now button below for more information.
Primary Filipino Martial Arts Influences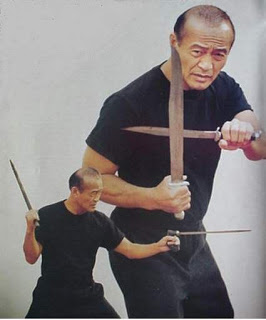 Our primary method is the Inosanto Lacoste Blend as taught by the legendary Magulang Na Guro Dan Inosanto and one of his highest level representatives, Guro Rick Faye.
In the US as long ago as the 1500′s, the Filipino Martial Arts have something to benefit everyone.  The Filipino martial arts taught at the Inosanto Academy are drawn from 26 primary sources, the instructors who Guro Dan Inosanto has spent his life training under.  With influences such as the late Grandmaster John La Coste, Guro Dan has developed a program that introduces students to 12 main areas, including, but not limited to single stick, double stick, stick & dagger, double dagger, panantukan (Filipino boxing), Sikaran (Filipino kicking methods), Kuntao & Silat.
Developed for "mass attack" as well as single opponent confrontations, the training heightens student's awareness of their surroundings and teaches them to use their environment as tools of combat.  Everyday objects, such as umbrellas, books, bandannas, etc., become effective means of self-defense in the hands of a properly trained individual.  Use of left and right hand techniques develop coordination.  Drills and techniques taught in a fluid, non-restrictive manner allow students to enhance their natural attributes and improve their sense of timing, speed, awareness, balance, agility, and confidence.
We are the area representative for LSAI under Master Jon Escudero.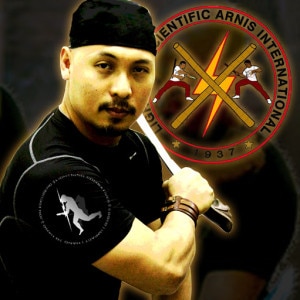 Lightning Scientific Arnis International is the organization of one of the  Classical Filipino martial arts, established and developed in the Philippines, by Grandmaster Luna Lema in 1937. This is an espada y daga serrada system which puts emphasis on the powerful and swift use of sticks and specializes in the use of stick/sword and knife.  The name "Lightning" was attributed to Mang Ben since he was fast and strong like lightning. He would close the range swiftly and hit so powerfully that the shock was very much like a lightning strike, and just as surprising. Mang Ben said he chose the name since the stick is very quick and the techniques are unexpected.  "Scientific" was given because the system was developed, tested and researched in numerous fights. Also, his successor Master Elmer Ibanez held a degree in Human Kinetics and inserted into the system a scientific approach using knowledge of physiology, methodology, anatomy etc…Thus the training was based on scientific principles in order to reach maximum performance.  "Arnis" – Filipino martial art, based on weapons, gradually up to empty hand.
Lightning is known for its power generation techniques, as well as the fast stick work and body movement. Also, the specialization of espada y daga, two weapons of different lengths in each hand. Originally real swords and knives were being used, however today we use sticks and training knives for safety.
This FMA style created and taught by the late Grandmaster Leo Giron. (and his successor Grandmaster Tony Somera)  Here is a short background of the man and his art.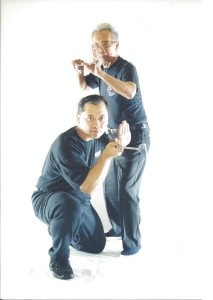 A World War II veteran that knew how to use his weapon and will be always remembered as a great man, a humble man, with dignity, love in his heart, a living legend and martial art icon.  On September 24, 1942 he was inducted into the United States Army and attached to the 2nd Filipino Infantry Regiment and later assigned to the famous 978th Signal Group and The Allied Intelligence Bureau.  This was a select group of men that served as secret operatives for General Douglas MacArthur deep in the jungles of the Philippines.  Then Sergeant Leo Giron would be dropped behind enemy lines by submarine nearly one full year before any America soldier would set foot on Philippine soil to lead a group of American and Philippine soldier's through the most hazardous conditions of Would War II .  Their assignment was to search out the enemy, extend lines of communication, secure vital weather data and obtain military information; and not to be detected by the enemy.  Many encounters are documented in the United States Library of Congress in Washington DC.  Because of his contributions during World War II Sergeant Giron would receive, The Bronze Star Medal, The Philippine Liberation Ribbon, The Asiatic Pacific Campaign Medal, The American Campaign Medal, the World War II Victory Medal and a letter of commendation ordered by the President of the United States of America.
After the war Giron would return to Stockton, California to raise a family.
It wasn't until 1968 that Leo Giron would open his first licensed Bahala Na club in Tracy California primarily because of  a tragic knife attack on the East coast that had killed several nursing students, most of them Filipino women.  He was enraged because if they had only known some self defense they could have at least tried  to subdue this maniac.
In 1970 Grand Master Leo M. Giron and wife Alberta would move to Stockton along with his Bahala Na Club.  And in 1973 the first student to graduate from his system would be Stockton born Dan Inosanto along with martial art greats such as Dentoy Revillar, Richard Bustillo and Ted LucayLucay.   Grand Master Giron's contributions to the Filipino Martial Arts in general were enormous.  He was known as the Father of Larga Mano in America.
As GM Tony Somera wrote, "He gave us all the Liberty of freedom to learn of life and the arts, Equality in having the necessary ability and strength, Fraternity in which the same beliefs in work along with fellowship and family.  Grand Master Giron left us with a legacy that we must all carry on with all of those that would like to share in his system."
MKG MARTIAL ARTS REVIEWS
SCROLL THROUGH SOME REVIEWS AND CLASS PHOTOS
BONUS:

Exclusive web special, video and eBook!