START EXPLORING THE PROGRAM THAT MOST INTERESTS YOU
AT MKG SEATTLE WE KNOW EVERYONE HAS THEIR OWN UNIQUE NEEDS AND JOURNEY IN FITNESS AND MOVEMENT
We have two separate facilities to serve you in the same neighborhood in North Seattle: MKG Martial Arts & Kickboxing and MKG Fitness. MKG Martial Arts & Kickboxing features a wide range of martial arts classes and fitness kickboxing classes. MKG Fitness is a full service strength & conditioning facility for adults.
As numerous, numerous reviews on Yelp, Google, Facebook and our own testimonials can attest we have created a friendly, warm and positive environment that is totally UNIQUE.  There are lots of options for fitness, martial arts/kickboxing and CrossFit in Seattle but nobody does it quite like we do.
You will find this statement on our front door.  "Leave Your Ego at the Door.  There is No Room Here For Those Who Think Too Highly of Themselves."
Act now, if you want to lose weight, build confidence, learn new skills, cultivate self discipline, tone your body and increase you or your child's ability to protect yourselves.
Just take the first step and chat with someone from MKG Seattle.
SEE WHAT OTHERS ARE SAYING ABOUT MKG SEATTLE
WHY CHOOSE US: BENEFITS OF MKG SEATTLE
Our Instructors have trained years before earning the title of instructor or coach for MKG Seattle. You can put your trust in them knowing that that we pick only the best in Muay Thai, Fitness, MMA, BJJ, Jeet Kune Do, Kali and CrossFit. They have the experience that is necessary to help you with your goals.
Whether you live in Seattle, Shoreline, Capital Hill, Ballard, Northgate, Pinehurst, Everett, Lynnwood, Green Lake, Edmonds, Burien, Downtown Seattle, Mill Creek, Mountlake Terrace, Lake City, and you are interested in karate, kickboxing, boxing, kung fu, judo, wrestling MMA, Savate, Combat Submission Wrestling, Mixed Martial Arts, martial arts training, Crossfit, bootcamps, TRX, Cage Fitness, Classes, gyms, etc… give MKG Seattle a try.
Take some time reviewing information about our programs, reading testimonials then contact us to find out the best way for you to get started by filling out one of our contact forms. Our low support team will reach out to you quickly in a manner convenient for you.
ACCESS OUR AMAZING WEB SPECIALS AND SCHEDULE NOW!
It only takes your name, email and phone to request more information and web specials now. Enter yours now and let's get started!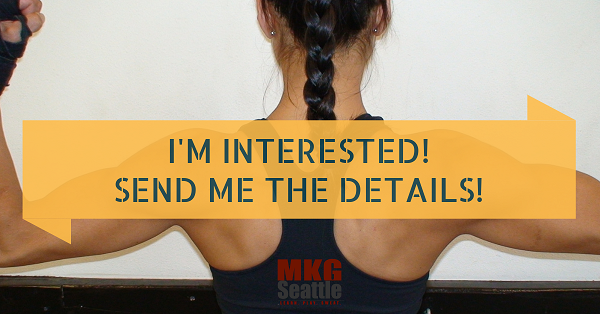 * We hate SPAM as much as you. Please don't opt-in if you are not actually interested in MKG and willing to extend the courtesy of a response via email, text or a phone call. By submitting you agree to MKG Privacy Policy.