Request Program Details and Current Web Specials Below
THIS 5-STAR YELP REVIEW FROM TIM P.
SELECT YOUR PROGRAM
Start exploring by clicking the program of your main interest below.
AT MKG SEATTLE WE BELIEVE FITNESS IS A JOURNEY NOT A DESTINATION
As numerous, numerous reviews on Yelp, Google, Facebook and our own testimonials can attest we have created a friendly, warm and positive environment that is totally UNIQUE.  There are lots of options for fitness, martial arts/kickboxing and CrossFit in Seattle but nobody does it quite like we do.
You will find this statement on our front door.  "Leave Your Ego at the Door.  There is No Room Here For Those Who Think Too Highly of Themselves."
Act now, if you want to lose weight, build confidence, learn new skills, cultivate self discipline, tone your body and increase you or your child's ability to protect yourselves.
Just take the first step and chat with someone from MKG Seattle.
START BY REQUESTING DETAILS AND OUR CURRENT WEB SPECIALS FOR THE PROGRAM OF YOUR CHOICE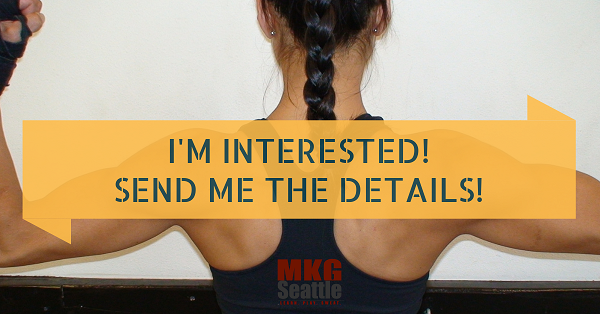 MEET SOME OF OUR INSTRUCTORS
Our Instructors have trained years before earning the title of instructor or coach for MKG Seattle. You can put your trust in them knowing that that we pick only the best in Muay Thai, Fitness, MMA, BJJ, Jeet Kune Do, Kali and CrossFit. They have the experience that is necessary to help you with your goals.
Whether you live in Seattle, Shoreline, Capital Hill, Ballard, Northgate, Pinehurst, Everett, Lynnwood, Green Lake, Edmonds, Burien, Downtown Seattle, Mill Creek, Mountlake Terrace, Lake City, and you are interested in karate, kickboxing, boxing, kung fu, judo, wrestling MMA, Savate, Combat Submission Wrestling, Mixed Martial Arts, martial arts training, Crossfit, bootcamps, TRX, Cage Fitness, Classes, gyms, etc… give MKG Seattle a try.