Martial Arts Typhoon Haiyan Relief Fundraiser, Lunch and Auction
Join up to 2 dozen local martial arts instructors and schools on Sunday, November 24th from 10:00 am to 2:00 pm and a lunch and silent auction after to raise funds for disaster relief in the Philippines.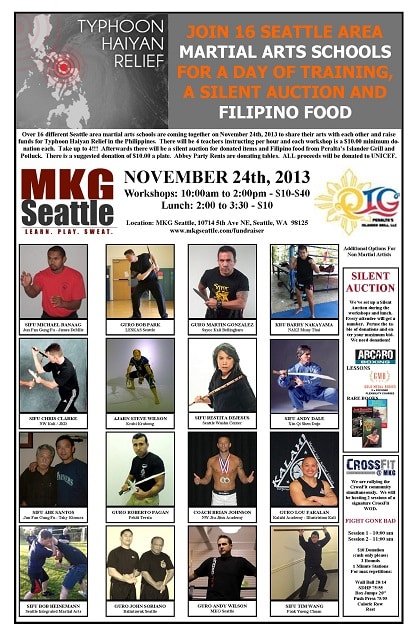 The Seattle Southeast Asian Martial Arts community and friends are donating their time to teach 45 minute to 1 hour introductions to their arts and methods.  We will have 4 sessions going on simultaneously for 4 hours and are asking for a $10.00 minimum for each session.  A timetable will be issued next week for instructors.
We will be hosting a Lunch/Potluck as well.  One of our students, Czar Peralta / Peralta's Islander Grill will also be providing a fantastic Filipino lunch for a suggested $10 minimum donation from 2:00 to 3:30.  Abbey Party Rents is donating tables and chairs for the lunch!  See the Facebook event to PRE-REGISTER here.
https://www.facebook.com/events/509412035824618/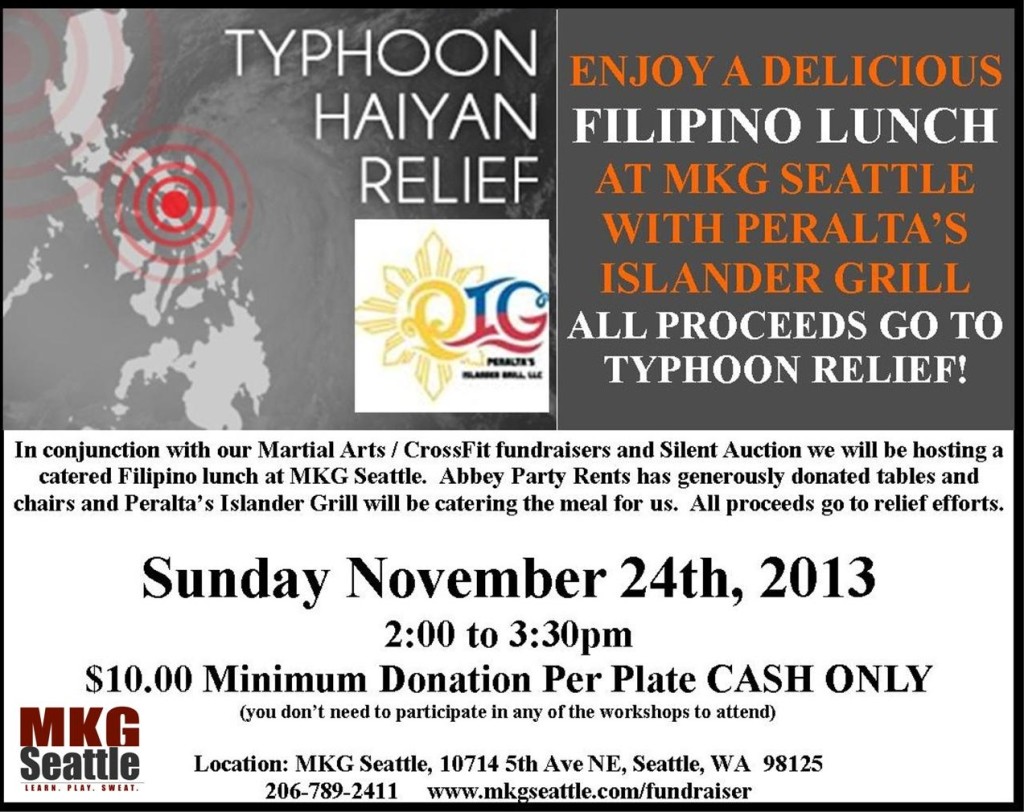 All proceeds for all events have to be cash or paying through the UNICEF portal only.  http://www.crowdrise.com/unicefusa1/fundraiser/seattlemartialartscommunity  If you'd like to make your donations in advance it would really help.  Just present your receipt as payment.  It MUST be through this portal however.
We are moving fast on mobilizing the community and are open to suggestions and help.
For the non-martial artists or family members interested in fitness we will also be hosting a CrossFit workout focused on the WOD Fight Gone Bad.  Should be fun!
https://www.facebook.com/events/446566455449824/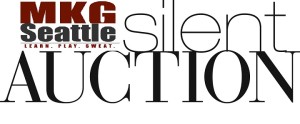 We have also put together a silent auction of goods and services.  Boxing gloves signed by Manny Pacquiaou, rare books, lessons, DVD's and more.  If you have something to donate or could assist in promoting the workshops, auction or soliciting donations please do so.
https://www.facebook.com/events/500160956749848/
In just 2 days we have confirmation from:
John Soriano of Balintiwak Seattle
Chris Clarke of NW Kali / JKD Inosanto Lacoste Kali
Guro Martin Gonzalez of Universal Solution Martial Arts Academy Sayoc Kali
Kru Barry Nakayama of Nak2 Muay Thai
Guro Andy Wilson of MKG Seattle Inosanto Lacoste Kali
Ajarn Stephen Wilson Krabi-Krabong
Guro Bob Heinemann of Seattle Integrated Martial Arts Inosanto Lacoste Kali
Guro Bob Park of LESKAS Seattle
Guro Lou Faralan of Kalahi Academy Illustrisimo Kali / Kalahi
Sifu Abe Santos of Jun Fan Gung Fu Institute
Sifu Michael Banaag of Wing Chun Do James DeMile
Sifu Restita DeJesus of Seattle Wushu Center
Guro Roberto Pagan of Pekiti Tersia Kali Tacoma
Coach Brian Johnson of Northwest Jiu Jitsu Academy
Sifu Andy Dale of Xin Qi Shen Dojo
Sifu Tim Wang of Infinity Martial Arts
and maybe more!!!
Fundraising Websites – Crowdrise