ABOUT MKG MARTIAL ARTS AND FITNESS IN SEATTLE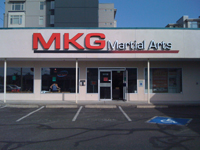 The MKG-Minnesota Kali Group of schools is truly an international network with affiliates and branches throughout the world including England, Japan, Spain, Scotland, Germany and the United States.
The mission of the MKG schools has always been to offer qualified instruction in high quality and highly effective martial arts without an emphasis on competition or ego.
MKG Seattle strives to be on the cutting edge of martial arts and fitness in our three completely distinct programs. Adult Martial Arts and Kickboxing, cross cultural Youth Martial Arts and our MAX10 Kickboxing Bootcamp Challenge, formerly called 10 Week Body Sculpt Challenge.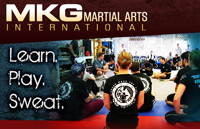 MKG Martial Arts International, the Seattle Branch of the world famous Minnesota Kali Group, opened its doors in 2000. Our 4,500 square flagship school is located in the Northgate neighborhood of Seattle. The facility features 3,000 square feet of mat space, heavy bags, speed bags, a boxing ring, 3 wing chun dummies, lockers and ample parking. In addition, our commitment to overall fitness is evident by our extensive personal training areas featuring medicine balls, weights, physio balls and bands.
10714 5th Ave NE
Seattle, WA 98125
206-789-2411
info@mkgseattle.com