GREG NELSON SEMINAR AND ONLINE REGISTRATION
[ci-box scheme="orange"]
MORE SEMINAR DETAILS, FLYERS, VIDEOS AND EMAIL LIST

[/ci-box]
August 5 & 6, 2017

We are excited to announce that MKG will be hosting a seminar with Ajarn Greg Nelson of the Minnesota Martial Arts Academy in August. This will be his 3rd seminar at MKG Seattle. The last one was in 2011!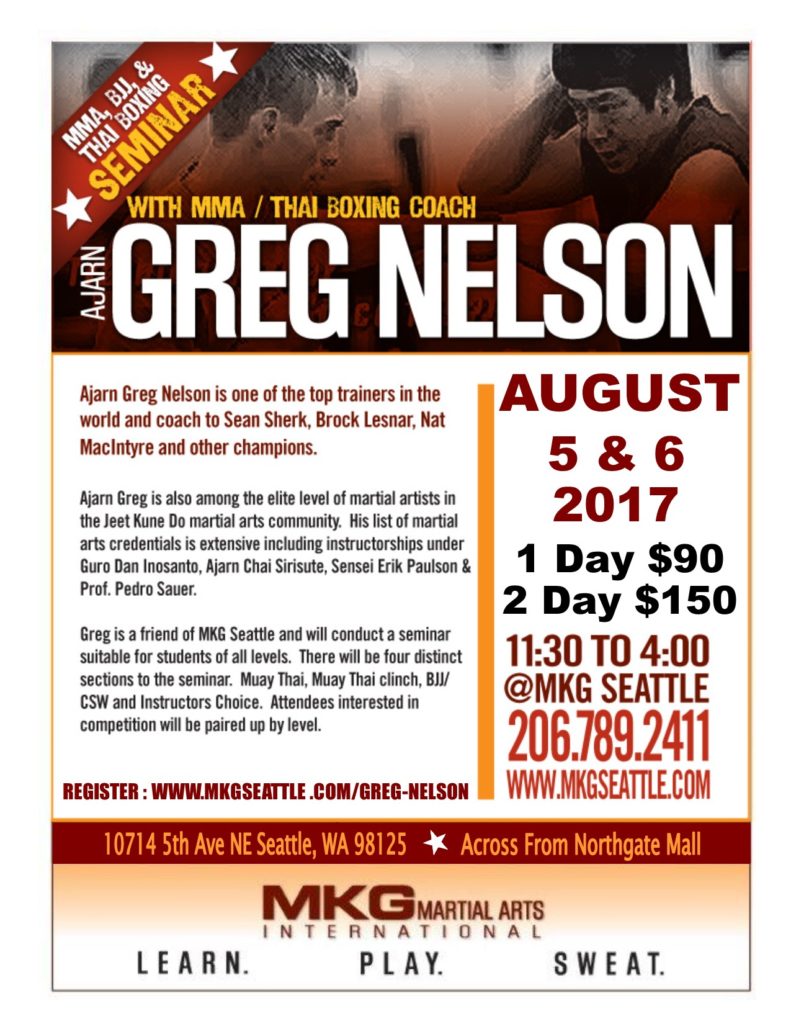 Ajarn Greg is among the elite level of martial artists and trainers in the martial arts community. His list of martial arts credentials is extensive including instructorships under Guro Dan Inosanto, Ajarn Chai Sirisute, Sensei Erik Paulson and Professor Pedro Sauer.
Besides Greg's martial arts qualifications he is also among the top MMA and Muay Thai trainers in the world. Greg trained UFC champion Brock Lesbar, Sean Sherk and many other MMA stars. Greg also has produced many Muay Thai fighters who compete successfully around the world.
Check out this clinch video from YouTube!


Ajarn Greg will conduct a seminar suitable for participants of all levels and interests.  This seminar is not restricted to fighters and high level athletes.  Ajarn Greg has a broad background and experience in competition, self defense and a general martial art approach to all the arts.
The seminar will held from 11:30am to 4:00pm both days with a 1/2 hour lunch.  We highly recommend bringing a lunch.
GENERAL SCHEDULE OF TOPICS
Sat: 11:30 to 2:00 – Muay Thai/Clinch/Standup
Sat: 2:30 to 4:00 – Standup to Grappling/BJJ/CSW and/or Infighting
Sun: 11:30 to 2:00 – Muay Thai/Clinch/Standup
Sun: 2:30 to 4:00 – Standup to Grappling/BJJ/CSW or Whatever He Wants To Do
DETAILS
Date: August 5-6, 2017
Time: 11:30 am to 4:00 pm (1/2 hour lunch)
Price: Early Online Registration: $150* Both Days, $90* One Day
* REGISTRATION DEADLINES *
$150.00 for both days or $90.00 for one before 7/20
$165 for both days or $100 for one after 7/20
$189 for both days or $120 for one at the door or after 8/5
[ci-box scheme="orange"]
REGISTER HERE AND/OR JOIN EMAIL LIST BELOW

[/ci-box]



[ci-box scheme="orange"]
CAN'T MAKE THIS SEMINAR? JOIN OUR SPECIAL EVENT EMAIL LIST FOR FUTURE OPPORTUNITIES

[/ci-box]
| | |
| --- | --- |
| | GET SPECIAL EVENT SEMINAR NEWS FROM MKG. ENTER YOUR NAME, EMAIL AND PHONE BELOW: |
*** Be sure to select 'Special Event' only. We don't want to SPAM you with memberships emails. ***