MUST SEE! Seattle Documentary Screening and Nutrition Lecture!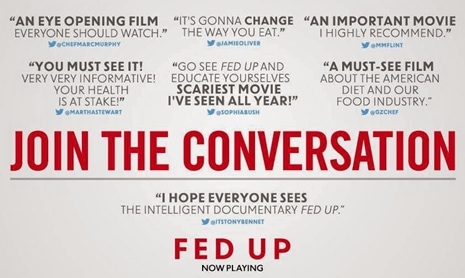 If you haven't seen this documentary it can change your life. If you have watch it again and join the discussion after!
URGENT: Space is Extremely Limited.
Reserve Sunday morning January 11, 2015 to watch an amazing and powerful documentary about diet and the food industry followed by a short lecture and Q & A with registered dietitian from dietstrict.com Rachelle Ausmen.
Fed Up! "Everything we've been told about food and exercise for the past 30 years is dead wrong. FED UP is the film the food industry doesn't want you to see. From Katie Couric, Laurie David (Oscar winning producer of AN INCONVENIENT TRUTH) and director Stephanie Soechtig, FED UP will change the way you eat forever."
This is being held in conjunction with the 10 Week Fitness Boot Camp at MAX10 Fitness starting January 5, 2015 but is FREE to the public.(boot camp participants you DO NOT want to miss this event)
This is recommended as a family event and you are welcome and warmly encouraged to bring friends. It can change lives.
10:45 to 12:30 Screening
12:30 to 1:15 Lecture and Q & A
Cost: FREE (no questions asked but we're accepting suggested dontations of up to $10 to cover screening costs, setup, clean up and lecture costs )
Because this is an officially licensed event accurate pre-registration is required. Please let us know if you will be attending and please, please do not select 'Going' and then no-show.
See trailer: http://youtu.be/UVX6_LzX4mM
Please let us know today if you'll be attending by selecting 'Going' on our Facebook Event.
Official Event Page: https://www.facebook.com/events/663542673754124/
Sincerely,
Tammy and Andy Wilson and the MKG Seattle Team
MAX10 Fitness & Boot Camp
10714 5th Ave NE
Seattle, WA 98125
206-457-2101
info@maxfitnessbootcamp.com
http://www.maxfitnessbootcamp.com