Thank You For Your Interest in MKG Seattle's Adult Martial Arts Programs
Congratulations!
The step you just took from thinking about, or reading/watching videos, to actually opting in and contacting us about classes is a really big deal. (especially if you're a first timer) So, thank you, for your confidence and interest. We are really excited by the opportunity to work with you and help you in any way that we can.
There are a couple important steps remaining below so we've made this page very simple for you to follow. The free guide, web specials, videos and private Facebook groups are all listed below as promised.
WARNING – This is a very important page but it is private and hidden from the search engines. Save it in your bookmarks right now.
Before you begin a big favor to ask…don't wait for us, call now if you're actually interested or if you do not hear from us in the next few business hours please give us a ring at 206-789-2411. Fast, friendly customer service is one of our guiding principles so if we haven't contacted you something has malfunctioned. Typing error, full mailbox, wrong phone/email, spam filter…?
Our office hours are:
Monday – Thursday 8:00AM to 9:00PM
Friday 8:00AM to 7:00PM
Saturday 9:00AM to 2:00PM
Sincerely,
Sifu Andy Wilson and the MKG Staff
FOLLOW EACH OF THESE FOUR IMPORTANT STEPS
STEP 1: DOWNLOAD YOUR GUIDE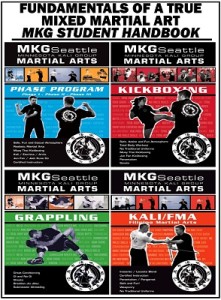 Download the Guide: HERE The amount of proprietary information we're divulging in this guide is quite rare so please keep it private. Most of our students are not martial art junkies so we have no expectation it will mean much to you right now either. But, scan through it quickly and notice a couple things. 1) Character matters here: no egos, safe, friendly, non-competitive and respectful environment. 2) Our direct lineage to world changing martial artists Bruce Lee, Dan Inosanto, Chai Sirisute and Erik Paulson and our detailed curriculum and progression. We know what we're doing. And, 3) You're in good hands. Our philosophy, methods and results have been refined, tested and proven over 50 years. In Step 3 you will be able to watch an entire 1 1/2 hour class and see EXACTLY what the environment is like and maybe even see some of the curriculum in your guide being trained and taught.
STEP 2: OUR LOW RISK TRIAL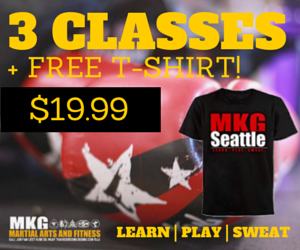 We've given you a ton of resources and a lot of information so if you have a good feeling about MKG let's get you started right now! To remove any risk or pressure we start all potential students in a 3 Class Trial for $19.99 so you can test it for yourself. And, we'll even throw in a free t-shirt to keep. It's only $19.99 and can be purchased HERE. We can't tell you how much we appreciate when people take this step because we can then spend our time talking with people who are truly interested and will actually be courteous enough to return a phone call, email or text. It's safe and secure and will only take a few minutes.
STEP 3: WATCH OUR SIGNATURE CLASS RIGHT NOW
We specialize in making realistic martial art and kickboxing training accessible, and fun, for everyone as you've learned. Now you can see how. This 1 and 1/2 hour series of videos is a single full Phase/Mixed Arts class and is what we do better than anyone. (remember: If you just want to do our kickboxing, grappling or boxing classes that is just fine and you won't be forced into anything)
Guro Rick Faye, the founder of the Minnesota Kali Group/MKG method, taught this class here in Seattle so you can see EXACTLY the type of drills, exercises and methods you'll encounter when you become a member at MKG. Each clip has been marked to reflect the art being taught including Kali, JKD, boxing and Muay Thai so you can see what we do in the individual classes as well as our True Mixed Martial Arts development program.
This is a Phase 1 Level 1 & 2 class but you'll see absolute beginners to people with over 10 years experience training together in a safe, fun and friendly environment. One neat thing about this series is that since the entire class was filmed and is labeled in order you could grab a partner, plug your tablet or computer into a stereo, and let Guro Rick Faye teach a class for you.
For easy access HERE is a link to our class schedule.
If you have any questions or concerns give us a call at 206-789-2411.
STEP 4: LIKE US ON FACEBOOK AND JOIN OUR GROUPS
We know, we know…Facebook…
But in all honesty Facebook is a really useful tool and you'll definitely want to like our business page and our private members only group if there is even a remote chance you'll want to check us out someday. Click each of the Facebook images below and like or ask to join the page that pops up.
It's the best way to communicate snow closures, special events, sales and lots of other school news.