Lightning Combatives Seminar | Oct. 13 & 14, 2018
$90.00 – $150.00
Filipino Martial Arts Seminar
Lightning Combatives | Lightning Scientific Arnis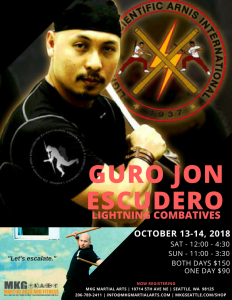 With Master Jon Escudero – Lightning Scientific Arnis is a system that revolves around the concept of Tercia Serrada Cadenilla y Espada y Daga which is a method of intercepting and redirecting attacks and blind-siding the opponent by going to the off-side and blanketing him with a barrage of continuous strikes while the checking hand constantly pushes, presses and controls his opponent putting him in a constant state of imbalance.
Lightning Scientific Arnis has a wide repertoire of techniques ranging from Solo Baston, Doble Baston, Baston Daga, Espada Y Daga, up to unarmed combat. It covers a wide range of skills for all fighting distances.
If you need to know more about this seminar click HERE.
LOCATION
MKG Martial Arts – Seattle
10714 5th Ave NE
Seattle, WA 98125
206-789-2411
DATE
October 13 & 14, 2018
TIME 
SAT – 12:00 – 4:30
SUN – 11:00 – 3:30
PRICE
BOTH DAYS – $150.00
ONE DAY – $90.00
Seminar suitable for all levels and is open to the public.
Financial Assistance Available For MKG Students. Please inquire.
Additional information
| | |
| --- | --- |
| Days | October 13th, October 14th, Both October 13th and 14th |