IN CLASS ON-RAMP
If you're new to CrossFit but have worked out in the past 3 months or more, our In Class On-Ramp program is the best way to start.  It is essential that you learn the basic movements.  The On-Ramp program at MKG is designed to acclimate new members into our regular CrossFit group classes and teach the CrossFit fundamentals and MKG concept itself.
You will start the month with a sign off sheet of the fundamental movements of CrossFit as well as other essential movements commonly found in CrossFit classes.  Over the course of the month, you'll go over the fundamental movements as well as the necessary safety protocols, all while participating in actual classes.  You'll work in class 3x per week for 4 weeks.  You will be participating in our in class workouts, but they will be modified to your fitness and/or experience level (a private lesson option is also available if you're completely new to any type of training).  After each class, the coach will sign off on your worksheet the movements that were covered and add any notes.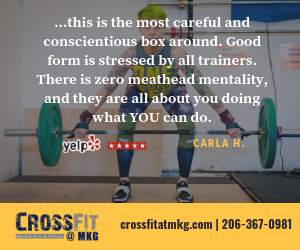 Each session will include a warm-up, skill instruction/review, light workout, and stretching.  Over the 4 weeks of classes you'll experience the different styles of CrossFit workouts, the proper form for the major barbell exercises, classroom safety principles and get into a routine of training.
After the 4 weeks of classes you'll know without a doubt if CrossFit is for you and you'll be ready to jump into on going membership.
Visit our Get Started page to find the next step for you or just fill out the contact form below.
Subject to availability.
A private lesson option is also available if you're a beginner to working out (or for those looking for more in-depth instruction).
* Terms & Conditions: No refunds.  Must be redeemed in the month indicated.