7$ For 7 Days Of Kids Martial Arts
$7.00
LIMITED TIME ONLY
Try 7 days of classes at our Pinehurst/North Seattle multicultural kids martial arts program for kids 7-15.
Description
$7 FOR 7 DAYS FOR KIDS MARTIAL ARTS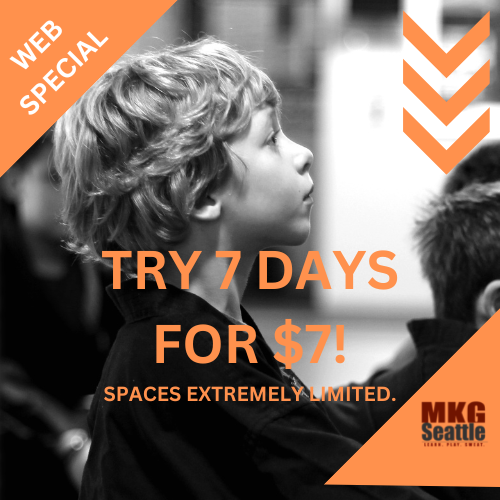 This is the perfect way to see if the classes at MKG Seattle are a good fit for your child.
This is not our full class schedule just the two classes most appropriate for new members to insure small classes. You are welcome to observe the larger classes and placement may be available during those times.
Simple as that.
See a list of client testimonials in the attached images.
Below is the list of classes available for the 7 day trial.

MKG Martial Arts & Kickboxing
11552 15th Ave NE
Seattle, WA 98125
206-789-2411
Terms & Conditions:
* Uniform not included. Space in the kids program is limited and not guaranteed. For new members trying MKG for the first time only or 1 year since last visit. One per person. Must be redeemed over a continuous 7 day period from time of first class. Due to extreme low cost expires 30 days from purchase. No refunds/no exceptions though a full credit will be held towards future purchase or membership if you cannot redeem by expiration date.