THAI BOXING SEMINAR SATURDAY, MAY 31 & SUNDAY, JUNE 1
Seminar Location:
Garden Home Recreation Center
7475 SW Oleson Road
Portland, OR 97223
MKG Seattle Thai boxing fans make the annual trek to Portland, OR to see the legendary Grandmaster Chai! For those who would like to become instructors same day especially.
Welcome to all styles, skill levels, new students and beginners!
Fun and friendly atmosphere!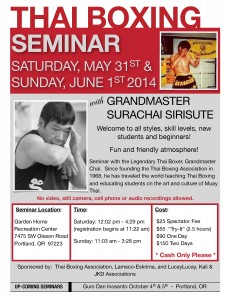 Seminar with the Legendary Thai Boxer, Grandmaster Chai. Since founding the Thai Boxing Association in 1968, he has traveled the world teaching Thai Boxing and educating students on the art and culture of Muay Thai.
No video, still camera, cell phone or audio recordings allowed.
Saturday: 12:02 pm – 4:29 pm
(Registration begins at 11:22 am)
Sunday: 11:03 am – 3:28 pm
Cost:
$25 Spectator Fee
$55 "Try-It" (2.5 hours)
$90 One Day
$150 Two Days
* Cash Only Please *
Sponsored by: Thai Boxing Association, Lameco-Eskrima, and LucayLucay, Kali & JKD Associations
UP-COMING SEMINARS
Guro Dan Inosanto October 4th & 5th – Portland, OR