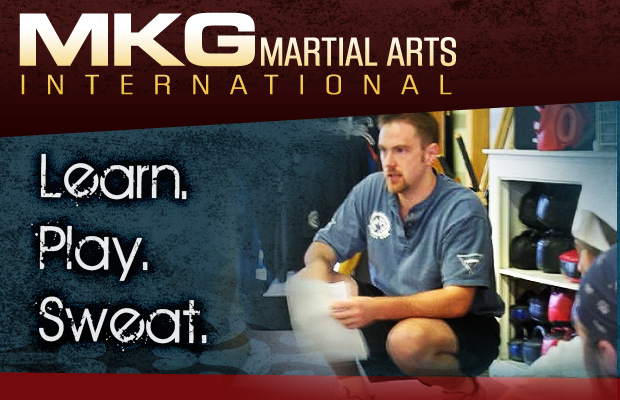 MKG Method 'Phase' Mixed Arts Training Seminar and Curriculum Review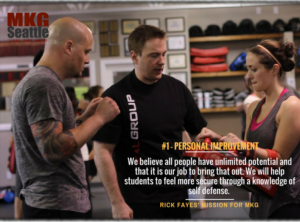 Join us for a fun training experience and curriculum review this coming Saturday, April 1st.(no joke) This will be a whirlwind workshop but it is open to the public.
The 'Phase' class and curriculum is the signature program at MKG International Martial Arts branch schools around the world.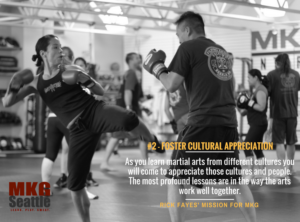 This 'MKG Method' has 5 major areas of development that are equally emphasized: Kali Weaponry, Kali Panantukan, Jun Fan / JKD, Muay Thai and Mixed Grappling. At MKG Seattle elements of Savate and Lightning Scientific Arnis have been added to the progression.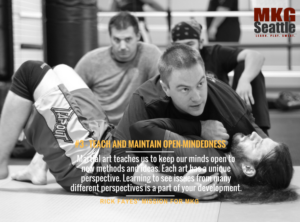 There are 6 Phases of development with 1-4 being curriculum based and comprising 3 levels each. P1.1, P1.2, P1.3, P2.1, P2.2, etc…
PHASE 1: The Basics – Mechanics, motor skill development, and fitness.
PHASE 2: Sensitivity Training – Deeper partner work, what to do when things go wrong.
PHASE 3: Blending of the Arts in Flow – Further development of each skill set individually.
PHASE 4: Full Blending of the Arts in Function and Training – Functional at all ranges and flow between all ranges.
PHASE 5: Independent Study – In the spirit of martial art as a living, changing thing each person is expected to study systems outside of the curriculum they have already received. They must then integrate and demonstrate where and how these skills and ideas 'fit' in the context of the MKG training methods and study of "The Arts" as a whole.
PHASE 6: Service Project – Simply put, you must find a way to use the arts you have been given to benefit others. This happens both as a specific service project, and a lifelong practice of "Creating a more functional, more peaceful world".

We will be reviewing the Phase One Level 1, Level 2 and Level 3 curriculum and explaining what, how and why for each section.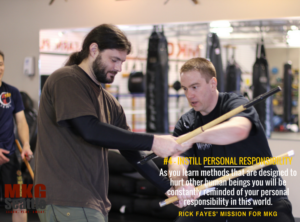 In Phase One the goal is develop a foundation in kicking, punching, trapping, grappling and hand-held weaponry ranges and skill sets.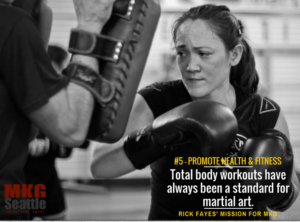 When: Sat. April 1, 2017
Time: 12:30 to 3:00
Where: MKG Seattle
Cost: $55.00 (includes t-shirt and test fee for MKG students. No charge for students who've already passed P1.1 to P1.3)
REGISTER NOW
This is an absolutely essential seminar for MKG Students who have not tested yet.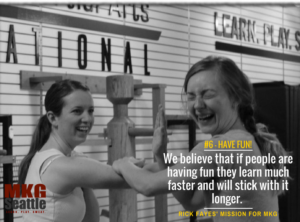 We will also be conducting Muay Thai and Jun Fan / JKD workshops on April 2nd.
Please contact info@mkgseattle.com if the expense for Guro Rick Faye on April 8 & 9 and the mini-seminars and tests throughout April is too much. We'll work with you.