MKG INTERNATIONAL MARTIAL ARTS NETWORK MISSION STATEMENT
Martial art without an ethical philosophy is nothing more than fighting.
The Minnesota Kali Group Schools are dedicated to the highest levels of training and individual improvement in the martial arts. Through the latest innovations and best research into traditional methods we will offer our students the best training possible. The goals of this training are:
The Personal Improvement of Each Student
Martial arts can teach students about their own strengths and challenges. We believe all people have unlimited potential and that it is our job to bring that out. We will help students to feel more secure through a knowledge of self defense. We will show you the step by step progressions toward your self-improvement.
Fostering Cultural Appreciation
As you learn martial arts from different cultures you will come to appreciate those cultures and people. The most profound lessons are in the way the arts work well together. Martial arts from different cultures not only fit together, they depend on each other to move forward.
Teaching and Maintaining Open-Mindedness
Martial art teaches us to keep our minds open to new methods and ideas. Each art has a unique perspective. Learning to see issues from many different perspectives is a part of your development.
Instilling Personal Responsibility
As you learn methods that are designed to hurt other human beings you will be constantly reminded of your personal responsibility in this world. It is our hope that the skills we teach will only be used in the most desperate situations. Martial artists tend to be more peaceful because of their training and confidence.
To Promote Health and Fitness
Training in the martial arts is a great stress release. The workouts will challenge even the most fit individuals and are designed to allow any type of student to "work up to" their physical potential. Total body workouts have always been a standard for martial art.
To Have Fun!
We have done away with the "serious" nature of martial arts training. Classes are fun and can be as challenging as you make them. We are able to accommodate all levels of experience and physical ability.By remembering these tenets we believe the martial arts can be a vehicle for personal growth in all areas of life.
BUILDING BETTER PEOPLE...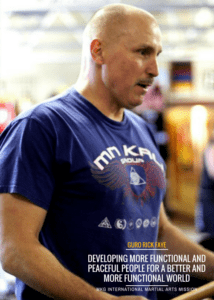 At MKG Seattle we operate with a philosophy shared by our peers across the country and around the globe.
Martial arts is about more than just fighting.  The life altering changes that real martial arts can facilitate seems like it's getting lost.
As Guro Rick Faye encapsulates the mission today: "Developing Better and More Peaceful People For a Better and More Peaceful World."
Check out the video from MKG Headquarters entitled 'Change'
Get Started at MKG Seattle
If you'd like to visit MKG Seattle register below or give us a call at 206-789-2411.