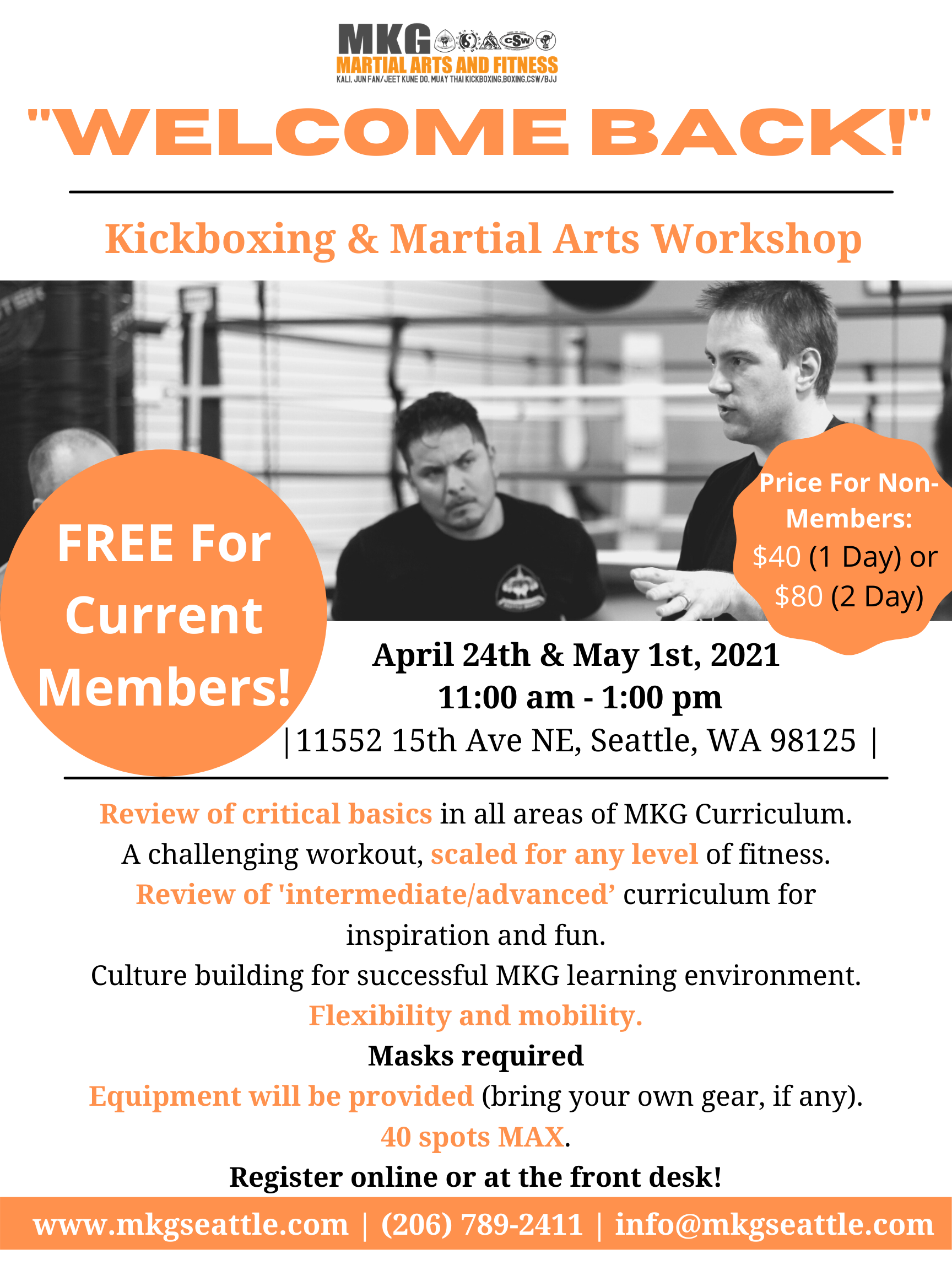 Welcome Back/Reset Workshop 2021
After a long year of adjusting to changes brought forth by Covid, MKG Seattle is proud to host its first workshop of 2021. Join MKG Seattle for a pair of 2-hour workshops focused on shaking off the rust from a full year of social distancing and going over basics. It'll be a great opportunity to meet new and familiar faces, relearn anything you've forgotten, and learn about the more advanced techniques you will study at MKG Seattle after putting in enough practice.
Each Workshop Will Include
Review of critical basics in all areas of MKG Curriculum
A challenging workout, scaled for any level of fitness
Review of intermediate and 'advanced' curriculum for inspiration and fun
Culture building for successful MKG learning environment
Flexibility and mobility
Equipment will be provided but bringing your own Thai pads, focus mitts and sticks is highly recommended.
40 people MAX. Only 10 slots available for the general public.
The seminar will be suitable for all levels and is open to the public.
As with our in-person classes, this workshop will be following safety procedures and guidelines laid out by WA's Safe Start Reopening Plan. Masks are required at all times in the facility, and social distancing is required. View our Covid Safety Video for more information, or reach out to us with any further questions by sending an email to info@mkgseattle.com or calling us at 206-789-2411.
Check in at the event page on Facebook: "Welcome Back!" Kickboxing & MA Workshop.
April 24th & May 1st, 2021
Sat: 11:00 am to 1:00 pm (short breaks or 1/2 hour lunch)
One Day:
FREE for members
$40 for general public
Both Days:
FREE for members
$80 for general public
Space is limited so register and reserve your spot early.
Open to the public and to all levels. All levels from beginner to advanced warmly welcomed.