Kali/JKD Seminar in Seattle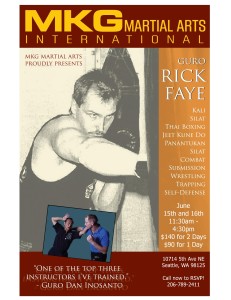 Guro Rick Faye returns to MKG Seattle June 15 & 16, 2013.
This seminar is a MUST for those in the MKG Seattle family and highly recommended for all.
Guro Rick is highly respected throughout the world and is renowned as both a teacher and practitioner.
June 15 & 16, 2013
11:30 to 4:30 Both Days
$140 Both Days or $90 For One Day