Balintawak Seattle: Balintawak Quentada West Coast Training Camp at MKG Seattle
MKG Seattle Students and Friends – While this is not an official MKG hosted seminar IT IS an amazing opportunity and highly recommended!  Several sections are open to the public.
Our friends at Balintawak Seattle are using our facility to host their West Coast Training Camp at the end of this month.  Yet again one of the best and most famous martial artists on the planet will be on our doorstep.  My highest possible recommendation if you can make it.
If you'd like to attend please go to their event page on the Balintawak Seattle website linked below and contact them with any specific questions.
If you ARE going please be sure you select 'Going' on the Facebook event too so they have an idea of headcount in advance.
Guro Andy Wilson
HERE ARE THE DETAILS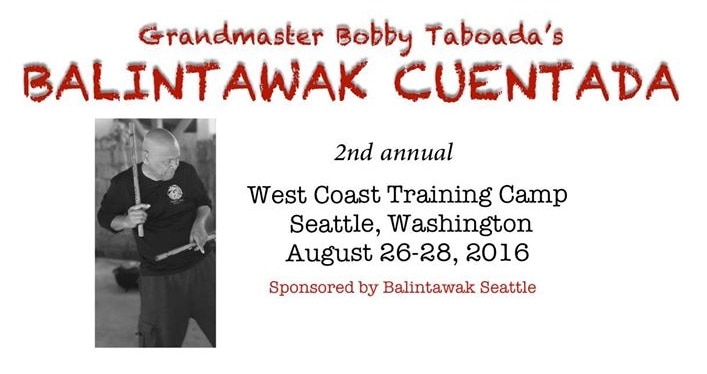 Grandmaster Bobby Taboada's
Balintawak Cuentada
West Coast Training Camp
Seattle, Washington
August 26-28, 2016
Sponsored by Balintawak Seattle
Location: MKG Seattle
10714 5th Ave NE
Seattle, WA 98125
SCHEDULE:
Friday, August 26th @ MKG Seattle
Training Camp 6:00PM-9:00PM
Saturday, August 27th @ MKG Seattle
Training Camp 12:00PM-5:00PM
Sunday, August 28th @ MKG Seattle
Balintawak Cuentada Testing 1O:OOAM-2:00PM
Cost: $140 Friday & Saturday ($160 after July 15th)
$85 One day training ($95 after July 15th)`
Early registration by July 15th
Register Online: http://www.balintawakseattle.com/events
Facebook Event: https://www.facebook.com/events/614286415402562/
All levels and all martial arts styles are welcome to participate in the training.  Everyone is welcome to watch the testing on Sunday.
For questions please contact John Soriano: balintawakseattle@gmail.com