MMA / Mixed Martial Arts and Thai Boxing Seminar
With UFC Trainer Ajarn Greg Nelson
Friday, March 25, 2011 – 6:30 – 9:30pm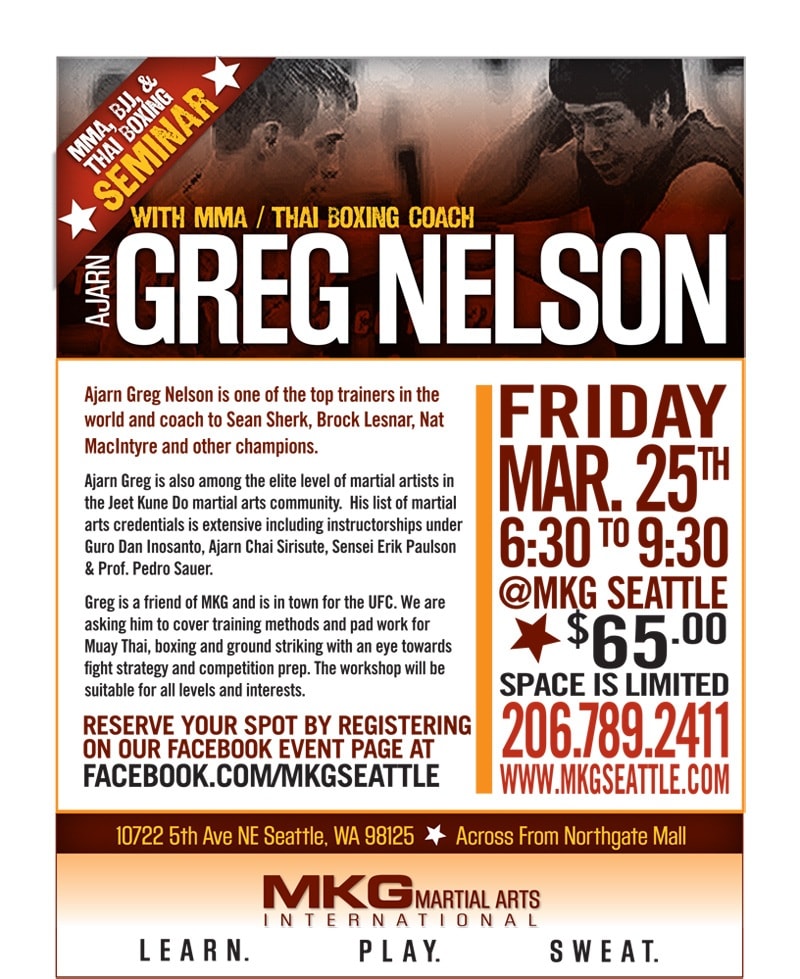 MKG Martial Arts is a 'true' mixed martial arts school meaning that we try to study the best methods in the kicking, punching, trapping and grappling ranges.  MMA or 'UFC' style fighting is one aspect of this but mixed martial arts for self defense and self improvement are other approaches that are equally valid.
Ajarn Greg Nelson is one of the top trainers in the world and coach to Sean Sherk, Brock Lesnar, Nat MacIntyre and other champions. Ajarn Greg will be in Seattle for UFC 128 to corner one of his fighters, and he is going to make time to teach a seminar for us at MKG Martial Arts!  Ajarn Greg is among the elite level of martial artists in the Jeet Kune Do community. His list of martial arts credentials is extensive, including instructorships under Guro Dan Inosanto, Ajarn Chai Sirisute, Sensei Erik Paulson & Prof. Pedro Sauer.  The seminar will be suitable for students of all levels, covering Muay Thai, and MMA. There will also be an emphasis on fighter training, but again, this is open to all levels so please join us!  $65 per person for the seminar. Please arrive early to take care of payments before the event. We accept cash, credit/debit cards, or checks!
Sign up now, as there are only a few spots left in the seminar.