10-Week Boot Camp Challenge Begins September 3rd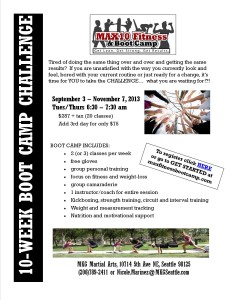 Tired of doing the same thing over and over and getting the same results?  If you are unsatisfied with the way you currently look and feel bored with your current routine or just ready for a change, it's time for YOU to take the challenge…  what are you waiting for!?!  Space is extremely limited so click HERE for more details and secure your spot.  Skeptical?  We've included 3 testimonials from our previous bootcamps below.  Participants lost weight, stayed motivated and showed real improvements in fitness. Want to know a little bit more about the MAX10 program?  Visit the MAX10 Fitness and Boot Camp home page here www.maxfitnessbootcamp.com
Boot Camp Includes:
2 (or 3) classes per week
free gloves
group personal training
focus on fitness and weight-loss
group camaraderie 1
instructor/coach for entire session
Kickboxing, strength training, circuit and interval training
weight and measurement progress tracking
nutrition and motivational support
September 3 – November 7, 2013
Tu and Th at 6:30 am
COST: 10-week session (20 classes): $287 + tax; add a 3rd day for only $75!
IF YOU ARE REGISTERING WITH A FRIEND, we offer a referral discount of 10%; enter code: BUDDY at check-out – must include friend's name with registration
MANDATORY CHECK-IN will be at 6:15 am on Tuesday, September 3rd.
Testimonials
Ernest – Lost 20 lb's
Beryle – Variety is Awesome!
Anya – 50% Improvement in 5 Weeks!