MKG KIDS MARTIAL ARTS CLASSES
"Martial arts are about much more than just kicking, punching and self-defense…  There is absolutely no activity that is better at instilling confidence, focus, discipline and respect in children and adults alike.  These qualities set kids up for success in life, not just self-defense situations."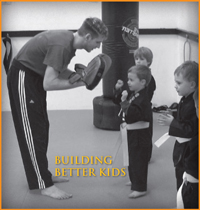 Looking for martial arts or karate classes for kids

We have the most unique and effective kids martial arts program in Seattle for children between 4 and 15 years of age.  It's a great alternative to karate or tae-kwon-do! Nobody sits on the bench in our school.
Our multi-cultural approach to martial art allows us to create an always evolving, always interesting experience for kids of all ages.  Kids will learn about, experience and integrate elements from the martial cultural heritage of Thailand, China, the Philippines, France, Brazil and more. One of the biggest lessons they'll learn is that the different arts and cultures each have something to offer and when they work together something beautiful happens.
LIMITED TIME: You can try 6 weeks of classes AND get a uniform to keep for only $69! DOWNLOAD our free Parent's Resource Kit right now. More details below.

"I can't thank you all enough for your time and attention, not to mention patience and care with the kids you work with, and most specifically Quinn." …"Today was one of those days that I felt you needed to know about, and share with you how you have touched MY son's life~for a moment, an instant, a day…you touch his life even when you're not there, and you needed to know that!!!" Susan – Kids Parent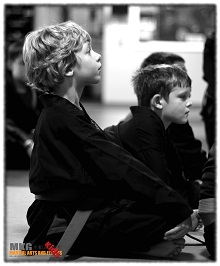 As kids learn the martial arts they gain control of their bodies, build up their confidence in defending themselves, the self-respect and pride of overcoming their fears and setting and accomplishing goals. The psychological benefits are first to manifest. Psychologists agree that the need for 'safety' is paramount for human beings to thrive. Pretty soon the anxiety about bullies and other stress begins to melt away and they can focus on school and just being a kid.
Below is a 2 minute teaser video chock full of pictures of kids of all ages participating in our classes at MKG Seattle. Take a few minutes to learn more about our age specific classes, bully prevention, stranger awareness, fitness building and other classes on the right.
We are happy to do a 1-on-1 consultation and/or private lesson. Call us at 206-789-2411 to schedule an appointment or use one of the forms below to request more information.
Martial arts practice is absolutely THE best activity to create happy and healthy kids and future adults. We believe all people have unlimited potential and that it is our job to bring that out. Each age group: Little Ninja, Junior, and Teen, will be given challenges appropriate for their age level to help them achieve their greatest potential.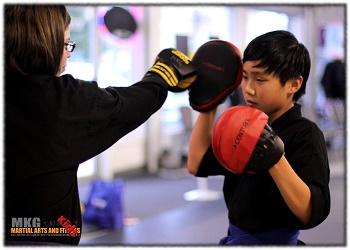 We will help your child to feel more secure through knowledge of self defense. Using the techniques of the martial arts, from basic to advanced, your child will learn physical attributes such as coordination, balance, fitness and self-defense as well as lasting life skills such as focus, confidence, respect, persistence, teamwork, and kindness. Martial arts will teach your child about their own strengths and challenges. Martial artists tend to be more peaceful because of their training and confidence.
Our proprietary belt system is theme based and will emphasize a different set of skills from a different martial art. They will learn styles from Thailand, France, the Philippines, China, Indonesia and more. As they learn they will come to appreciate those cultures and people. The most profound lessons are in the way the arts work well together.
FOR MORE INFORMATION AND OUR FREE RESOURCE KIT
If you're interested in our kid's martial arts classes in North Seattle the next step is simple.  Use the form below to request more information and enjoy instant access to our complimentary
FREE Parent/Child Resource Kit
that contains the following while you wait:
DOWNLOAD ALL THIS INSTANTLY
Bully Prevention Kit

Children's Confidence Kit

How To Set Goals With  Your Child

10 Ways Martial Arts Increases Focus
| | |
| --- | --- |
| | For More Information and Instant Access Enter Your Name, Email and Phone Below: |
Stay Informed
'Like' our MKG Seattle Kids Program Page on Facebook to stay informed. We also have a monthly email newsletter that goes out telling students and parents about our curriculum, test dates, and upcoming events. Please make sure your email list is updated and checked frequently.
We also offer the cutting edge Adult Martial Art Program, CrossFit as well as the MKG MAX10 Kickboxing Boot Camp for the fitness enthusiast.