Newswire
Rounds Testing Events May & June 2014
April 14, 2014
Rounds Testing Events May & June 2014
Logical progression and goal setting are two key components to learning any new skill.  The Rounds Club testing created by the Minnesota Kali Group is perhaps one of the best ways to learn Muay Thai, vastly improve your fitness level and keep your motivation up during the process.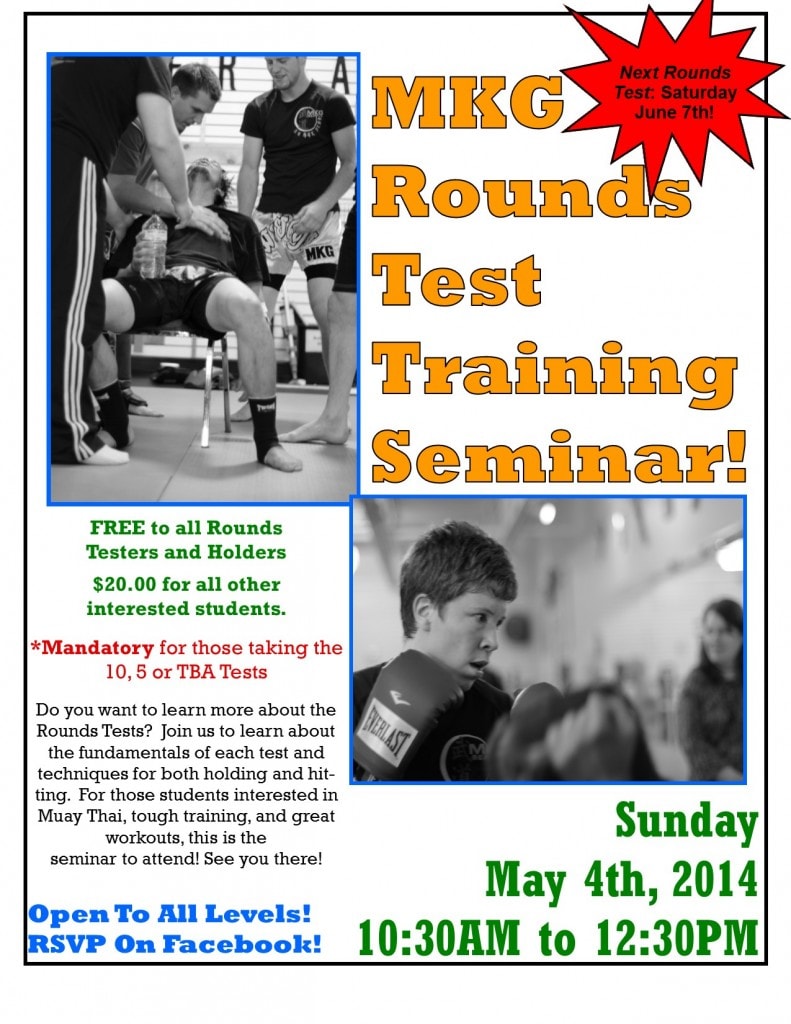 Do you want to learn more about the Rounds Tests?  Join us May 4th to learn about the fundamentals of each test and techniques for both holding and hitting.  For those students interested in Muay Thai, tough training, and great workouts, this is the seminar to attend! *Mandatory for those taking the 10, 5 or TBA Test!  FREE to all Rounds Testers and Holders!
$20.00 for all other interested students.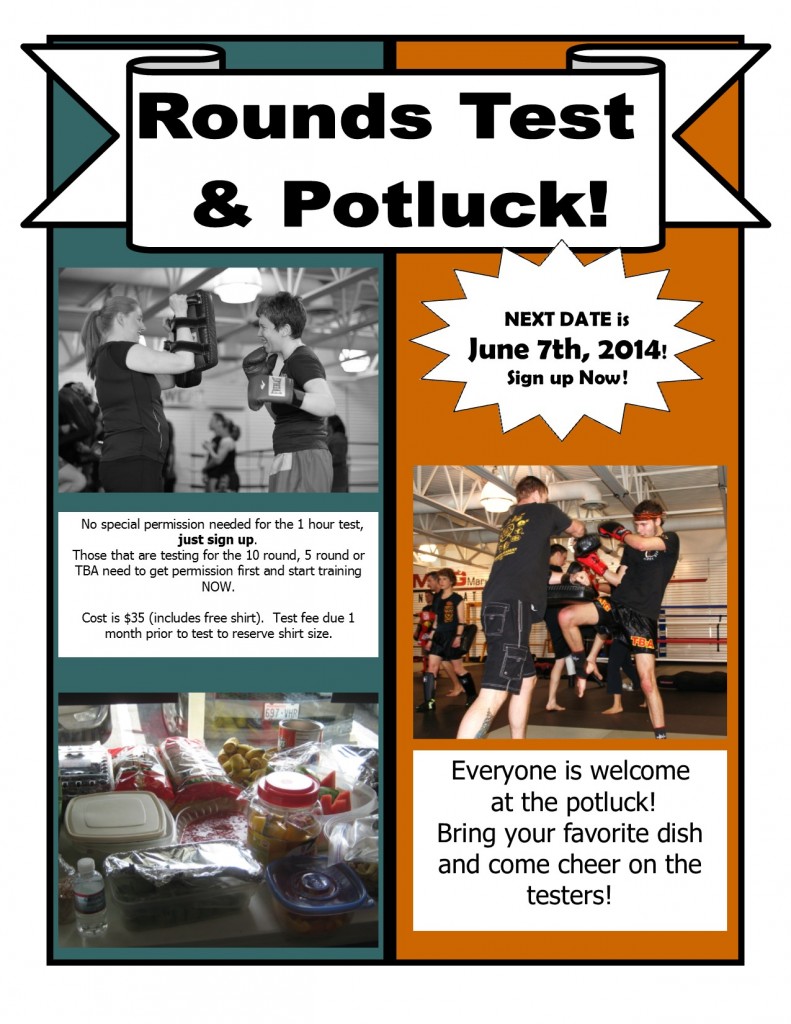 The test itself is scheduled for June 7th. No special permission is needed for the 1 hour test, just sign up. Those that are testing for the 10 round, 5 round or TBA need to get permission first and start training NOW.
Cost is $35 (includes free shirt). Test fee due 1 month prior to test to reserve shirt size.
FREE Child Safety Events This Weekend
April 9, 2014
FREE Bully Buster and Kids Self Defense
The MKG Seattle Kids Martial Arts program will be conducting two FREE child safety workshops this weekend.  They  are quick, informative and open to the public.  Please share the event on Facebook!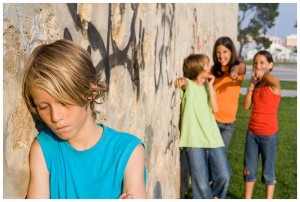 The first will begin at 8:30am and is based around dealing with bullying.  Bullying is unfortunately prevalent in schools all across the country, and in many ways bullying is getting worse We will be talking about how to identify bullies, and how to protect ourselves from them.   Just us and bring your friends and family!  We ask that you please register on the MKG Seattle Kids Facebook event if you are coming.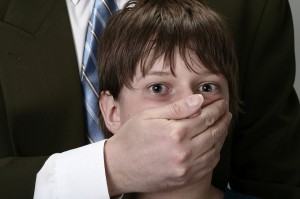 The second event will begin at 9:30am and is more self defense related.  MKG Seattle Kids Facebook event  if you are coming.   Every day kids are kidnapped and attacked. The best thing that you can do is be prepared. Be prepared to fight back, be prepared to keep yourself safe. Invite your friends and family to join you for a free fun and informative seminar.
Schedule Change This Saturday

Schedule Changes Saturday, April 12th, 2014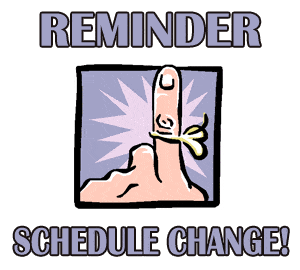 We apologize for the inconvenience but we will have some scheduling issues this Saturday and must cancel a couple classes.  The 10:00 Kali and ALL 11:00 classes are cancelled this Saturday, April 12th, 2014.
We have a day of very special events planned.  First and foremost Grand Tuhon Leo Gaje will be conducting a Pekiti Tirsia seminar this weekend starting at 11:00.
In addition we will be hosting two FREE seminars for kids on Saturday.  At 8:30am we will be conducting a Bully Buster workshop and at 9:30 Self Defense workshop for kids.
Grand Tuhon Leo T. Gaje, Jr. Pekiti Tirsia Kali Seminar
April 8, 2014
Pekiti Tirsia Kali in Seattle
The Pekiti Tirsia Kali Club in Tacoma, WA is hosting a weekend seminar with the truly legendary Grand Tuhon Leo T. Gaje, Jr. at MKG Seattle this April.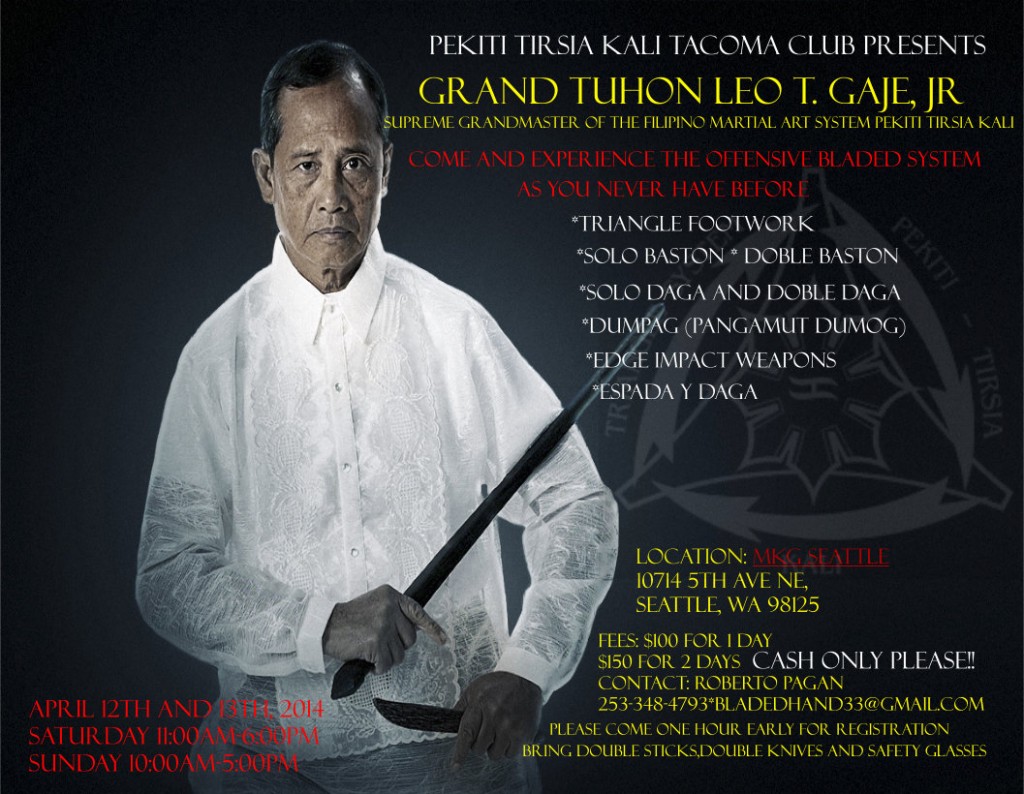 Come and experience the offensive bladed system as you've never experienced it before.
Triangle Footwork
Solo Baston / Doble Baston
Solo Daga / Doble Daga
Dumpag (Pangamut Dumog)
Edge Impact Weapons
Espada y Daga
Bring double sticks, double knives and safety glasses.
April 12th and 13th, 2014
Saturday 11:00am- 6:00pm
Sunday 10:00am-5:00pm
Please arrive one hour early for registration.
$100 for 1 day
$150 for 2 days
Cash only!
Please indicate your attendance on the official event page here: https://www.facebook.com/events/1433185533589117/
Please note that all questions should be directed to the host, Guro Roberto Pagan, of the Tacoma Club.
Contact: Roberto Pagan
Phone: 253-348-4793
Email: bladedhand33@gmail.com
April Childcare Special
April 3, 2014
Many people are not aware that the MKG Seattle community has an affordable Child Care option for all of our students.  Whether you are in our Adult Martial Arts / Kickboxing, MAX10 Boot Camp or CrossFit MKG program you are eligible to use our Child Card program.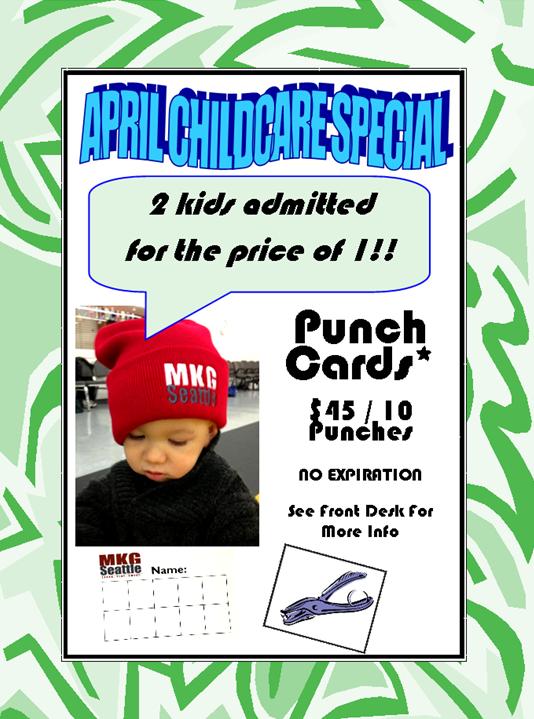 As new parents themselves, the owners of MKG understand how difficult it is to make time for yourself and it is for this reason they are committed to providing some allotted times each week where one of our Child Care staff members can watch your kids for up to two hours while you train.  We have a dedicated space, toys, wi-fi and study area in addition to a dedicated staff member for supervision.
During the month of April we are having a special if you have more than one child.  2 Kids admitted for the price of 1!!!  Remember our fee is only $5.00 a class anyway!  A steal!
Give us a call at our main number of 206-789-2411 with any questions.
Lightning Scientific Arnis April 26 & 27
March 25, 2014
Lightning Scientific Arnis Seattle
Master Jon Escudero is back in Seattle this April 26th and 27th for another seminar weekend on Lightning Scientific Arnis.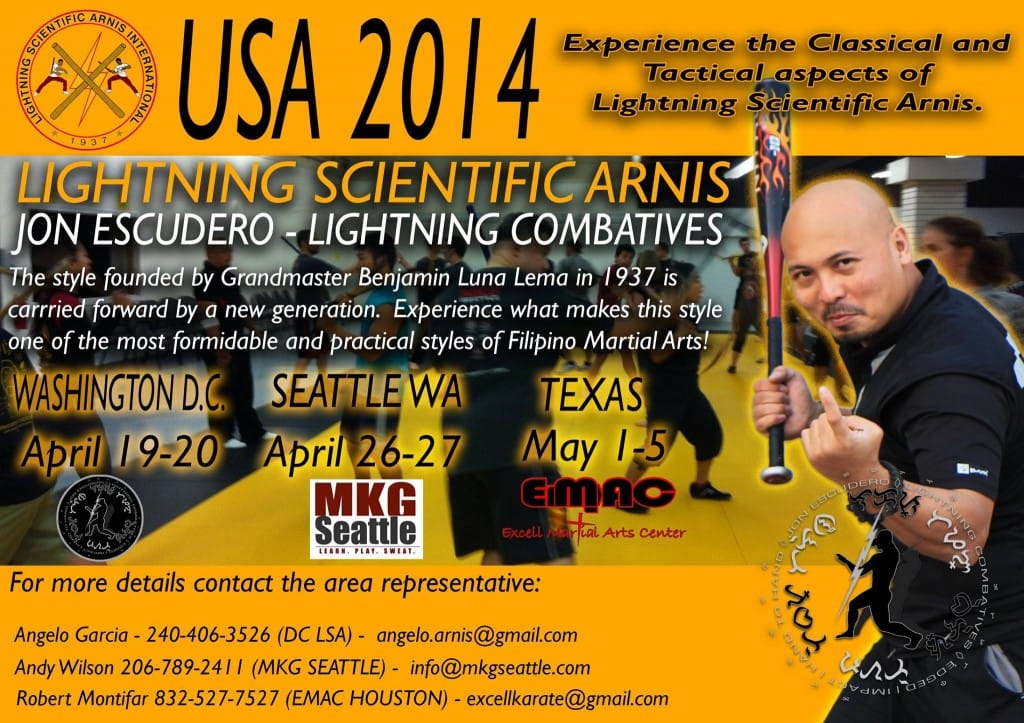 Date: 4/26 and 4/27
Time: Saturday – 12:00 to 4:30
Sunday – 11:00 to 4:00
Price: Two Days – $110, One Day $75
This seminar is open to students of all levels.
Lightning Scientific Arnis is a Filipino Martial Art (FMA) from the  Island of Panay founded by the late Grandmaster Benjamin Luna Lema in 1937. It was a synthesis of the different techniques informally practiced throughout the  Island and incorporates the techniques of Tercia, Serrada, Cadenilla and espada y daga with the use of: single stick, double stick, stick/sword and dagger, -s line of sight (Serrada) and focuses on the power generation and speed of the weapon.
Master Jon Escudero will be coming over the US this spring 2014, to conduct Seminars in Seattle, Washington, D.C. and Housto. The seminar will be of Lightning Scientific Arnis fighting concepts in bolo work, baston serrada, knife and hand to hand applications.
More infor about Master Jon Escudero and LSAI can be found here: more information to follow.
Help Wanted at MKG Seattle
February 22, 2014
HELP WANTED AT MKG SEATTLE – ALL PROGRAMS
We have several types of positions open at MKG Seattle across all of our programs.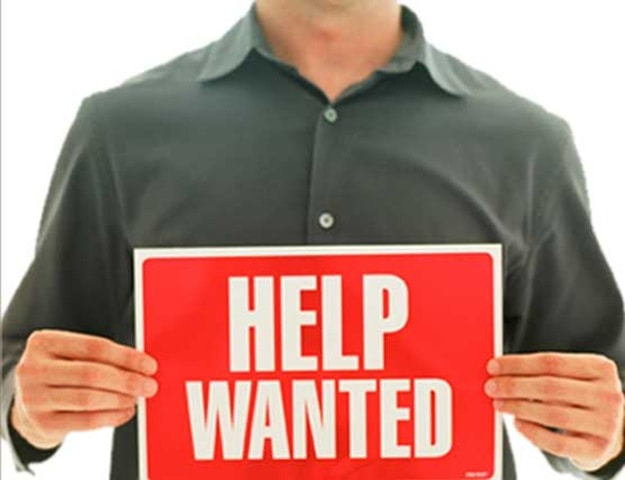 Front Desk / Reception
This is a part-time position primarily consisting of evenings and occasional to frequent Saturday mornings.
CrossFit Trainers
We have an immediate need for CrossFit trainers.  Part time on a class by class basis as a contractor with potential for employee status.
Kids Martial Arts Program Manager
Looking for a person with martial arts and management experience to help us grow our kids program.  Part-time to begin but may quickly scale to full-time.
Martial Arts Consultants
If you like what MKG Seattle is all about and think you could help us grow we need martial arts consultants.  Your job would be to help potential students determine if the environment at MKG is a good fit and help them getting enrolled in the program that will based meet their needs.  This is a commission based position and has flexible hours and potential for high income.
Volunteer / Work For Trade / Specialty
MKG Seattle is a very small business and we desperately need all the help we can get.  We have limited funds but if you have a skill and a willingness to help please let us know.  Inquire for an interview to discuss your ideas.
WordPress Web Designers
Graphic Designers
Welders
Carpentry
Programming
Data Entry
SEO / SEM
Fitness Instructors
Please send a cover letter and resume to tammy.wilson@mkgseattle.com.  If you are serious about your inquiry send properly edited, formatted and proofed emails, cover letters and resumes.  Attention to detail is a requirement for work and all poorly written inquiries will be disregarded.
Guro Dan Inosanto in Seattle March 22 & 23, 2014

There is simply no martial artist, past or present, that is like the legendary Guro Dan Inosanto. If you are interested in Kali / Arnis / Escrima, Jeet Kune Do, Silat or reality based systems such as Krav Maga then you simply need to start following Master Inosanto.
Guro Dan Inosanto returns March 22 & 23, 2014 to Seattle.
Note: this seminar is being conducted at the Washington State Criminal Justice Training Center not MKG Seattle.
Date: March 22 & 23, 2014
Time: 12:00 to 5:30
Price: $100 For One Day / $160 For Both (CASH ONLY)
Please use the Facebook event page to confirm your attendance: https://www.facebook.com/events/1395304840733930/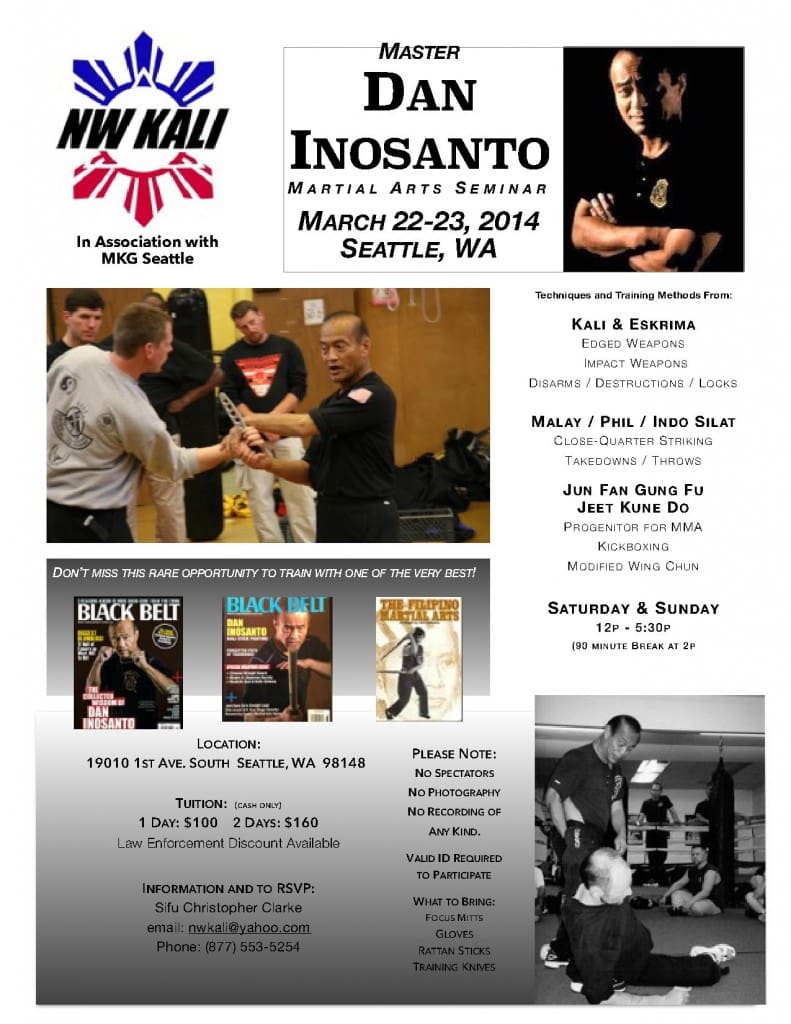 For Questions, Information and to RSVP
Sifu Christopher Clarke
nwkali@yahoo.com
877-553-5254
6-Week Instructor Training Course Starts March 2nd
February 20, 2014
We are about to conduct our first ever MKG Seattle Instructor Course this March and April 2014!
This is a 6 week course designed to educate potential instructors, and further educate our existing instructors, on how to teach and motivate their students.
To be eligible for the course you must be a member of our Combat Sports or Combat Fighting programs and be able to assist in classes once per week in 2014 and 2015.
We will be meeting on Saturdays 2-3 hours per day throughout most of March and early April.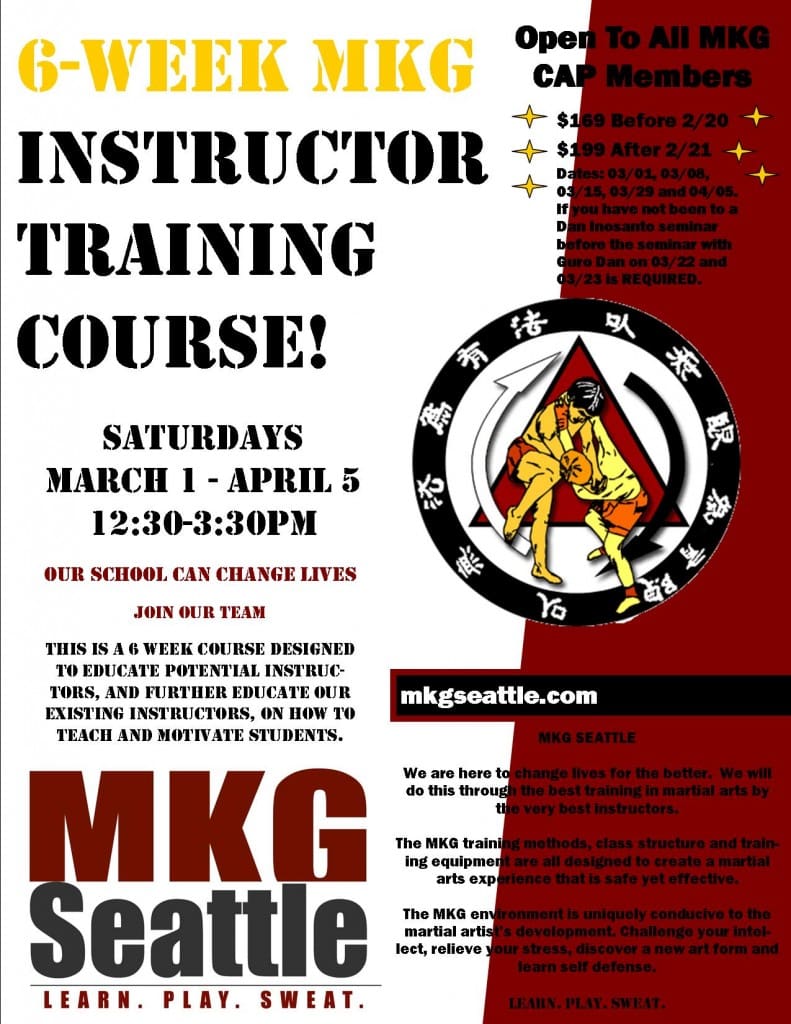 Dates: 03/01, 03/08, 03/15, 03/29 and 04/05.
If you have not been to a Dan Inosanto seminar before the seminar with Guro Dan on 03/22 and 03/23 is REQUIRED.
Times: 12:30 to 3:30 pm
Price: $199 ($169 pre-registration by 2/20)
********** WARNING ********** WARNING *********
This is a seminar on INSTRUCTING the martial arts not a training for levels or rank. We really dislike the concept of weekend, or short term courses, to create certified Kru's or coaches. Rank must be earned through months and years of consistent flight time and training.
********** WARNING ********** WARNING *********
Muay Thai Seminar Plus Testing
February 19, 2014
Sunday, March 2nd – MKG Sunday Seminars Return!
Attention MKG Seattle CAP (Combat Sport and Combat Fighting) members. Join us on Sunday March 2nd for a seminar covering the entirety of the MKG Muay Thai Level 1, 2 and 3 curriculum.
Khuen Kru Andy and Tammy Wilson along with Khuen Kru's Ray, Vanessa and Josh will be conducting this seminar on the MKG Muay Thai method.
The Thai Boxing section of our training was taught to us by Ajarn Chai Sirisute. He has, throughout the years, shown us why this is the most successful kickboxing art in the world. Conditioning, power base, defensive structure and discipline will all improve with this training.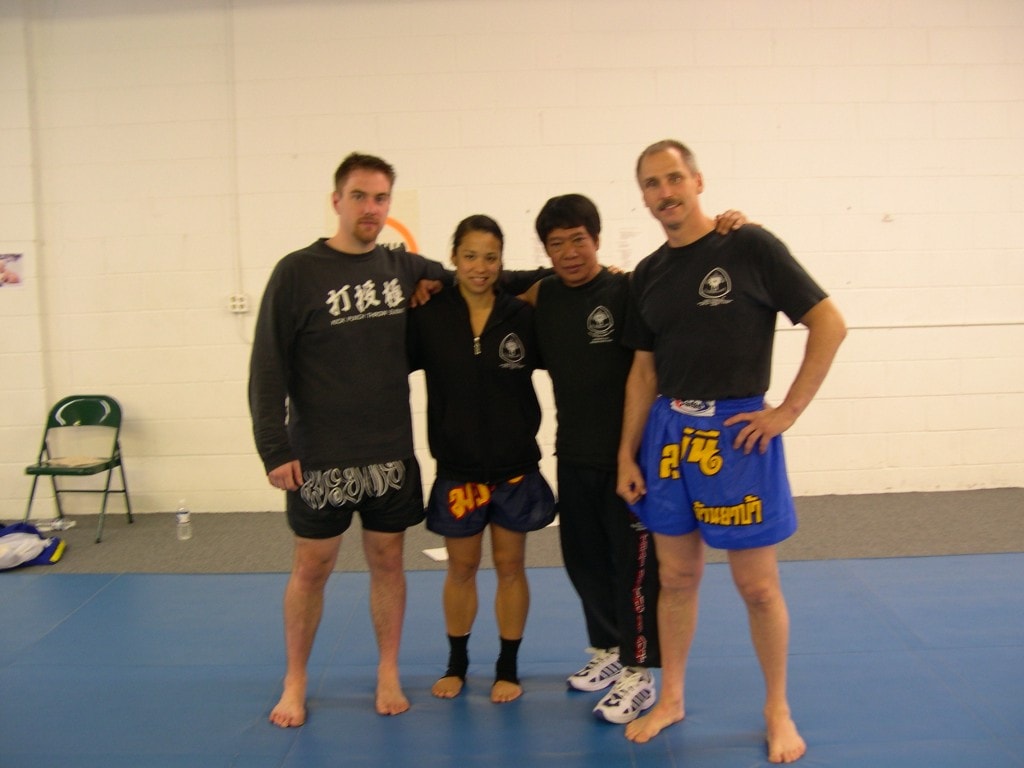 Outlines will be provided to all participants for all 3 levels. We will fully review all the requirements for ranking in the Muay Thai curriculum being used in MKG branches throughout the world.
For those with interest in ranking and who have the necessary flight time we will be providing applications, prior to the seminar, for testing up to your level.
As part of this testing for the first time ever we will be rolling out our new MKG Seattle colored prajit armbands for rank. This seminar will be the ONLY CHANCE for those with extensive experience to bypass any levels.
This seminar will cover:
Level 1: White/Yellow
Level 2: Yellow
Level 3: Orange
Date: Sunday, March 2nd, 2014
Time: 10:00 to 3:00pm
Cost: $40 For Seminar (plus $15 for testing)
Please Reserve Your Spot on Facebook - https://www.facebook.com/events/299205280232259/
We highly recommend Thai pads, shin guards, boxing gloves and belly pads for this seminar.
Child Care During Adult Classes. SALE!!!
February 15, 2014
Child Care During Adult Classes
For parents with young children it can be nearly impossible to make time to attend classes.  This is something we've always wished we could help with…  Fortunately we actually have the space in our new facility so we are excited to finally offer child care so you can train!  We are going to start out conservatively and if the feedback and response is positive we will expand covered hours quickly.
We cannot stress highly enough that if this is something you are interested in it is vital to participate quickly and consistently.  If there is not a good response we will be unable to maintain the program.
Hours:
9:00 to 11:00 am Monday and Wednesday
6:00 to 8:30 pm on Tuesday and Thursday
9:00 to 12:00 pm on Saturday morning.
Cost:
$5.00 Per Child Per Visit
$45.00 10 Pack
Conditions:
2 Hours maximum
6 Months to 12 Years
Please inquire for further conditions.
Space is LIMITED.  Be sure you stop by the front desk or better yet use this form below for more information on the program and special offers for new and returning students:
Send Us a Note:
Cancelled – Self Defense Seminar February 9th, 2014
February 4, 2014
Martial Arts as Fitness vs. Martial Arts as Self Defense
We are sorry for the last minute notice but we are canceling the seminar for snow/safety concerns.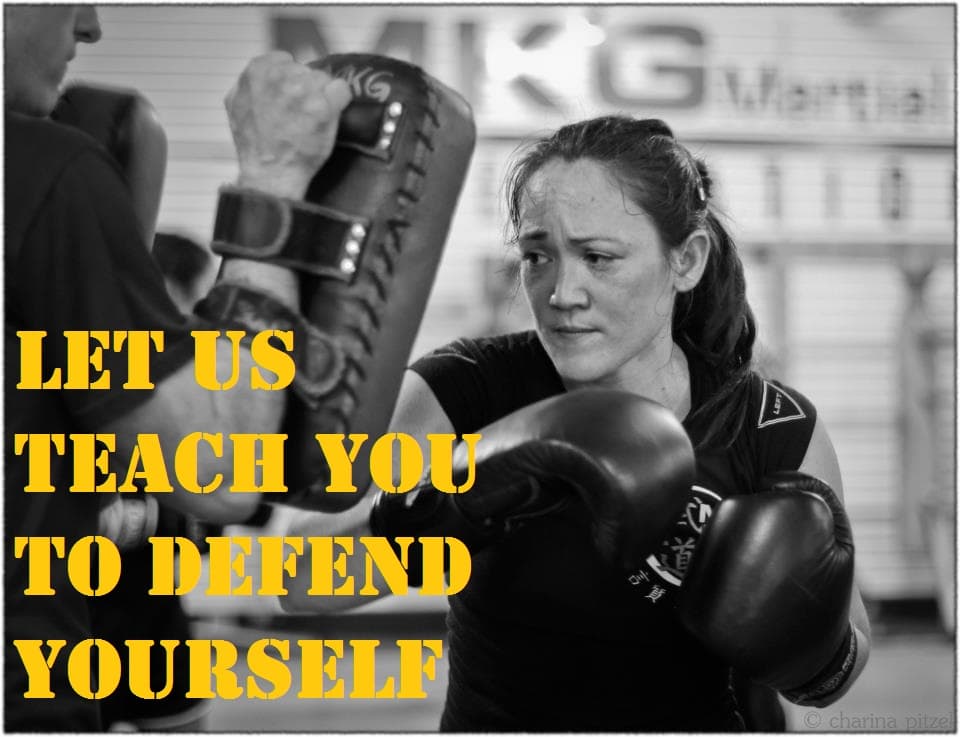 Start the year off right with an introduction to the self defense and fitness programs at MKG Seattle.
Through elements of Kali, JKD, Muay Thai and grappling we are going to be showing how training can, and should be fun, interesting and provide a REAL WORLD self defense benefit in every single class.
Only $20.00!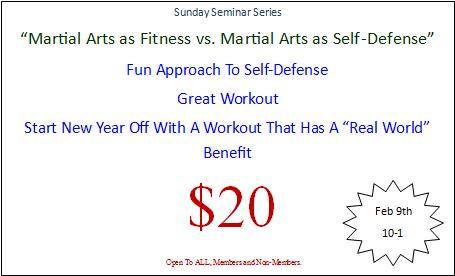 We only have self defense classes 2-3 times a year so you don't want to miss this one.
Date: Sunday, February 9th
Time: 10:00am to 1:00pm
Register Here - https://www.facebook.com/events/719449068089022/
If you are a current student and bring someone who isn't already a student you train for FREE.
We will be reviving and expanding our Sunday seminar series in 2014 and this is the first of many low cost ways to supplement and expand your training no matter where you train.
Watch for two Muay Thai seminars in March on the first 5 levels of the MKG Muay Thai system.
Keysi by Justo Dieguez in Seattle
January 22, 2014
Keysi in Seattle With Justo Dieguez
We are excited to have the opportunity to co-host a seminar with USMAA Bellingham on Keysi, the fighting method as taught by the founder,Justo Dieguez. This is a rare opportunity to train in one of the only truly innovative martial arts of the last 20 years.
Fans of Pananukan, Silat or 'reality based fighting' should check out this system. JKD Concepts practitioners should especially see the innovation in the trapping and clinch ranges.
Keysi is a method of self defense that is based on natural fighting instincts, martial arts and street fighting techniques, developed by Justo Dieguez Serrano.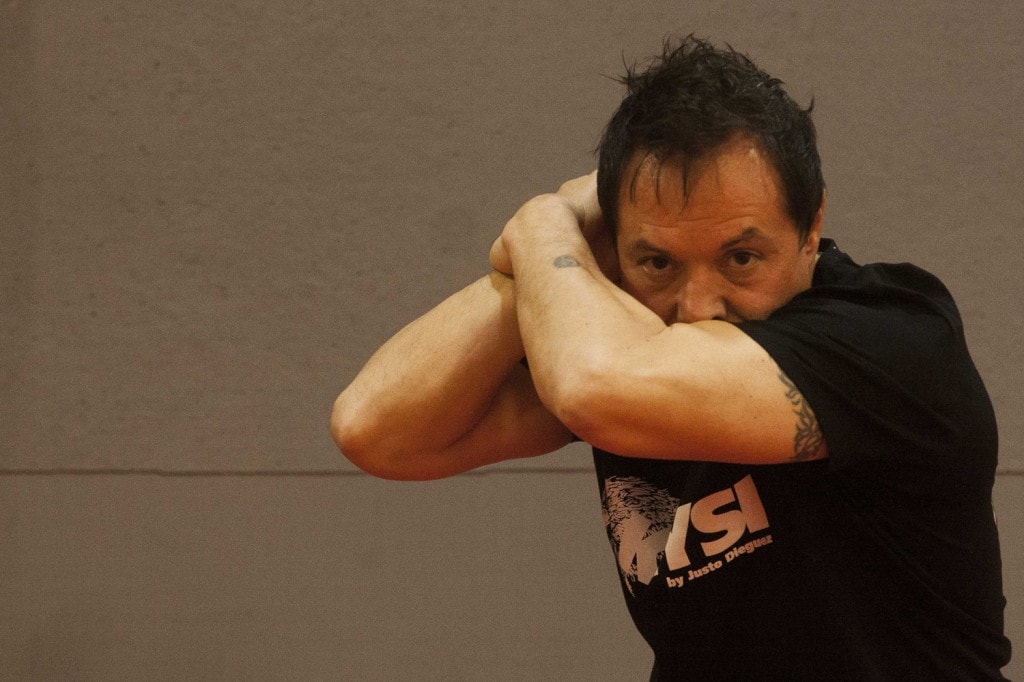 Formerly known as KFM or Keysi Fighting Method, it became famous after it was used in the fighting choreography of the movies Batman Begins and its sequel, The Dark Knight. It was also featured in the final scene of Mission Impossible 3 with Tom Cruise.
Do not miss this opportunity. This is a trial seminar to see if there is enough interest to bring Keysi by Justo Dieguez to the Pacific Northwest.
When: Feb 22 & 23, 2014
Time: Sat – 2:00 to 5:00 pm
Sun – 11:00 to 2:00 pm
Cost: $75 One Day or $120 For Both Days
Space is Limited Reserve Your Spot - https://www.facebook.com/events/352691444869352/
MKG Students: Financial assistance is available. Don't let money be the problem.
About Keysi by Justo Dieguez
The thinking man or "pensador" is primary in the Keysi method. This defensive shape has the combatant place both hands on his head and he guards his head and face with cyclical movements of the forearms and elbows. The pensador uses a system of "windows" during these rapid and fluid movements to sight the opponent. This system allows the combatant to protect his face and head while maintaining a visual on his opponent.
Keysi practices all ranges of attack for combat, but, unlike many traditional martial arts, most fighting takes place in extreme close quarters and uses high, middle, and low lines of attack, working against opponents with or without weapons. From the Pensador defense a variety of counter attacks are launched to vital targets, the biceps, kidneys or solar plexus. Keysi also relies on understanding how people typically move or attack in a fight so that when striking, the opponent's body is moved to expose more targets.  Another aspect is its "360-degree" approach to multi-assailant attacks whether standing, kneeling, sitting or lying down.
Part of the Keysi philosophy is the redefining of the terms "predator and prey" as well, where the would-be victim becomes the predator and the would-be attacker his/her prey.
Keysi practices all ranges of attack has a Code of Ethics including principals relating to Purpose, Self Respect, Persistence, and Perspective. Purpose is your mission in life. Self Respect is the satisfaction and pride you find in your own achievements and in those you care for, and must be tempered with humility. When purpose is clear and "ego" is under control, the third principle is Patience. It takes patience, effort, and dedication to do a good job, to make an investment which allow goals to be reached and ultimately one's purpose in life to be achieved. Even though patience is necessary, it will never be enough without persistence. Never give up! Next is Perspective or the ability to understand what is really important and to see clearly in any given situation. Purpose, self respect, patience and persistence are like a wheel whose axle is perspective.
Again, space is limited so register right away. https://www.facebook.com/events/352691444869352/
Sayoc Kali in Seattle – Seminar January 18th, 2014
December 26, 2013
Sayoc Kali Classes in Seattle, WA at MKG Martial Arts
Sifu Martin Gonzalez from USMAA in Bellingham, WA will be conducting a 4 hour seminar on Sayoc Kali in Seattle on Saturday, January 18th, 2014.
The seminar focus will be on Sayoc Kali Transition Drill 1.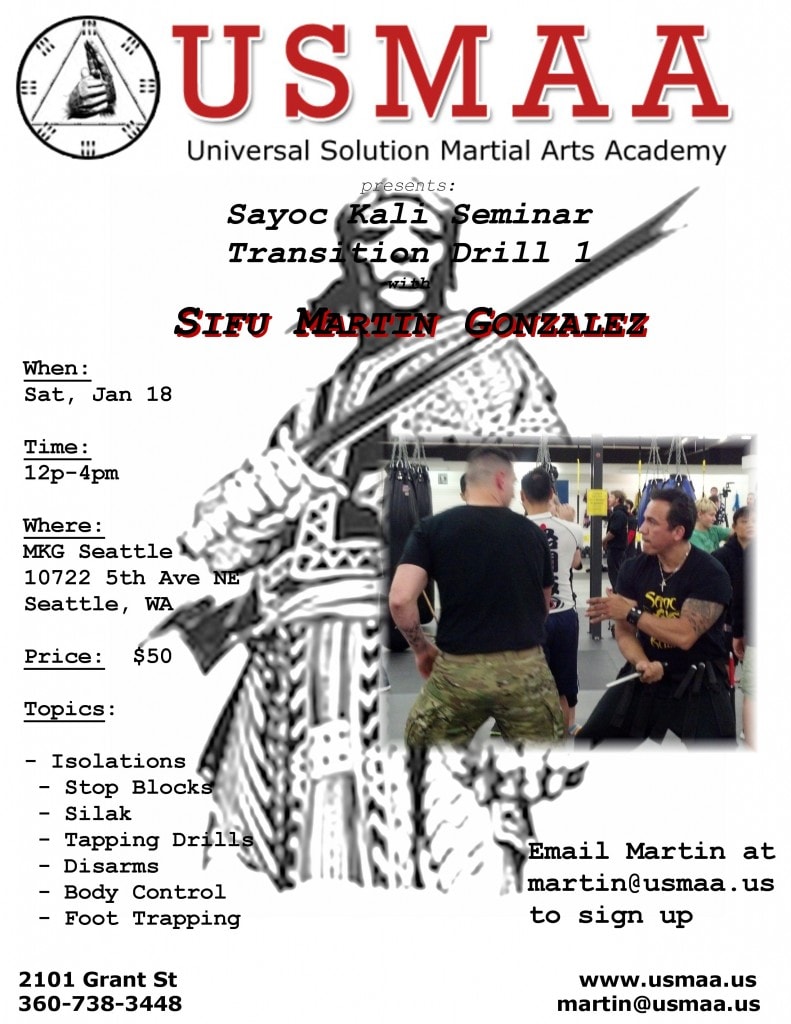 When: 
Sat, Jan 18
Time:
12pm – 4PM
Where:
MKG Seattle
10714 5th Ave NE
Seattle, WA  98125
Price:
$50
Topics:
Isolations
Stop Blocks
Silak
Tapping Drills
Disarms
Body Control
Foot Trapping
MMA Trainer Erik Paulson 01/11/2014

Sensei Erik Paulson Seattle Seminar January 11, 2014
Hosted by NW Kali / JKD in Association With MKG Seattle.
Sensei Erik Paulson in the Pacific Northwest.

One day only here in Seattle.
Saturday, January 11th, 2014 in Seattle, WA
11:00 to 4:00
$90 CASH ONLY.
https://www.facebook.com/events/228375320672604/
We are asking Sensei Erik to focus on STX Kickboxing and Leg Locks.
Sensei Erik has more depth of information and experience than just about any coach in MMA. Erik is one of those rare fighters who can also teach.
Erik has just released a 5 volume series of DVD's on his own STX Kickboxing system that is not to be missed. This hybrid striking system developed by Erik focuses on explosive techniques in Boxing, Panantukan, Jun Fan/JKD Kickboxing, Savate, and Muay Thai (Thai & Dutch methods). In STX Kickboxing, students will learn a blend of elbows, punches and knees from each art. These skills are easily translated in MMA, kickboxing, and self-defense situations. From glove drills, focus mitts, Thai-pads, and sparring, students will have a variety of striking options.
Buy them now!  On sale at the CSW Store here: http://csw-store.com/STXKICKBOXING-Levels-1-5.html
Sunday, January 12th, 2014 in Portland, OR
Last Minute Christmas or New Years Resolution Specials
December 24, 2013
Last Minute 2013 Christmas or New Years Resolution Specials
We have specials in our martial arts, CrossFit, MAX10 and self defense classes that would make great last minute stocking stuffers for new members. Combined with t-shirts, caps, foam rollers or other equipment it could be a really cool gift.
Of course they can be purchased for yourself
CrossFit MKG – 2 Months For the Price of 1!*
CrossFit MKG – On-Ramp is 50% Off AND the January FREE!*
MKG Martial Arts – How About a Self Defense Workshop – $20!
MKG Martial Arts – A Full Month of Classes and Private Lesson – $157*
MAX10 Fitness – 10 Week Boot Camp – Buy 1 Get 1 50% Off!*
All Programs – 4 Week Yoga Class – $40!
* New members only. Terms and conditions apply.
We are only open until 9:00 tonight though. But, though we are officially closed, we can probably help you out tomorrow between 11:00 and 4:00 if you contact us by Facebook and/or reach us on the phone at 206-789-2411 before coming down.
2013 Holiday Schedule

MKG Students,
Holiday Schedule. Read closely.
Reminder: we will be closed on December 24 and 25 and January 1st. We will also be closing at 2:00 pm on December 31st.
Advanced/CFP Students – There will be no Phase 2/3 on Monday's, CORE, CFP on Thursday's or Kali Level 2 or Savate Level 2 on Saturday's for the next 2 weeks until 01/04/2014.
Normal schedule will resume on 01/04/2014.
Thank you and Happy Holidays!
Yoga 4 week series starts January 5th
December 12, 2013
Yoga is the perfect complement to your martial arts or fitness training.  Increase balance, flexibility and awareness with our 4-week series.  Suitable for all fitness levels.
Sign up at the Front Desk.  Open to ALL PROGRAMS and non-members.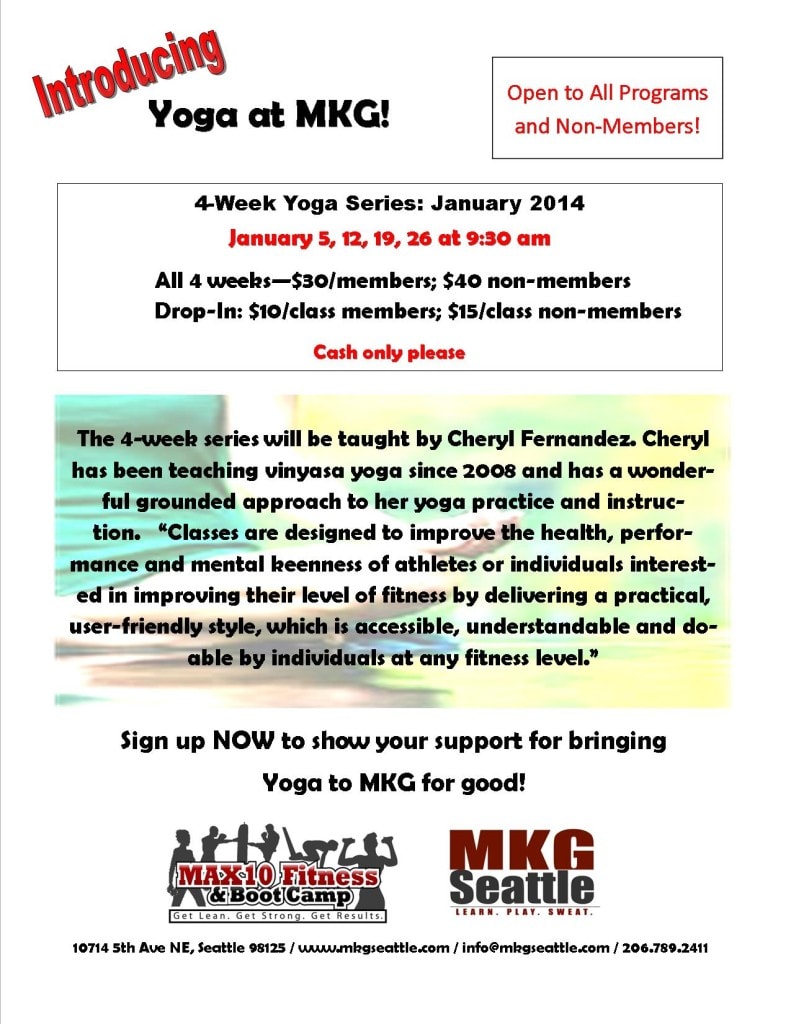 Bringing back the 5-day/week boot camp! Starts January 6th!

Let this be the year that you regain your health!  Create a healthy lifestyle and lose the extra weight!  Stop beating yourself up and JUST DO IT®!
Only 16 spots available per session.  Sign up on-line  NOW to secure your registration!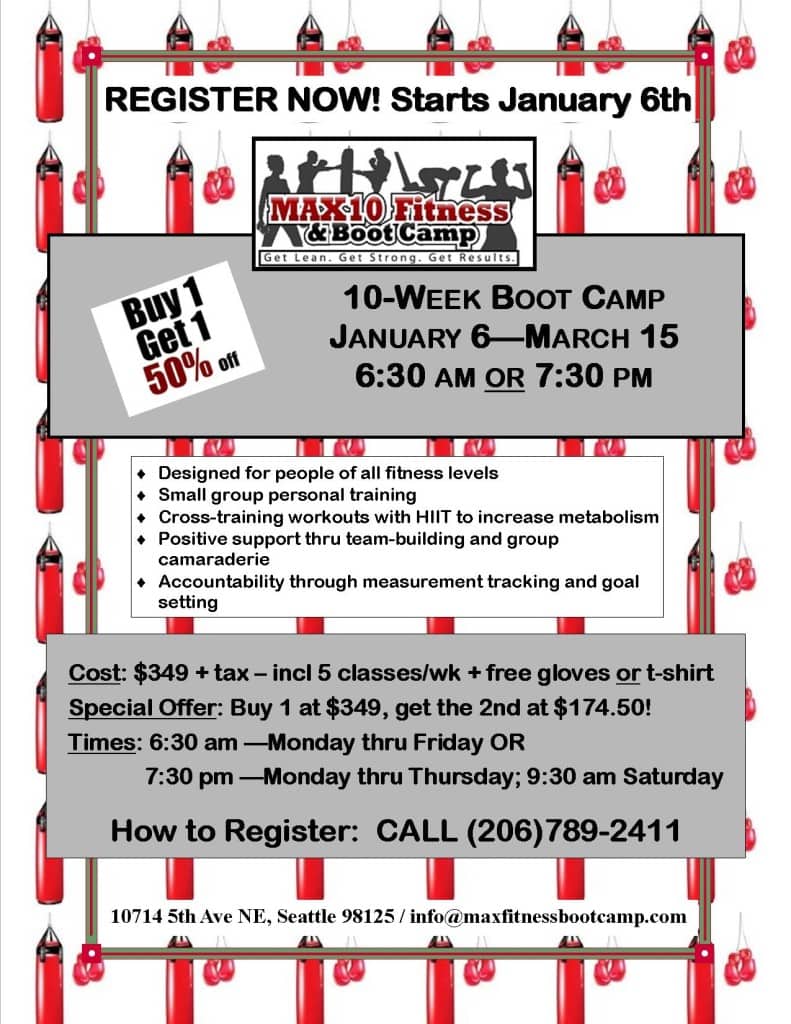 FREE YOGA! Sunday, December 8th at 9:30 am
December 8, 2013
Help us bring yoga to MKG as part of our permanent schedule.  All MKG students, MAX Fitness members, MKG CrossFitters, guests and non-members are welcome!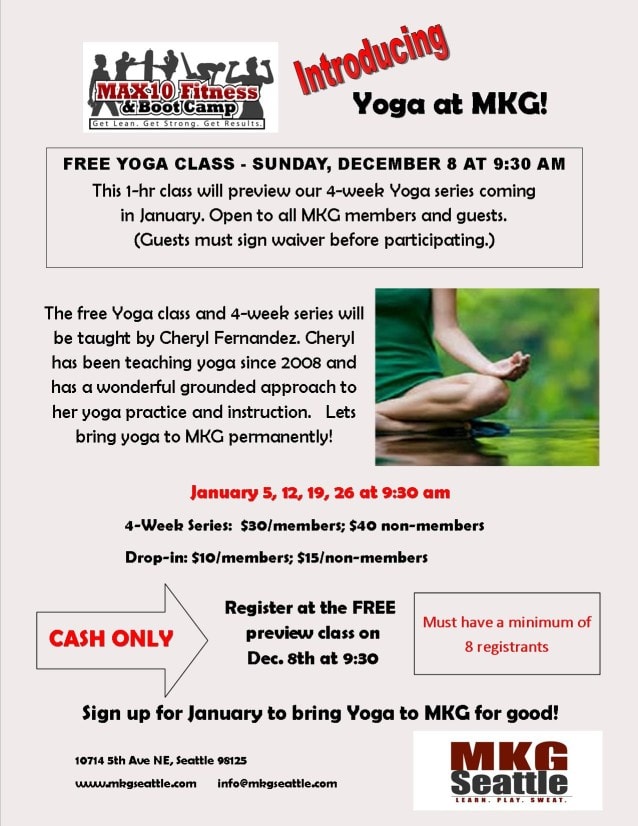 Guro Rick Faye December 7 & 8, 2013
December 5, 2013
Kali / JKD Seminar in Seattle, WA
Guro Rick Faye returns to MKG Seattle December 7th and 8th, 2013.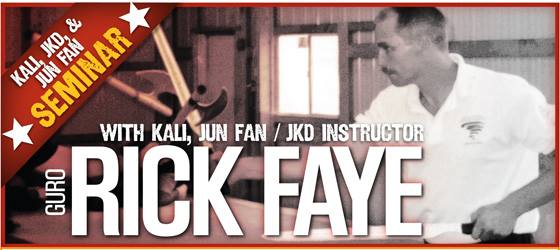 11:30 to 4:30 both days
$140.00 Both days or $85.00 for one.
Please use our Facebook event page to reserve your spot.
https://www.facebook.com/events/385135554952421/
His seminars are packed full of information, logical progression and inspiring to both beginners and advanced practitioners. As always Panantukan, Kali Weaponry, JKD and mixed striking methods will be on the menu.
Guro Rick is among only a handful of Senior Full Instructors under Guro Dan Inosanto in the world and he comes to MKG Seattle twice a year.