Newswire
Help Wanted at MKG Seattle
February 22, 2014
HELP WANTED AT MKG SEATTLE – ALL PROGRAMS
We have several types of positions open at MKG Seattle across all of our programs.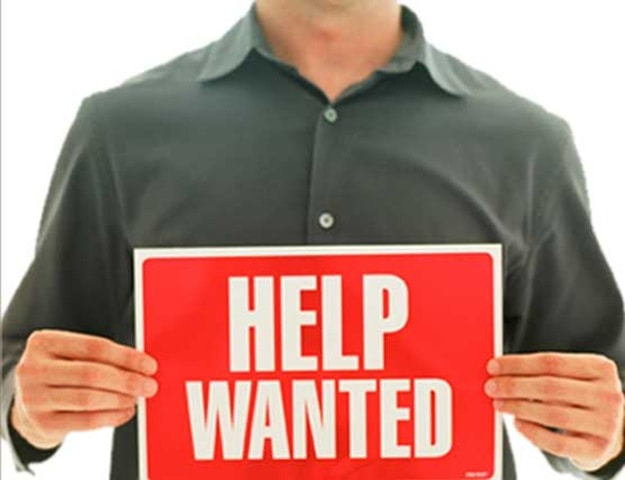 Front Desk / Reception
This is a part-time position primarily consisting of evenings and occasional to frequent Saturday mornings.
CrossFit Trainers
We have an immediate need for CrossFit trainers.  Part time on a class by class basis as a contractor with potential for employee status.
Kids Martial Arts Program Manager
Looking for a person with martial arts and management experience to help us grow our kids program.  Part-time to begin but may quickly scale to full-time.
Martial Arts Consultants
If you like what MKG Seattle is all about and think you could help us grow we need martial arts consultants.  Your job would be to help potential students determine if the environment at MKG is a good fit and help them getting enrolled in the program that will based meet their needs.  This is a commission based position and has flexible hours and potential for high income.
Volunteer / Work For Trade / Specialty
MKG Seattle is a very small business and we desperately need all the help we can get.  We have limited funds but if you have a skill and a willingness to help please let us know.  Inquire for an interview to discuss your ideas.
WordPress Web Designers
Graphic Designers
Welders
Carpentry
Programming
Data Entry
SEO / SEM
Fitness Instructors
Please send a cover letter and resume to tammy.wilson@mkgseattle.com.  If you are serious about your inquiry send properly edited, formatted and proofed emails, cover letters and resumes.  Attention to detail is a requirement for work and all poorly written inquiries will be disregarded.
Guro Dan Inosanto in Seattle March 22 & 23, 2014

There is simply no martial artist, past or present, that is like the legendary Guro Dan Inosanto. If you are interested in Kali / Arnis / Escrima, Jeet Kune Do, Silat or reality based systems such as Krav Maga then you simply need to start following Master Inosanto.
Guro Dan Inosanto returns March 22 & 23, 2014 to Seattle.
Note: this seminar is being conducted at the Washington State Criminal Justice Training Center not MKG Seattle.
Date: March 22 & 23, 2014
Time: 12:00 to 5:30
Price: $100 For One Day / $160 For Both (CASH ONLY)
Please use the Facebook event page to confirm your attendance: https://www.facebook.com/events/1395304840733930/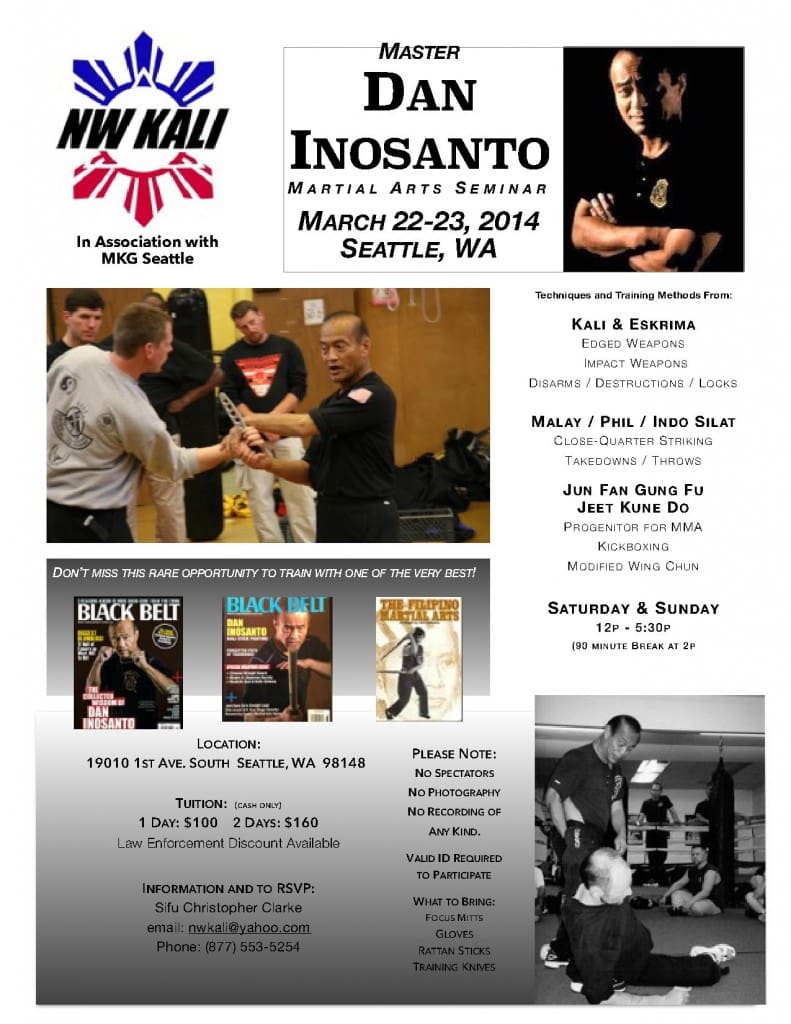 For Questions, Information and to RSVP
Sifu Christopher Clarke
nwkali@yahoo.com
877-553-5254
6-Week Instructor Training Course Starts March 2nd
February 20, 2014
We are about to conduct our first ever MKG Seattle Instructor Course this March and April 2014!
This is a 6 week course designed to educate potential instructors, and further educate our existing instructors, on how to teach and motivate their students.
To be eligible for the course you must be a member of our Combat Sports or Combat Fighting programs and be able to assist in classes once per week in 2014 and 2015.
We will be meeting on Saturdays 2-3 hours per day throughout most of March and early April.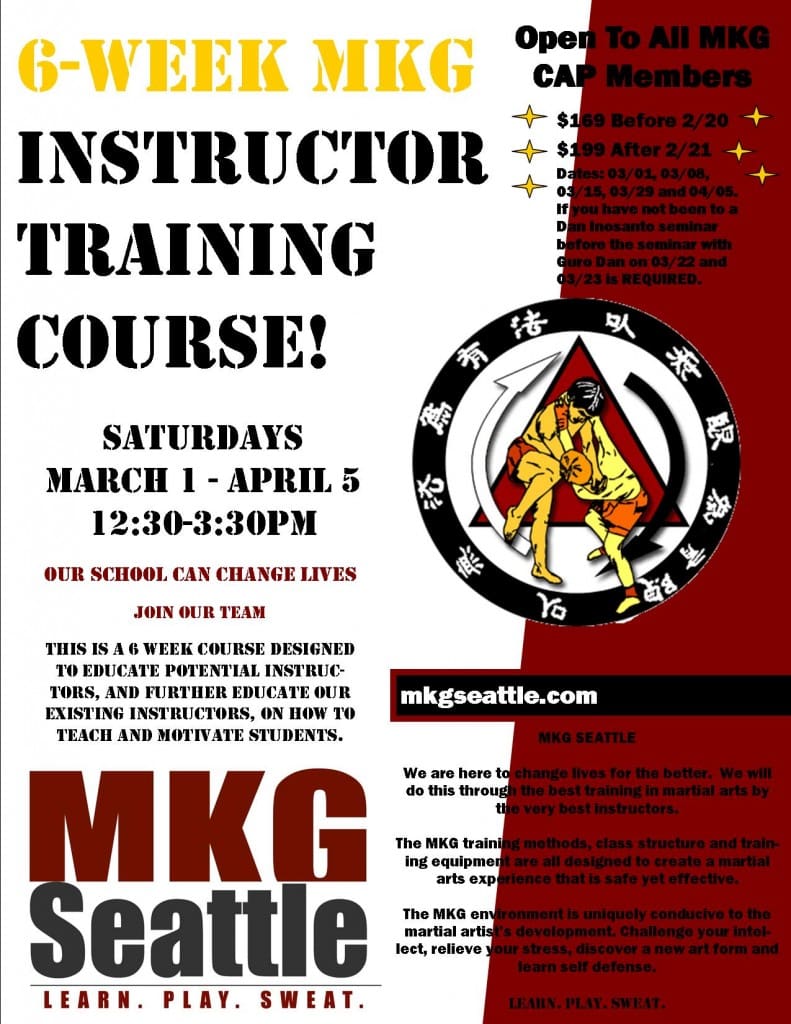 Dates: 03/01, 03/08, 03/15, 03/29 and 04/05.
If you have not been to a Dan Inosanto seminar before the seminar with Guro Dan on 03/22 and 03/23 is REQUIRED.
Times: 12:30 to 3:30 pm
Price: $199 ($169 pre-registration by 2/20)
********** WARNING ********** WARNING *********
This is a seminar on INSTRUCTING the martial arts not a training for levels or rank. We really dislike the concept of weekend, or short term courses, to create certified Kru's or coaches. Rank must be earned through months and years of consistent flight time and training.
********** WARNING ********** WARNING *********
Muay Thai Seminar Plus Testing
February 19, 2014
Sunday, March 2nd – MKG Sunday Seminars Return!
Attention MKG Seattle CAP (Combat Sport and Combat Fighting) members. Join us on Sunday March 2nd for a seminar covering the entirety of the MKG Muay Thai Level 1, 2 and 3 curriculum.
Khuen Kru Andy and Tammy Wilson along with Khuen Kru's Ray, Vanessa and Josh will be conducting this seminar on the MKG Muay Thai method.
The Thai Boxing section of our training was taught to us by Ajarn Chai Sirisute. He has, throughout the years, shown us why this is the most successful kickboxing art in the world. Conditioning, power base, defensive structure and discipline will all improve with this training.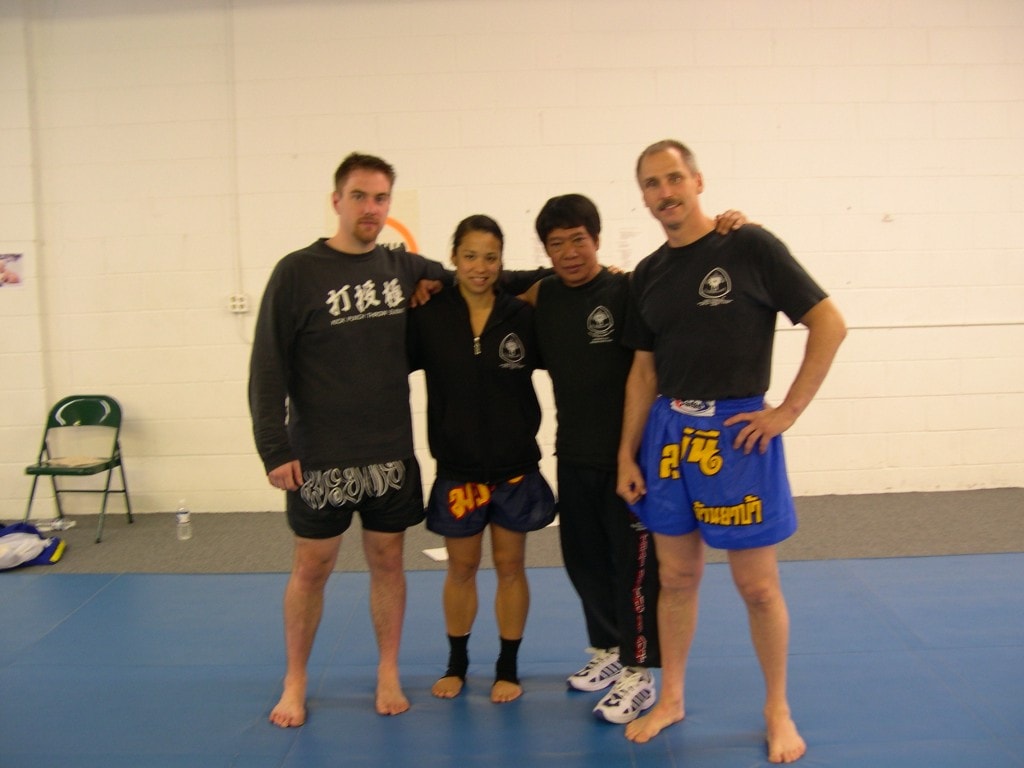 Outlines will be provided to all participants for all 3 levels. We will fully review all the requirements for ranking in the Muay Thai curriculum being used in MKG branches throughout the world.
For those with interest in ranking and who have the necessary flight time we will be providing applications, prior to the seminar, for testing up to your level.
As part of this testing for the first time ever we will be rolling out our new MKG Seattle colored prajit armbands for rank. This seminar will be the ONLY CHANCE for those with extensive experience to bypass any levels.
This seminar will cover:
Level 1: White/Yellow
Level 2: Yellow
Level 3: Orange
Date: Sunday, March 2nd, 2014
Time: 10:00 to 3:00pm
Cost: $40 For Seminar (plus $15 for testing)
Please Reserve Your Spot on Facebook - https://www.facebook.com/events/299205280232259/
We highly recommend Thai pads, shin guards, boxing gloves and belly pads for this seminar.
Child Care During Adult Classes. SALE!!!
February 15, 2014
Child Care During Adult Classes
February 2014 Sale:  Buy 1 Childcare Punchcard Get a Second For FREE!
For parents with young children it can be nearly impossible to make time to attend classes.  This is something we've always wished we could help with…  Fortunately we actually have the space in our new facility so we are excited to finally offer child care so you can train!  We are going to start out conservatively and if the feedback and response is positive we will expand covered hours quickly.
We cannot stress highly enough that if this is something you are interested in it is vital to participate quickly and consistently.  If there is not a good response we will be unable to maintain the program.
Hours:
9:00 to 11:00 am Monday and Wednesday
6:00 to 8:30 pm on Tuesday and Thursday
9:00 to 12:00 pm on Saturday morning.
Cost:
$5.00 Per Child Per Visit
$45.00 10 Pack
Conditions:
2 Hours maximum
6 Months to 12 Years
Please inquire for further conditions.
Space is LIMITED.  Be sure you stop by the front desk or better yet use this form below for more information on the program and special offers for new and returning students:
Send Us a Note:
Cancelled – Self Defense Seminar February 9th, 2014
February 4, 2014
Martial Arts as Fitness vs. Martial Arts as Self Defense
We are sorry for the last minute notice but we are canceling the seminar for snow/safety concerns.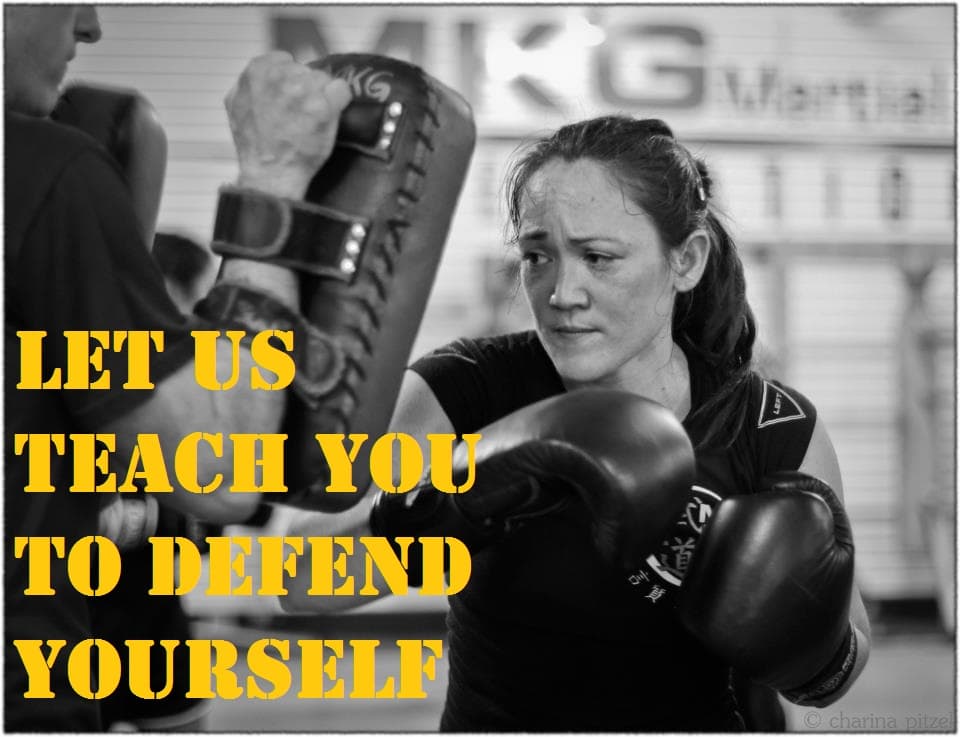 Start the year off right with an introduction to the self defense and fitness programs at MKG Seattle.
Through elements of Kali, JKD, Muay Thai and grappling we are going to be showing how training can, and should be fun, interesting and provide a REAL WORLD self defense benefit in every single class.
Only $20.00!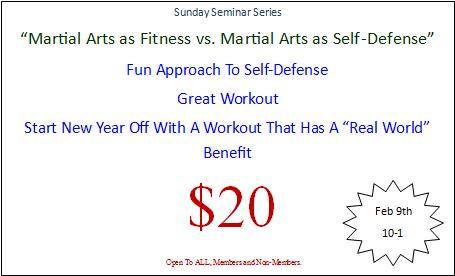 We only have self defense classes 2-3 times a year so you don't want to miss this one.
Date: Sunday, February 9th
Time: 10:00am to 1:00pm
Register Here - https://www.facebook.com/events/719449068089022/
If you are a current student and bring someone who isn't already a student you train for FREE.
We will be reviving and expanding our Sunday seminar series in 2014 and this is the first of many low cost ways to supplement and expand your training no matter where you train.
Watch for two Muay Thai seminars in March on the first 5 levels of the MKG Muay Thai system.
Keysi by Justo Dieguez in Seattle
January 22, 2014
Keysi in Seattle With Justo Dieguez
We are excited to have the opportunity to co-host a seminar with USMAA Bellingham on Keysi, the fighting method as taught by the founder,Justo Dieguez. This is a rare opportunity to train in one of the only truly innovative martial arts of the last 20 years.
Fans of Pananukan, Silat or 'reality based fighting' should check out this system. JKD Concepts practitioners should especially see the innovation in the trapping and clinch ranges especially.
Keysi is a method of self defense that is based on natural fighting instincts, martial arts and street fighting techniques, developed by Justo Dieguez Serrano.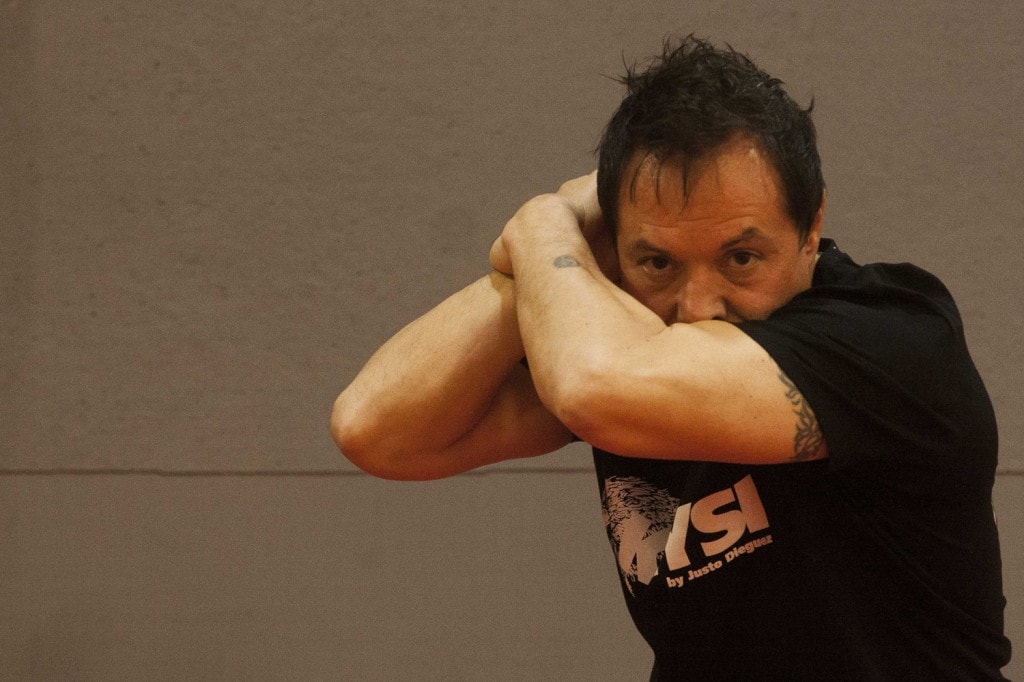 Formerly known as KFM or Keysi Fighting Method, it became famous after it was used in the fighting choreography of the movies Batman Begins and its sequel, The Dark Knight. It was also featured in the final scene of Mission Impossible 3 with Tom Cruise.
Do not miss this opportunity. This is a trial seminar to see if there is enough interest to bring Keysi by Justo Dieguez to the Pacific Northwest.
When: Feb 22 & 23, 2014
Time: Sat – 2:00 to 5:00 pm
Sun – 11:00 to 2:00 pm
Cost: $75 One Day or $120 For Both Days
Space is Limited Reserve Your Spot - https://www.facebook.com/events/352691444869352/
MKG Students: Financial assistance is available. Don't let money be the problem.
About Keysi by Justo Dieguez
The thinking man or "pensador" is primary in the Keysi method. This defensive shape has the combatant place both hands on his head and he guards his head and face with cyclical movements of the forearms and elbows. The pensador uses a system of "windows" during these rapid and fluid movements to sight the opponent. This system allows the combatant to protect his face and head while maintaining a visual on his opponent.
Keysi practices all ranges of attack for combat, but, unlike many traditional martial arts, most fighting takes place in extreme close quarters and uses high, middle, and low lines of attack, working against opponents with or without weapons. From the Pensador defense a variety of counter attacks are launched to vital targets, the biceps, kidneys or solar plexus. Keysi also relies on understanding how people typically move or attack in a fight so that when striking, the opponent's body is moved to expose more targets.  Another aspect is its "360-degree" approach to multi-assailant attacks whether standing, kneeling, sitting or lying down.
Part of the Keysi philosophy is the redefining of the terms "predator and prey" as well, where the would-be victim becomes the predator and the would-be attacker his/her prey.
Keysi practices all ranges of attack has a Code of Ethics including principals relating to Purpose, Self Respect, Persistence, and Perspective. Purpose is your mission in life. Self Respect is the satisfaction and pride you find in your own achievements and in those you care for, and must be tempered with humility. When purpose is clear and "ego" is under control, the third principle is Patience. It takes patience, effort, and dedication to do a good job, to make an investment which allow goals to be reached and ultimately one's purpose in life to be achieved. Even though patience is necessary, it will never be enough without persistence. Never give up! Next is Perspective or the ability to understand what is really important and to see clearly in any given situation. Purpose, self respect, patience and persistence are like a wheel whose axle is perspective.
Again, space is limited so register right away. https://www.facebook.com/events/352691444869352/
Sayoc Kali in Seattle – Seminar January 18th, 2014
December 26, 2013
Sayoc Kali Classes in Seattle, WA at MKG Martial Arts
Sifu Martin Gonzalez from USMAA in Bellingham, WA will be conducting a 4 hour seminar on Sayoc Kali in Seattle on Saturday, January 18th, 2014.
The seminar focus will be on Sayoc Kali Transition Drill 1.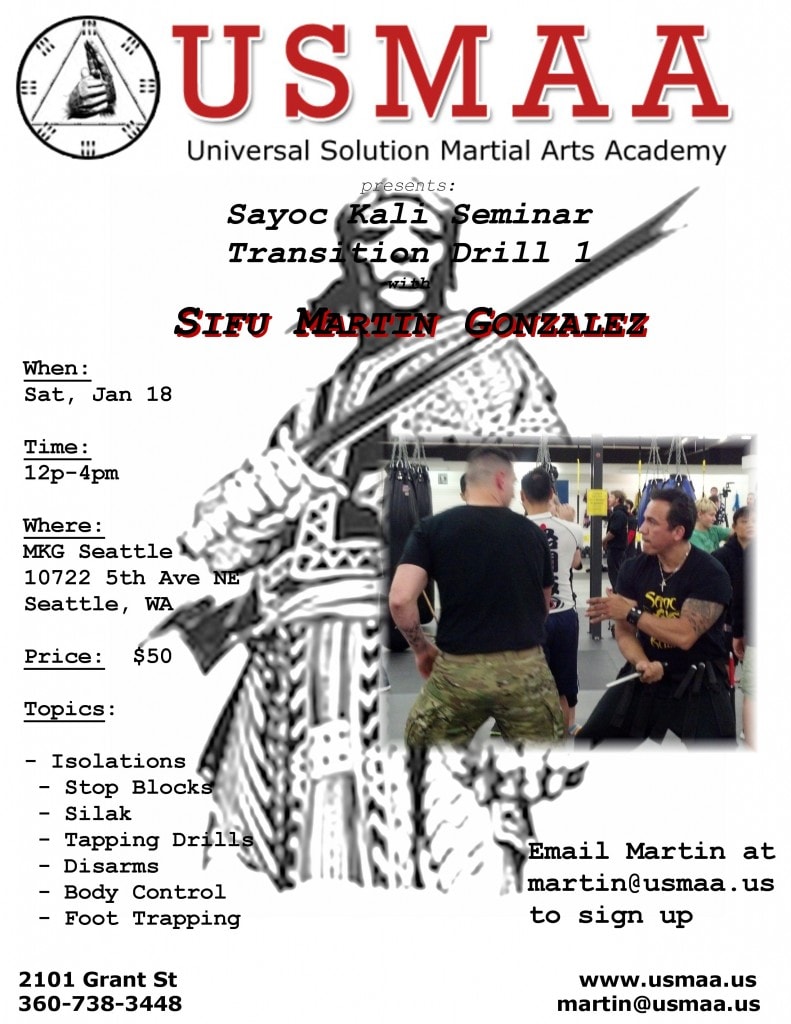 When: 
Sat, Jan 18
Time:
12pm – 4PM
Where:
MKG Seattle
10714 5th Ave NE
Seattle, WA  98125
Price:
$50
Topics:
Isolations
Stop Blocks
Silak
Tapping Drills
Disarms
Body Control
Foot Trapping
MMA Trainer Erik Paulson 01/11/2014

Sensei Erik Paulson Seattle Seminar January 11, 2014
Hosted by NW Kali / JKD in Association With MKG Seattle.
Sensei Erik Paulson in the Pacific Northwest.

One day only here in Seattle.
Saturday, January 11th, 2014 in Seattle, WA
11:00 to 4:00
$90 CASH ONLY.
https://www.facebook.com/events/228375320672604/
We are asking Sensei Erik to focus on STX Kickboxing and Leg Locks.
Sensei Erik has more depth of information and experience than just about any coach in MMA. Erik is one of those rare fighters who can also teach.
Erik has just released a 5 volume series of DVD's on his own STX Kickboxing system that is not to be missed. This hybrid striking system developed by Erik focuses on explosive techniques in Boxing, Panantukan, Jun Fan/JKD Kickboxing, Savate, and Muay Thai (Thai & Dutch methods). In STX Kickboxing, students will learn a blend of elbows, punches and knees from each art. These skills are easily translated in MMA, kickboxing, and self-defense situations. From glove drills, focus mitts, Thai-pads, and sparring, students will have a variety of striking options.
Buy them now!  On sale at the CSW Store here: http://csw-store.com/STXKICKBOXING-Levels-1-5.html
Sunday, January 12th, 2014 in Portland, OR
Last Minute Christmas or New Years Resolution Specials
December 24, 2013
Last Minute 2013 Christmas or New Years Resolution Specials
We have specials in our martial arts, CrossFit, MAX10 and self defense classes that would make great last minute stocking stuffers for new members. Combined with t-shirts, caps, foam rollers or other equipment it could be a really cool gift.
Of course they can be purchased for yourself
CrossFit MKG – 2 Months For the Price of 1!*
CrossFit MKG – On-Ramp is 50% Off AND the January FREE!*
MKG Martial Arts – How About a Self Defense Workshop – $20!
MKG Martial Arts – A Full Month of Classes and Private Lesson – $157*
MAX10 Fitness – 10 Week Boot Camp – Buy 1 Get 1 50% Off!*
All Programs – 4 Week Yoga Class – $40!
* New members only. Terms and conditions apply.
We are only open until 9:00 tonight though. But, though we are officially closed, we can probably help you out tomorrow between 11:00 and 4:00 if you contact us by Facebook and/or reach us on the phone at 206-789-2411 before coming down.
2013 Holiday Schedule

MKG Students,
Holiday Schedule. Read closely.
Reminder: we will be closed on December 24 and 25 and January 1st. We will also be closing at 2:00 pm on December 31st.
Advanced/CFP Students – There will be no Phase 2/3 on Monday's, CORE, CFP on Thursday's or Kali Level 2 or Savate Level 2 on Saturday's for the next 2 weeks until 01/04/2014.
Normal schedule will resume on 01/04/2014.
Thank you and Happy Holidays!
Yoga 4 week series starts January 5th
December 12, 2013
Yoga is the perfect complement to your martial arts or fitness training.  Increase balance, flexibility and awareness with our 4-week series.  Suitable for all fitness levels.
Sign up at the Front Desk.  Open to ALL PROGRAMS and non-members.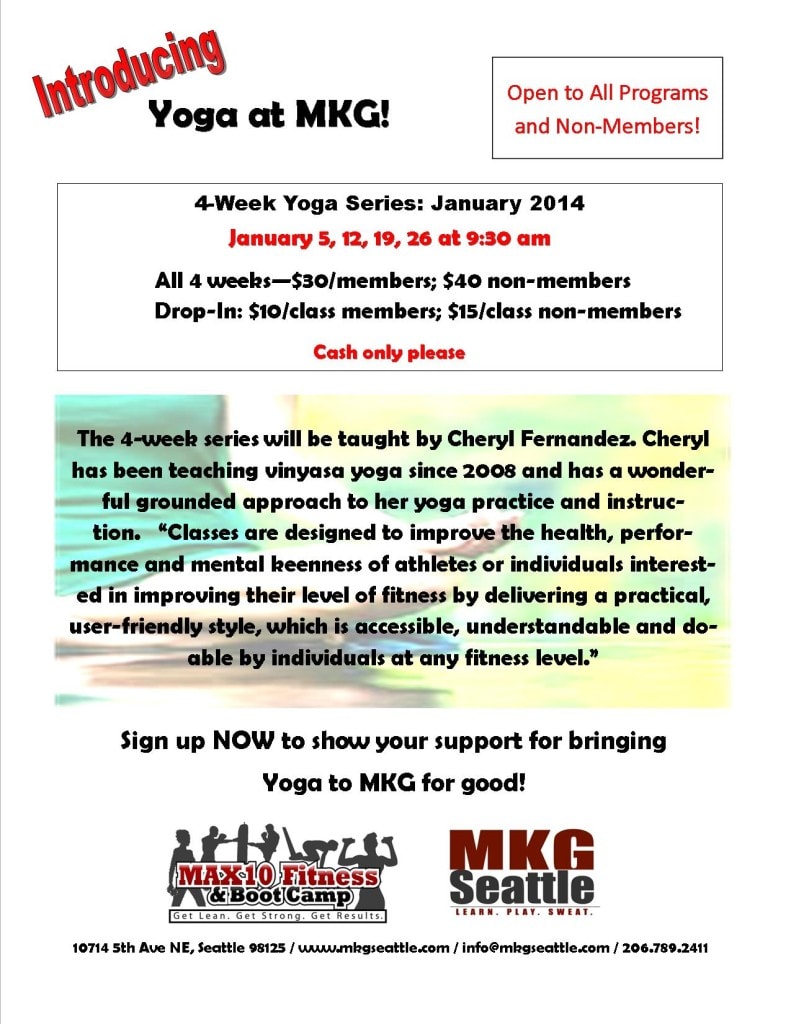 Bringing back the 5-day/week boot camp! Starts January 6th!

Let this be the year that you regain your health!  Create a healthy lifestyle and lose the extra weight!  Stop beating yourself up and JUST DO IT®!
Only 16 spots available per session.  Sign up on-line  NOW to secure your registration!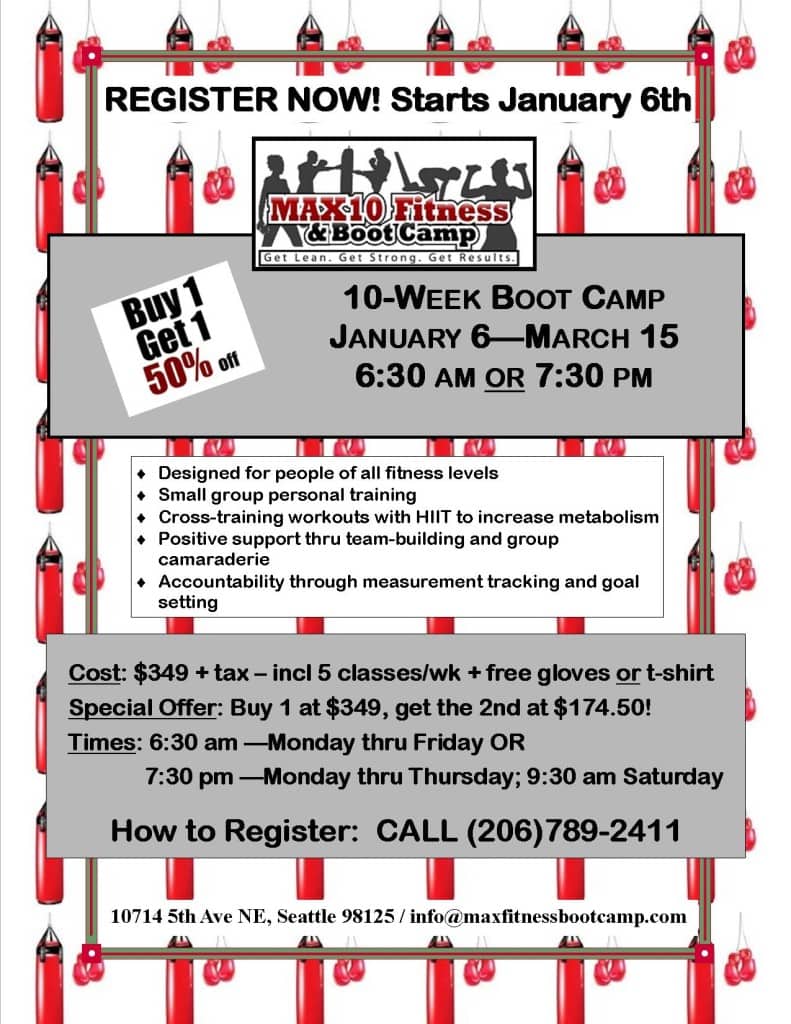 Guro Rick Faye December 7 & 8, 2013
December 5, 2013
Kali / JKD Seminar in Seattle, WA
Guro Rick Faye returns to MKG Seattle December 7th and 8th, 2013.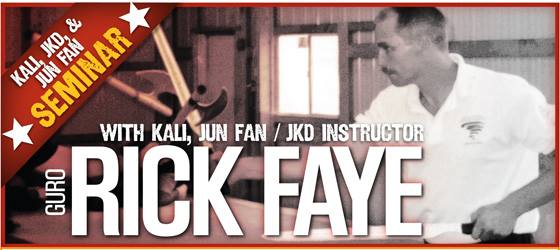 11:30 to 4:30 both days
$140.00 Both days or $85.00 for one.
Please use our Facebook event page to reserve your spot.
https://www.facebook.com/events/385135554952421/
His seminars are packed full of information, logical progression and inspiring to both beginners and advanced practitioners. As always Panantukan, Kali Weaponry, JKD and mixed striking methods will be on the menu.
Guro Rick is among only a handful of Senior Full Instructors under Guro Dan Inosanto in the world and he comes to MKG Seattle twice a year.
FREE YOGA! Sunday, December 8th at 9:30 am
December 4, 2013
Help us bring yoga to MKG as part of our permanent schedule.  All MKG students, MAX Fitness members, MKG CrossFitters, guests and non-members are welcome!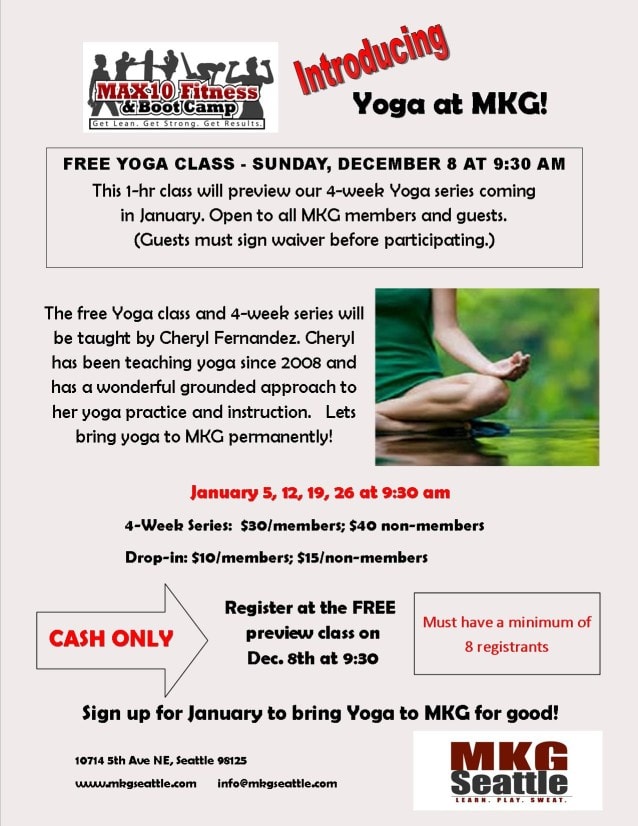 Seattle Martial Arts Typhoon Haiyan Relief Fundraiser and Auction
November 15, 2013
Martial Arts Typhoon Haiyan Relief Fundraiser, Lunch and Auction
Join up to 2 dozen local martial arts instructors and schools on Sunday, November 24th from 10:00 am to 2:00 pm and a lunch and silent auction after to raise funds for disaster relief in the Philippines.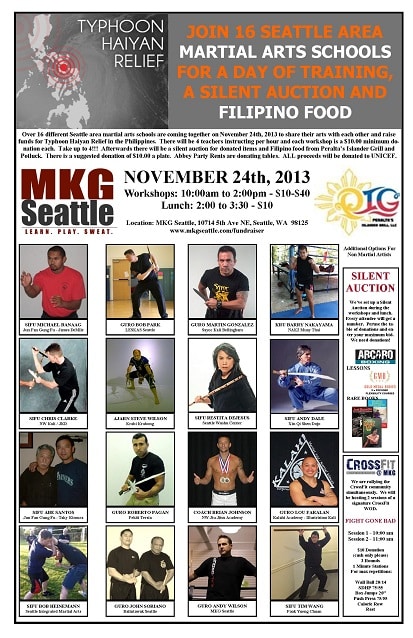 The Seattle Southeast Asian Martial Arts community and friends are donating their time to teach 45 minute to 1 hour introductions to their arts and methods.  We will have 4 sessions going on simultaneously for 4 hours and are asking for a $10.00 minimum for each session.  A timetable will be issued next week for instructors.
We will be hosting a Lunch/Potluck as well.  One of our students, Czar Peralta / Peralta's Islander Grill will also be providing a fantastic Filipino lunch for a suggested $10 minimum donation from 2:00 to 3:30.  Abbey Party Rents is donating tables and chairs for the lunch!  See the Facebook event to PRE-REGISTER here.
https://www.facebook.com/events/509412035824618/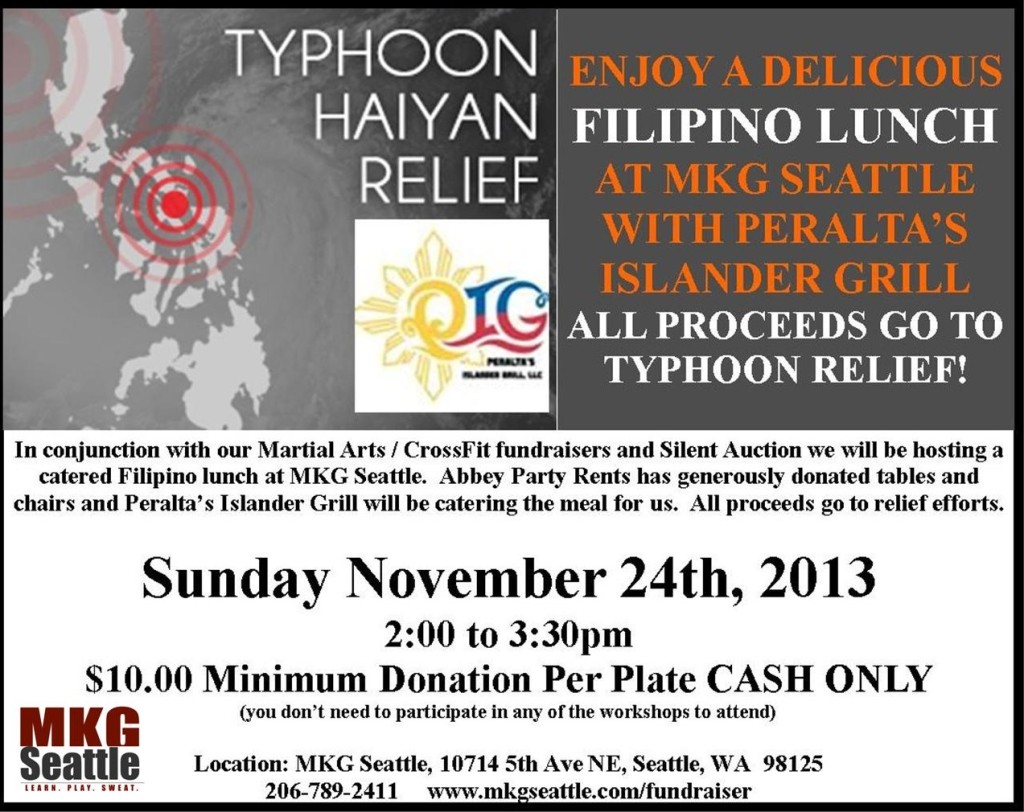 All proceeds for all events have to be cash or paying through the UNICEF portal only.  http://www.crowdrise.com/unicefusa1/fundraiser/seattlemartialartscommunity  If you'd like to make your donations in advance it would really help.  Just present your receipt as payment.  It MUST be through this portal however.
We are moving fast on mobilizing the community and are open to suggestions and help.
For the non-martial artists or family members interested in fitness we will also be hosting a CrossFit workout focused on the WOD Fight Gone Bad.  Should be fun!
https://www.facebook.com/events/446566455449824/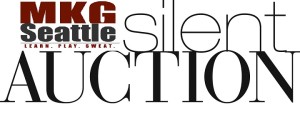 We have also put together a silent auction of goods and services.  Boxing gloves signed by Manny Pacquiaou, rare books, lessons, DVD's and more.  If you have something to donate or could assist in promoting the workshops, auction or soliciting donations please do so.
https://www.facebook.com/events/500160956749848/
In just 2 days we have confirmation from:
John Soriano of Balintiwak Seattle
Chris Clarke of NW Kali / JKD Inosanto Lacoste Kali
Guro Martin Gonzalez of Universal Solution Martial Arts Academy Sayoc Kali
Kru Barry Nakayama of Nak2 Muay Thai
Guro Andy Wilson of MKG Seattle Inosanto Lacoste Kali
Ajarn Stephen Wilson Krabi-Krabong
Guro Bob Heinemann of Seattle Integrated Martial Arts Inosanto Lacoste Kali
Guro Bob Park of LESKAS Seattle
Guro Lou Faralan of Kalahi Academy Illustrisimo Kali / Kalahi
Sifu Abe Santos of Jun Fan Gung Fu Institute
Sifu Michael Banaag of Wing Chun Do James DeMile
Sifu Restita DeJesus of Seattle Wushu Center
Guro Roberto Pagan of Pekiti Tersia Kali Tacoma
Coach Brian Johnson of Northwest Jiu Jitsu Academy
Sifu Andy Dale of Xin Qi Shen Dojo
Sifu Tim Wang of Infinity Martial Arts
and maybe more!!!
Fundraising Websites – Crowdrise
MAX10 Holiday Boot Camp starts December 2nd!
November 14, 2013
This camp is great for carving out a little "you" time during this busy season, offsetting the extra calories consumed, and for checking out what we do at MAX10 Fitness with very little "commitment".  Details are below. Sign up NOW (because space is limited and you don't want to miss out) – you'll love it!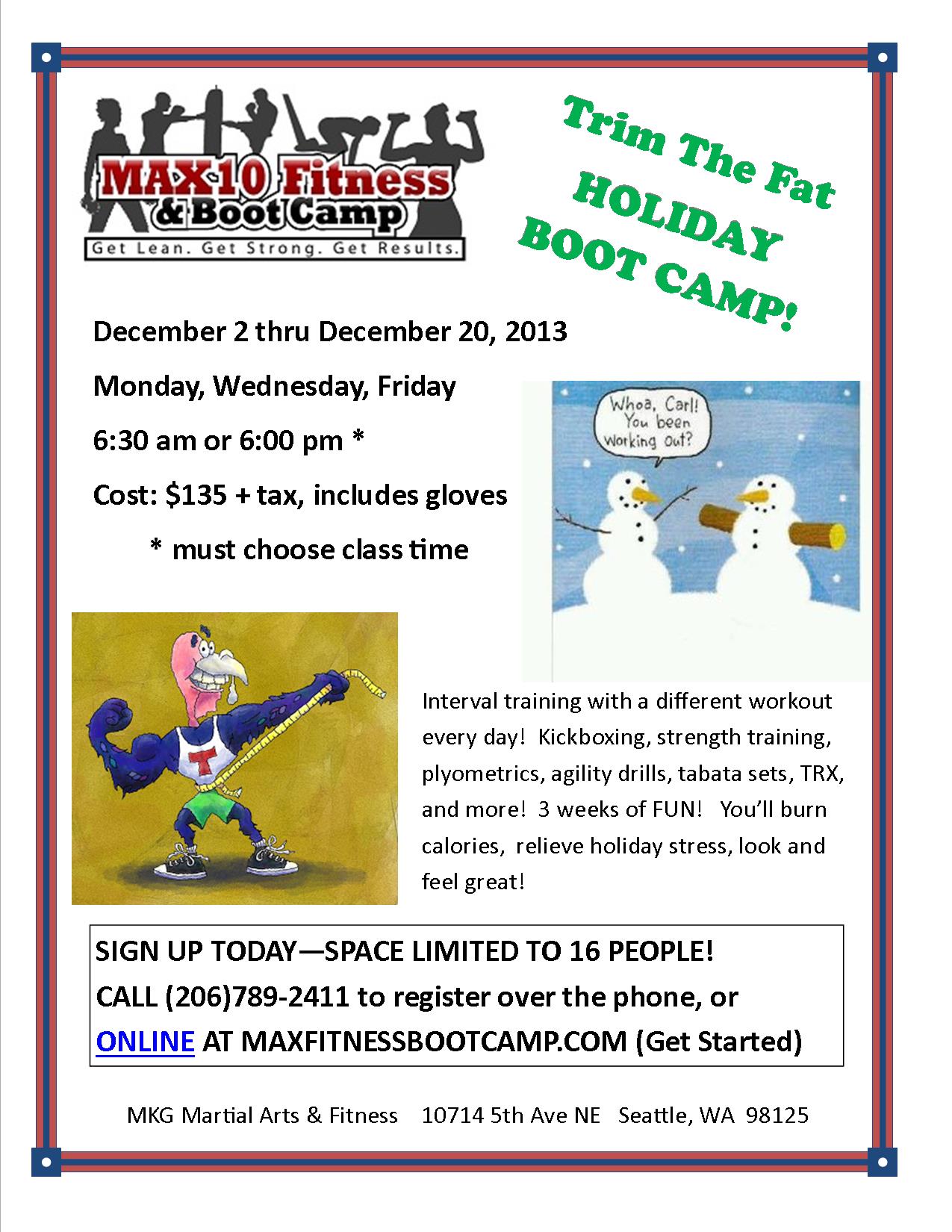 Nov. 2 Grand Re-Opening Event – FREE Fights, FREE Workshops, Huge Prizes
September 17, 2013
MKG Seattle Grand Re-Opening Event – FREE Fights, Workouts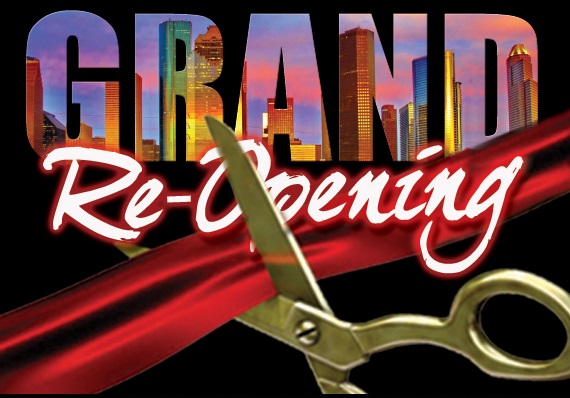 With all the chaos related to the expansion into our new 24,000 square foot facility last October, the launch of CrossFit at MKG and the birth of MKG Seattle owners first son Gabriel, MKG Martial Arts and Fitness did not have a Grand Re-Opening last year and we missed a chance to show off what we consider to be the most innovative athletic community in Seattle.  MKG Seattle is a 24,000 square foot martial art, kickboxing, CrossFit and fitness center for adults and kids with ample parking, showers, gym equipment, wi-fi, lounge, vending, store and more…
So…we're going big this year.  Join us on November 2nd from 9:00 to 2:00ish for our Grand Re-Opening celebration.  FREE Workshops, FREE fights, food trucks, FREE raffles prizes and more.  Get registered on the Facebook event page here and get an EXTRA raffle ticket.
Here is what we have planned so far subject to change:
Schedule of Events
Raffle Prizes For Participation / Sponsors
Free YEAR of tuition
Free private lessons
Dreamstrands Comics
Cloud City Coffee – 10 Coffee Pre-Paid Card
Kontos Cellars – Donation
RX Jump Ropes – FREE Jump Rope
Café Piccolo
Caked Goods
Vitamin Shop
Check back frequently for updates.
If you're new to MKG Seattle here are highlights from our main programs.
| | |
| --- | --- |
| Adult Martial Arts | MAX10 Fitness and Boot Camp |
| | |
| CrossFit MKG | Kids Martial Arts |
| | |
We'll have special deals for enrolling members in our Martial Arts/Kickboxing, CrossFit MKG, MAX10 Fitness & Boot Camp and Kids Martial Arts program. But, if you want to Get Started Early we'll give you the same deal. Mention this Grand Re-Opening Event page to your consultant and we'll give you the offer.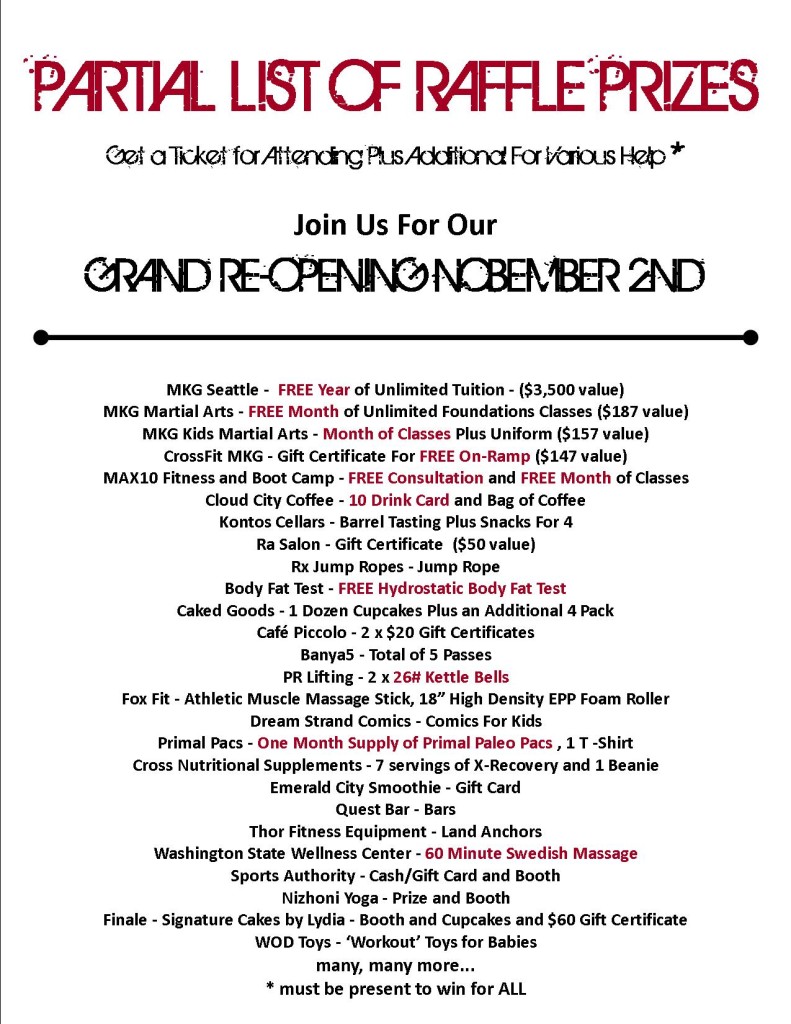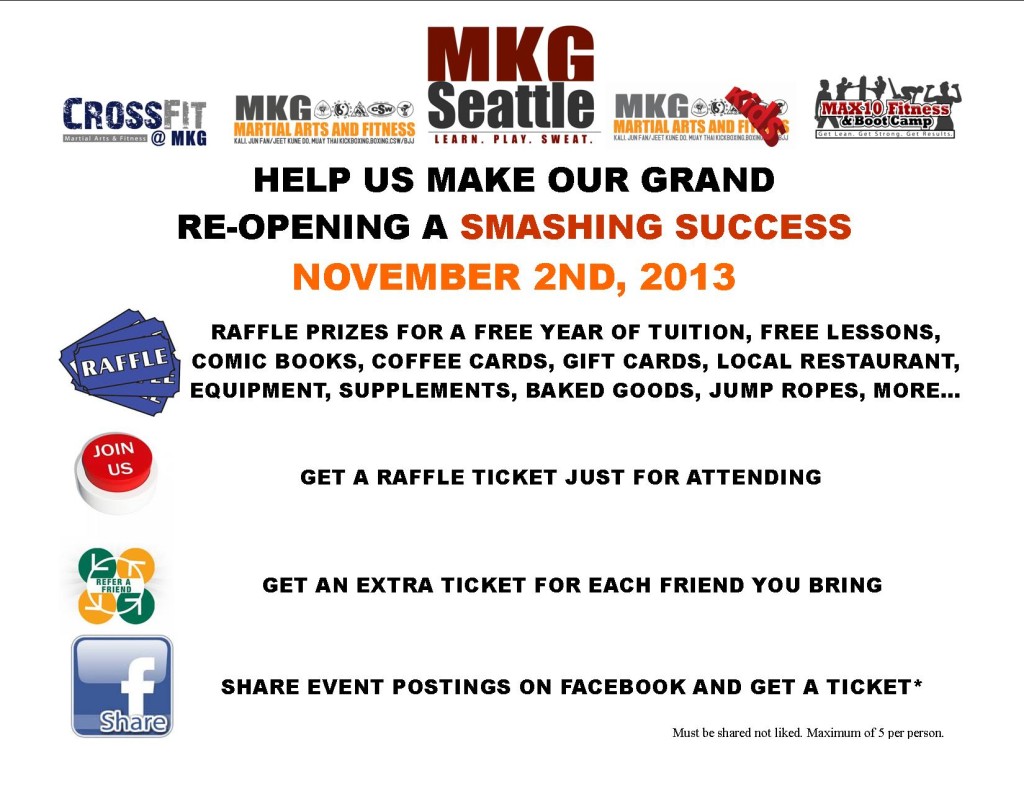 Guro Dan Inosanto in Portland | Oct 05 & 06
September 6, 2013
Guro Dan Inosanto in Portland, OR | October 5 & 6, 2013
MKG Students especially - we'd like to see some support for this seminar.  With a car pool and sharing a hotel room this seminar is not much more expensive than a local event.  We know we have seminars with Salem and Ajarn Chai as well but remember we will always find a way to help you out.  Review the details and confirm you are attending on the Facebook event page https://www.facebook.com/events/511914278884931/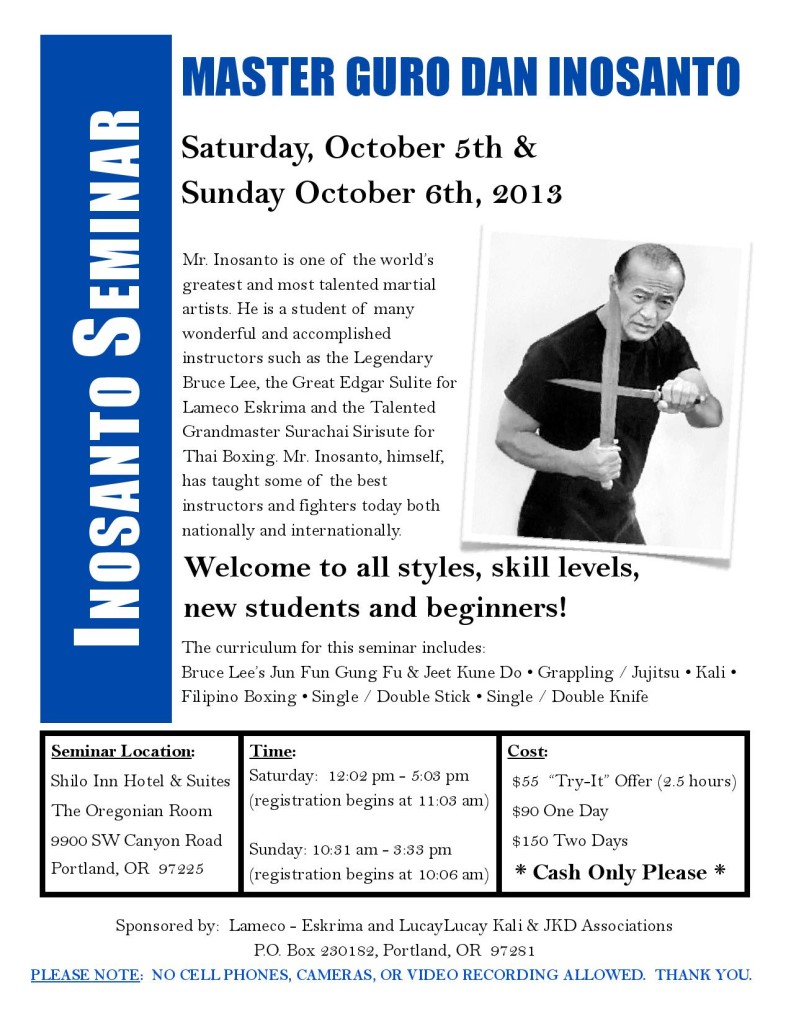 GURO DAN INOSANTO SEMINAR Saturday, October 5th & Sunday October 6th, 2013
Mr. Inosanto is one of the world's greatest and most talented martial artists. He is a student of many wonderful and accomplished instructors such as the Legendary Bruce Lee, the Great Edgar Sulite for Lameco Eskrima and the Talented Grandmaster Surachai Sirisute for Thai Boxing.  Mr. Inosanto, himself, has taught some of the best instructors and fighters today both nationally and internationally.  Welcome to all styles, skill levels,… new students and beginners!
Seminar Location: Shilo Inn Hotel & Suites The Oregonian Room 9900 SW Canyon Road Portland, OR 97225
Time: Saturday: 12:02 pm – 5:03 pm (registration begins at 11:03 am) Sunday: 10:31 am – 3:33 pm (registration begins at 10:06 am)
Cost: $55 "Try-It" Offer (2.5 hours) $90 One Day $150 Two Days * CASH ONLY PLEASE *
Sponsored by: Lameco – Eskrima and LucayLucay Kali & JKD Associations P.O. Box 230182, Portland, OR 97281
The curriculum for this seminar includes: Bruce Lee's Jun Fun Gung Fu & Jeet Kune Do • Grappling / Jujitsu • Kali • Filipino Boxing • Single / Double Stick • Single / Double Knife
PLEASE NOTE: NO CELL PHONES, CAMERAS, OR VIDEO RECORDING ALLOWED. THANK YOU.
Muay Thai Seminar With Ajarn Chai Sirisute Oct 26 & 27
September 5, 2013
Grandmaster / Ajarn Chai Sirisute Returns: Muay Thai Seattle Kickboxing Seminar October 2013
Major news Seattle MKG, TBA, Muay Thai and MMA community!  Grandmaster Chai is returning to Seattle, WA for the first time in 5 years!  Come learn from the Godfather of Muay Thai in the USA.
NW Kali/Ajarn Chris Clarke in association with MKG Seattle is proud to host a weekend seminar with Ajarn Chai  Sirisute this October 26th and 27th, 2013.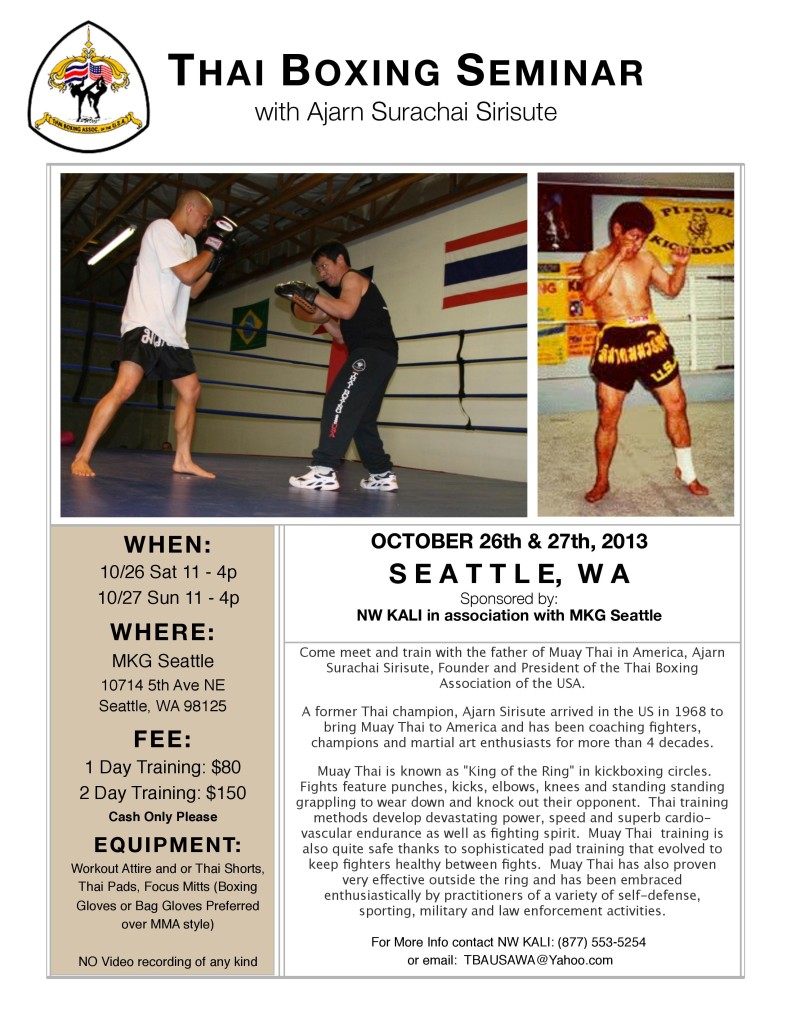 Register on the Facebook event page at https://www.facebook.com/events/284227528387237/
More details to follow.
For more information on the Muay Thai Classes at MKG visit our Thaiboxing page here or click on the Get Started button below to request information.


Below is a profile of Master Chai written by his student Terry Tippie.  You can find out more by visiting the Thaiboxing Association of America website at www.thaiboxing.com
Surachai Sirisute, known to his students as "Ajarn Chai" (Ajarn means head instructor), is the founder and President of the Thai Boxing Association of the USA. The son of a prominent Bangkok lawyer, the young Chai Sirisute was encouraged to follow in his father's footsteps. But Sirisute had a fascination with Muay Thai and would kick his father's heavy bag whenever he could. Recalling his own childhood nature Sirisute remembers that he could be quite a handful for his parents, "After dinner my dad would just have me go kick the heavy bag to wear me out."
At the age of six he had also acquired the reputation of a hell-raiser and would taunt the boys in a neighborhood Karate school taught by a Chinese man, Master Chen, who was to become his first teacher. The young Sirisute had no use for the uniforms, lines and stances of Karate and proclaimed loudly that he could best any kid in the school. Master Chen agreed to set up a sparring match and soon realized that this precocious six year old was mopping the floor with his 8 and 10 year old students. But Master Chen was determined to teach the boy a lesson in discipline, so Chen gave a mind-over-matter demonstration that amazed and frightened the young boy. Sirisute recalled, "I couldn't believe it. I got so scared. After that I just shut up and got into line and started throwing punches with the rest of them." Perhaps it was in Master Chen's class that Sirisute first learned the value of his now familiar mantra of 'discipline and respect'.
Sirisute's Muay Thai teacher, Ajarn Suwong, made a lasting impression on him. Ajarn Suwong had had a prophetic dream, and stated flatly when he met the six year old Sirisute, "This is the champion that will spread Muay Thai to the falang [to the foreign lands]." Whether that was Sirisute's fate or an internalized message from a cherished mentor, that mission became Sirisute's life's work. It remains one which he has pursued with an almost spiritual zeal.
As a boy Sirisute studied both Muay Thai as well as Karate and earned his black belt in Shorin at the unprecedented age of 12, an age at which he also started to fight in the ring in Muay Thai. Sirisute fought over 72 fights in Muay Thai. After he retired as a fighter he came to the United States in 1968 to teach in America. As he would soon find out American 1960s culture was very different than the Thailand fighting circuit. With hair mid-way down his back and in rock-solid shape he stepped off the plane and shortly thereafter wound up at the Woodstock rock concert. Recalling the wild behavior he saw Sirisute mused, "Man, I thought Americans were completely crazy." Sirisute by this time had a well-developed penchant for mischief and somehow managed to befriend and train a notorious motorcycle gang called The Hell's Angels. "I had no idea who they were," shrugs Sirisute. That is, until the FBI explained it to him. Grimacing embarrassedly Sirisute continued, "So, then I trained the FBI." [You could see both in the same class during the 1970s. --TT]
Nonetheless, Sirisute had a vision of spreading Muay Thai that he was determined to pursue. The early years were lean ones during a time in which public knowledge of Muay Thai was non-existent and hostility from other martial arts was fierce.  He defended almost weekly challenges from Karate and Kung Fu experts who soon found, to their surprise, that Sirisute wasn't an easy man to run out of town. In the days before personal injury lawsuits were common in the U.S. it was standard practice to smile politely, close the door and beat the tar out of the challenger. And that was precisely what Ajarn Chai did. [Those challenges were still happening in the late 1970s when I met him.--TT]
1983 picture of Ajarn Chai (left) and Terry Tippie in the backyard of his Pomona,California house. Despite the grace of the motion Ajarn Chai's kick has a bone jarring, jackhammer-like power derived from the incredible speed of his kick.
During the 1970s and early 1980s Ajarn Chai taught at several Southern California colleges: Chaffey College, Claremont Men's College and Cal. State San Bernardino. Also during those years Ajarn Chai trained students at his home, the backyard of which was converted into a Thai-style camp. Many of Ajarn Chai's early fighters, such as Mike Goldbach, Reggie Jackson, Glen Hernandez and Don Boyd, came out of a backyard training environment. It was this core of fighters who Ajarn Chai lead to Thailand in 1982 to enter the first American team to compete in the Muay Thai World Championships.
Sirisute also fought battles with the martial arts establishment over fighting procedure, specifically the Wai Kru ["respects to the teacher" dance before a fight], uniform and use of knees & elbows. "They told me that my fighters couldn't wear the short pants to fight but had to wear a Gi," growled Sirisute. Shaking his head, quot;They used to laugh and ridicule Thai Boxing [fighters] when they would do the Wai Kru. But they don't laugh any more because we always knock 'em out." Thanks in part to the early efforts of Sirisute Muay Thai fighters no longer have to struggle against this kind of indifference.
Teaching in the 1990s. Ajarn Chai shows an inside scoop defense against TBA Instructor Doug Pandorf's foot jab.
In 1978, Sirisute met a young Filipino-American high school teacher named Dan Inosanto. Inosanto trained as a student in Ajarn Chai's backyard during these years and they soon became close friends. Once Ajarn Chai gave Inosanto the task of kicking the leaves on a tree, then forgot about him and went shopping, leaving Inosanto to swelter in the LA summer heat. When Ajarn Chai returned several hours later Inosanto was so exhausted and dehydrated that he could barely stand up. But he still had his hands up and was still kicking. Sirisute exclaimed, "Oh my God…I forgot all about you," and held his sides and let out a piercing falsetto cackle. Actually Sirisute had not forgotten about Inosanto but was testing Inosanto to see whether he would keep going and whether he would come back. Inosanto did come back, and the friendship that grew up between these two men in those years has served both well over the years. Already well known in the U.S. Inosanto introduced Sirisute to teaching seminars, which greatly helped Ajarn Chai extended awareness of Muay Thai in the U.S.A. as well as internationally.
By the early 1980s word of Muay Thai was spreading fast in the martial arts community. In 1983 Inosanto introduced Sirisute to Tom Landry of the Dallas Cowboys. The diminutive 5'5″ Sirisute was undaunted when greeted with skepticism by the players. "I just pointed at him [Tony Dorsett] and told him to hold the pad for me," explained Sirisute. Taken aback at the jackhammer like impact of Sirisute's right leg on the Thai pad, Dorsett exclaimed, "This guy isn't human!" The Dallas Cowboys were soon throwing Thai kicks and skip knees, and the Cowboy's incorporated Ajarn Chai and Muay Thai into their pre-season conditioning until the time of Landry's departure in 1990. In fact, all-pro defensive end Randy White is reputed to have developed the hardest Thai kick ever recorded–a stunning 450 lbs. per square inch.
Photograph by Terry Tippie

Ajarn Chai loves to fish. 1988 salmon fishing trip in Puget Sound.
Throughout the 1980s and 1990s Sirisute has worked tirelessly to teach Muay Thai seminars to eager students around the world.  The organization he founded, the Thai Boxing Association of the U.S.A. now has more than 70 branches in the U.S. and has gained representation in almost every U.S. state. It has also expanded to 15 countries around the world. And Ajarn Chai continues on his path of spreading Muay Thai around the world from his home in Southern California
Savate With Prof. Salem Assli Sep 28 & 29

Savate With Professor Salem Assli – Sept. 28 & 29, 2013
Professor Salem Assli returns to MKG Martial Arts in Seattle to conduct a seminar on La Boxe Francaise / French Savate on September 28th and 29th, 2013.
Date: September 28th and 29th, 2013
Time: Saturday 11:30 am to 4:00 pm
Sunday 11:30 am to 4:00 pm
Price: $140 for both days $85 for one day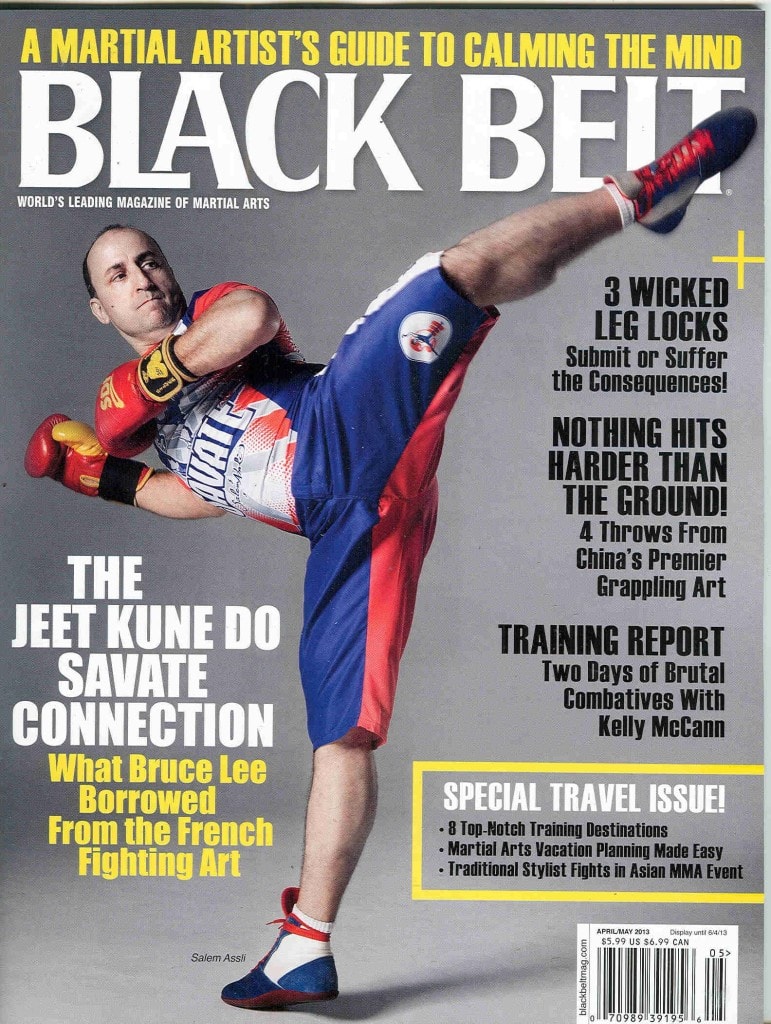 Photo Copyright Salem Assli
Please RSVP on our Facebook Event page.  https://www.facebook.com/events/159660624224898/
Professor Salem is a full instructor under Guro Dan Inosanto and one of the most respected instructors and practitioners of Savate in the world. Savate is a diverse art that focuses on using the feet much in the way that western boxing uses its hands. In two days Salem will be going over the basics of Savate, some of the history, footwork and combinations. Salem will also be holding glove tests on Saturday evening and Sunday morning for those who would like to attempt Glove Grading. Stop by the office for more information.
Below is an amazing demonstration from one of Professor Salem's Savate instructional DVD series. We don't wear the tights!
Please enjoy a short bio converted from French and edited below.
Born on December 2 in Lille (France), Salem Assli began his career in sports with football and gymnastics and competed actively 8 and 16 years of age.  In 1973, he discovered martial arts through movies and fell in love with the films and especially those of Si Jo Bruce Lee. Like many teenagers this discovery greatly influenced his life.  At the age of 23 he traveled to the United States to train under the tutelage of his mentor to this day, Sifu / Guro Dan Inosanto. He became the first and only certified and qualified French full instructor Jun Fan Gung Fu (Jeet Kune Do) and Filipino Martial Arts (Eskrima-Kali-Silat).
Few people know Salem Assli was also the first person from the Inosanto International Instructors Association to pass the instructor test for the Thai Boxing Association of America under Ajarn Chai Sirisute!
Admiring the quality of its kicking techniques, Dan Inosanto encouraged Salem to study French Savate Boxing in order to then teach students the IAMA. After studying a book given to him by Guro Inosanto Salem went back to France and earned his Silver Glove first degree under the National Technical Director at the time, Mr . Bob Alix.  He finished first among the fifty students attending the summer internship in 1986 without ever having an instructor in that discipline!   The following year, he obtained a diploma in Los Angeles as Professor of BFS and the Silver Glove second degree with members of the French Team, whose famous members included Richard Sylla and Robert Paturel.  Salem was the first professor of French Boxing in the United States.