Newswire
2013 Martial Arts Seminars / Advanced Training Opportunities in Seattle
May 7, 2013
Update your schedules. We have firm dates on advanced training opportunities with some of the biggest names in the martial arts world this spring. MKG is dedicated to cross training in the martial arts and we are proud of the diverse opportunities that are in the pipeline.
March – Guro Dan Inosanto – Kali / JKD / Silat – March 23 & 24, 2013
April – Guro Jon Escudero – Lighting Scientific Arnis – April 20 & 21, 2013
April – Guro Diana Rathborne – Womens Self Defense and 10 AM Sunday Seminar – April 27 & 28, 2013
June - Guro Rick Faye – Kali / JKD / Silat – June 15 & 16, 2013
July – Coach John Will – BJJ – July 15, 2013
September – Professor Salem Assli – Savate / La Boxe Francaise – Tentative TBD/TBA
October – Ajarn Chai Sirisute – Muay Thai – Tentative TBD/TBA
We are also planning to reboot our 10:00 AM Sunday Seminar Series and researching Krabi-Kbrabong, Sayoc, boxing and Muay Thai mini-workshops. Be sure to Like our Facebook page for the most up to date information on MKG Seattle events.
5-Week Boxing Classes Starting April 29th
April 25, 2013
Seattle Boxing Classes at MKG Martial Arts – 5-Week Course Starts April 29th
New 5-Week Fundamentals of Boxing course starting Monday, April 29th at MKG Seattle taught by Martin O'Malley.  Martin has competed at a high level in the Golden Gloves, Junior Olympics, Goodwill Games and on a professional level.  Martin fought Floyd Mayweather Jr. to a close decision in the National Golden Glove finals.
The classes will be appropriate for all levels and are also available to non-MKG students.  This 5-week course will run from 4/29 to 6/1.
$10 Per Class | $5 For MKG Students Mondays at 8:00pm Saturdays at 10:00am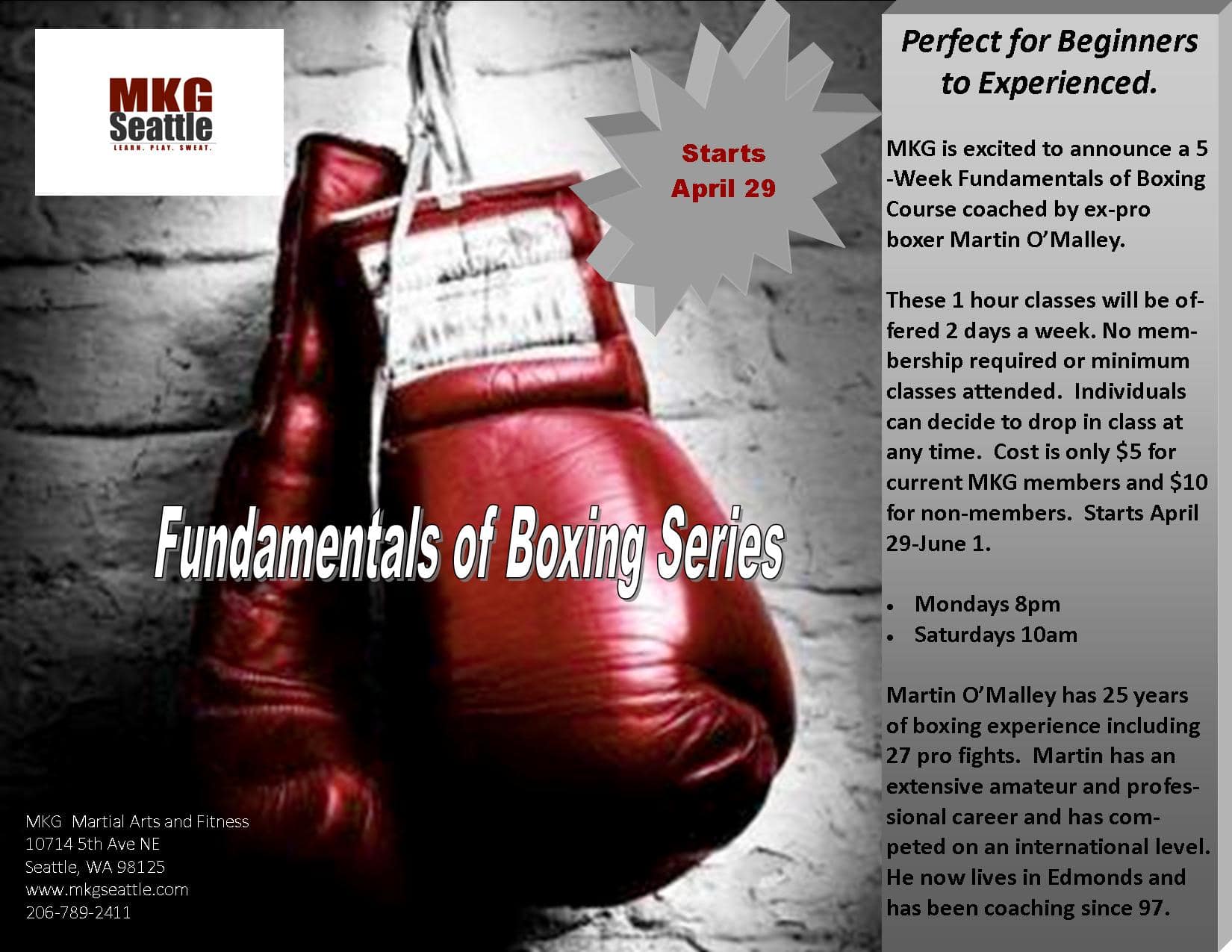 Saturday Schedule Changes This Weekend on April 27th
April 24, 2013
Hi,
We're excited to be offering our Women's Self-Defense course again this weekend.
To accommodate the seminar we will need to cancel the 11:00 martial arts classes.  The 11:00 Phase, 11:00 BJJ and 11:00 STX Level 2 classes are cancelled.  CrossFit, Open Gym and business hours are not affected.
Thank you for your consideration.
Andy Wilson
Women's Self Defense Workshop April 27, 2013

Women's Self Defense Workshop April 27, 2013
We are excited to announce that we have nailed down April 27th, 2013 as the date for our FULL Women's Self Defense seminar this year.  We will be flying in Guro Diana Rathborne who is a subject matter expert within the worldwide MKG International Martial Arts organization and has extensive experience instructing the course and working with various law enforcement groups.
Space is extremely limited!  Reserve your spot online at https://www.facebook.com/messages/conversation-id.350880358355519#!/events/226747430803788/ and enroll before April 15th and and save $15.00.  Contact us at 206-789-2411 for further instructions.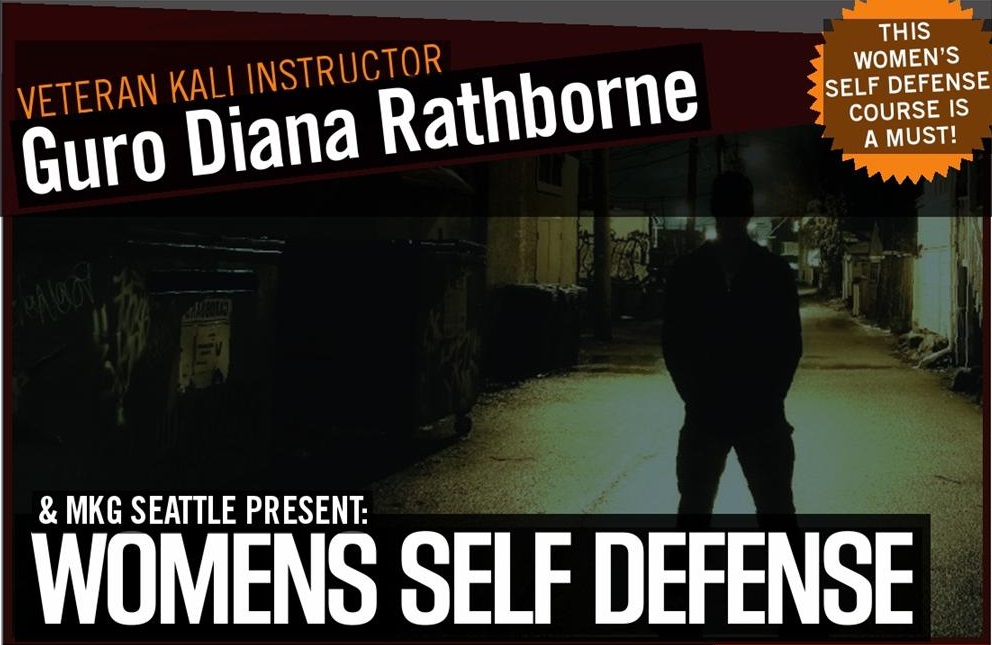 In this course you will learn the entire Women's Self Defense program from the famous MKG International Martial Arts organization.  This most practical, effective and easy to apply course is conducted in Seattle only once per year so DO NOT miss this opportunity.  You will learn the essential awareness and avoidance skills, what works when physical force becomes necessary and actually practice FULL power against an instructor and on equipment.
Empower yourself in this awesome course this April.
Date: April 27, 2013
Time: 11:00 to 5:00 (1/2 hour lunch)
Course: $95.00 if you enroll before 04/15/2013 or $110.00 after.
Suitable for women ages 14 and older.
Double Under / Jump Rope Class at CrossFit @ MKG
April 4, 2013
Double Under / Jump Rope Class at CrossFit @ MKG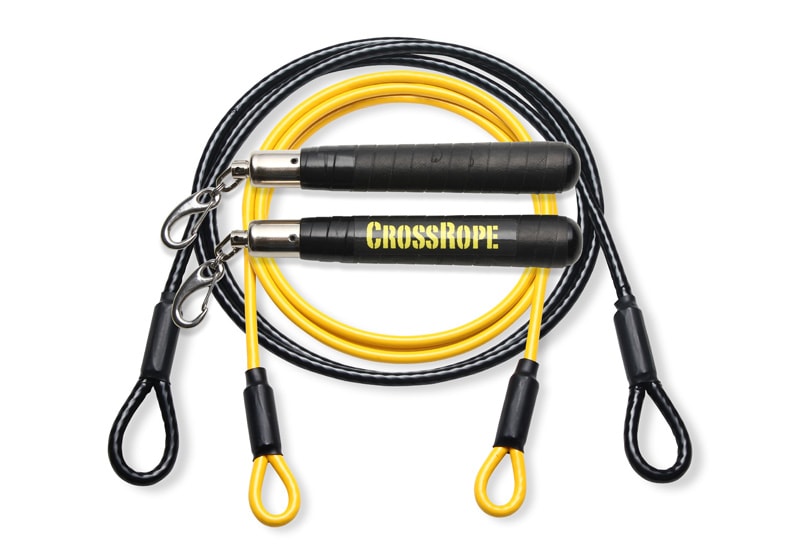 Kyle Easter from Crossrope will be coming to our gym to teach a double under clinic. Space is limited to 20 athletes. The cost is $10 per person. The first 20 members to respond and pay, will have their spot reserved. Please give your payment (cash only please) to the front desk and make sure your name gets added to the roster!
Date: Saturday, April 13th
Time: 12:00 to 1:30
Cost: $10.00 (CASH Only)
Reserve Your Spot Here: https://www.facebook.com/events/144850922347465/
The clinic will cover the elements of proper technique, fixes to common errors and problems and programming drills to aid in improvement. These training methods have been proven to successfully help individuals reach 100′s of unbroken double unders and even unbroken triple unders.
The clinic content, drills and programming are not CrossRope specific and athletes will be required to use their own ropes or ropes from your facility. However, the last portion of the clinic will be dedicated to explaining why the CrossRope System is such an effective training tool for double under and overall fitness improvement. Anyone that is interested will have the opportunity to demo the CrossRope System and will also be able to make an order through Kyle, which includes free shipping.
Arnis / Escrima Seminar With LSAI Master Jon Escudero in Seattle
April 3, 2013
Arnis / Escrima Seminar With LSAI Master Jon Escudero in Seattle
Join us for a 2 day seminar with Guro
Jon Escudero in Seattle
 on Lightning Scientific Arnis this April 20 & 21, 2013.  Master Jon will be flying in from Israel to update his students here in Seattle, WA and Washington D.C.
A system founded in 1937 by Grandmaster Benjamin Luna-Lema. The system is composed of the Tercia, Cadenilla, Serrada and Espada Y Daga styles. It is known for its powerful, fluid, and fast strikes; its preference for "blind-siding" the opponent; and its focus on the stick and knife. An important principle in Lightning is closing with the opponent and 'blanketing' them with multiple strikes. Grandmaster Lema …would say, "If he gives me one strike, I give him fifteen. Even if he does not give me one strike, I give him fifteen."
Date: April 20 & 21, 2013 12:00 to 4:30 Both Days
Price: $100 Both Days or $75.00 For One
Equipment Needed: 2 Sticks and a training dagger.
Guro Jon may be available for private lessons between the 19th and 22nd.  Please inquire.Guro Jon is a popular guest instructor here at MKG and his seminars are known for being practical yet fun and full of humor.

Please visit and register on our Facebook Event page to reserve your spot.  https://www.facebook.com/events/557267327640411/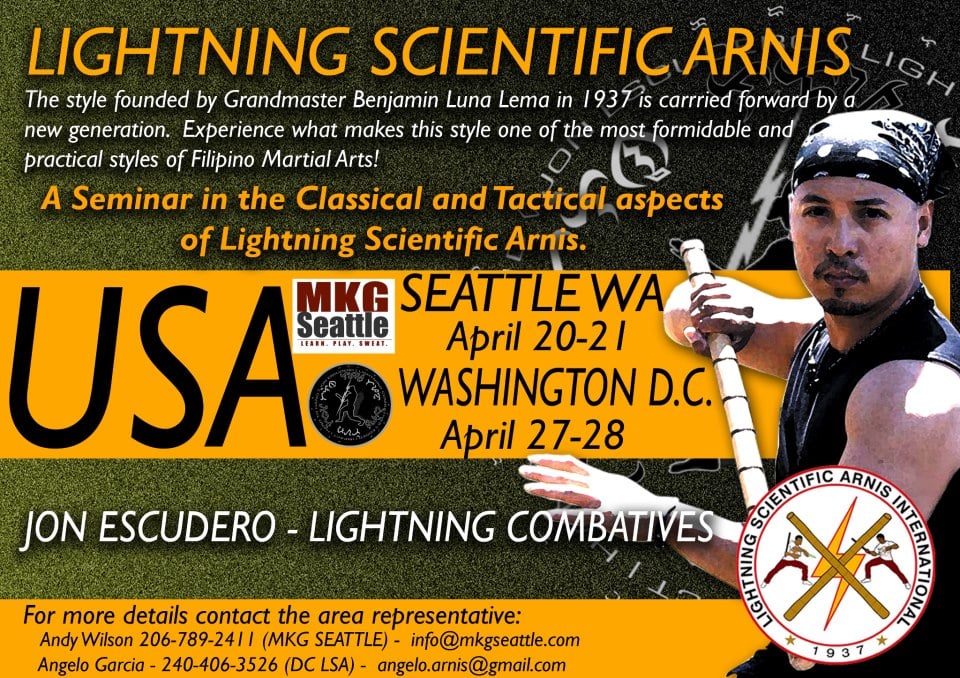 11:00 Classes Cancelled For Seminar This Weekend
March 17, 2013
Please be aware that the 11:00 Savate Level 2, BJJ and Phase classes are cancelled this Saturday, March 23rd due to the Guro Inosanto seminar this weekend. All students are welcome to attend the 10:00 classes to make up for lost class time. We apologize for any inconvenience this might cause. All 10:00 classes and the CrossFit class at 11:00 will still occur.
Guro Dan Inosanto in Seattle, WA March 2013
March 3, 2013

Guro Dan Inosanto in Seattle, WA  March 2013
The legend returns to Seattle this March for a 2 day seminar.  For 21 years now Guro Chris Clarke and Northwest Kali / JKD have been bringing Guro Dan Inosanto to the Pacific Northwest.  MKG Seattle is honored to assist Guro Chris in this effort by using our facility for the seminar.
Without question, Dan Insosanto, is a living treasure, and a true master of martial arts.  A prolific teacher, writer, and researcher, Inosanto has dedicated over 50 years of his life to the development, growth and promotion of functional martial arts.
His life-long practice of various combative arts and expertise gives him a unique perspective on the art and science of combative disciplines throughout the world.
Si Gung / Tuhan Inosanto will present techniques, exercises and training drills from various arts which are a sampling of curriculum from the Los Angeles Academy including:
Kali, Eskrima, Silat, Muay Thai, Grappling (BJJ and Shooto), Jun Fan Gung Fu and Jeet Kune Do
Contact Christopher Clarke at nwkali@yahoo.com or by phone at 877-553-5254.
Students from all schools and of all abilities are warmly welcome and encouraged to attend.  Please read through the seminar flyer and reserve your spot by regsistering for this Facebook event page.
Payment will be by CASH ONLY and exact change would be deeply appreciated.
10-Week MAX10 Boot Camp Returns March 2nd!
March 2, 2013
The MAX10 Challenge Returns March 2nd!
Are you ready to lose weight, get fit, and have so much fun it won't even feel like you are working out?
After a 5 month hiatus the MKG MAX10 10-Week Boot Camp Challenge Returns.  Formerly Body Sculpt Challenge.
Boot Camp is a great way to get your metabolism revving and turn your body into a fat-burning machine. Our 10-Week Boot Camp is proven to help you shed unwanted pounds and inches!
Meet Tanya, since starting MAX10 in July she has lost over 55 lbs and 20% body fat. Let us show you how to get in the best shape of your life the healthy way!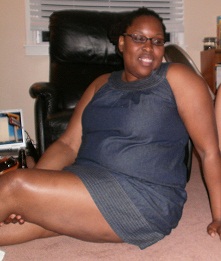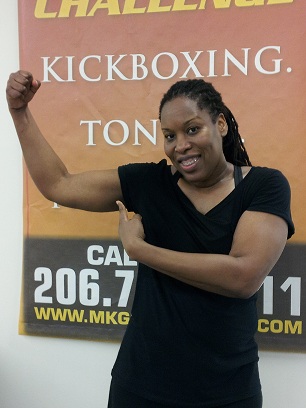 Don't wait – SIGN UP TODAY!
10-Week Boot Camp Challenge
March 2 – May 11
Camp starts with mandatory check-in, orientation and measurements on Saturday, March 2nd at 11:00 am.
Classes: 7:00 pm Monday and Wednesday OR Tuesday and Thursday
Cost: $287 + tax
Camp includes:  2 classes per week; Boot Camp Coach to support goal setting and provide motivation and nutrition coaching; group camaraderie; t-shirt and gloves
For more information, give me a call or shoot me an email!
Nicole Marinez
Director, MAX10 Fitness & Boot Camp
MKG Martial Arts
Nicole.Marinez@MKGSeattle.com
Phone: 206.789.2411
www.maxfitnessbootcamp.com
MKG Seattle Class Schedule – Adult Martial Arts 2013
March 1, 2013
MKG Seattle Class Schedule – Adult Martial Arts 2013
Our Adult Martial Arts Program class schedule is designed to accomodate everyone from an absolute beginner with no experience whatsoever to the dedicated martial artist with decades of experience.  Give us a call at 206-789-2411 to schedule your FREE private lesson and inquire about our 30 day FREE trial.
Foundations Program Options
CAP Program – Combat Sports Options
CAP Program – Combat Fighting Options
FREE Mini Self Defense Class / Class in Seattle February 23rd, 2013
February 19, 2013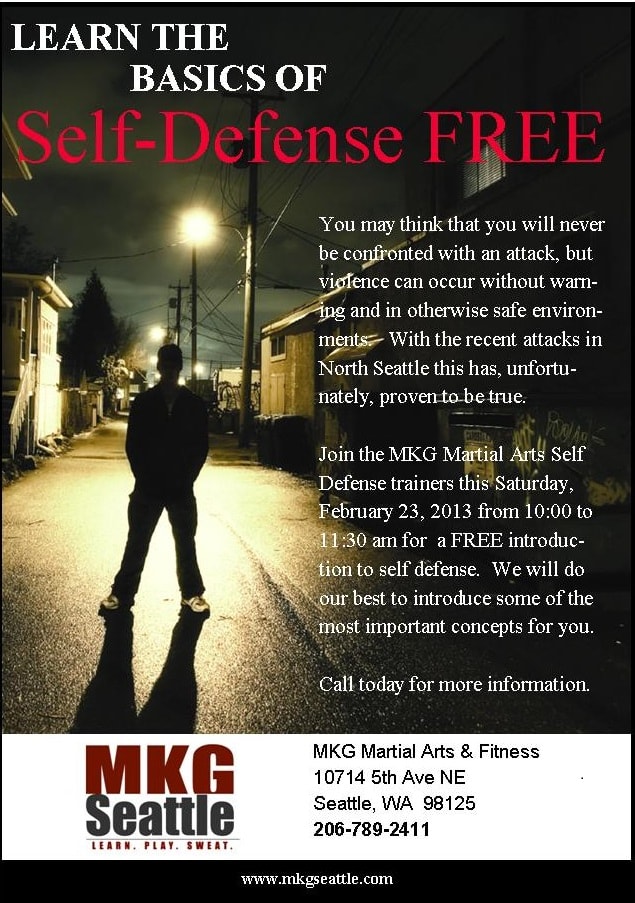 Join us for a FREE self defense class / training workshop in North Seattle this Saturday, February 23rd, 2013.
We had intended to conduct one of our full weekend Self-Defense Training workshops this spring before news of the attacks in North Seattle was released last week. We have instead decided to do an emergency FREE community service mini-workshop as time is of the essence with the attacker still at large.
Please join us on Saturday morning February 23rd from 10:00 to 11:30 am for a FREE self-defense primer conducted by the MKG Martial Arts Seattle self-defense trainers.
We will be opening this one up for women and men as the awareness and avoidance training is appropriate for all people.
UPDATE: We had over 100 people attend the free introduction on 02/23/13.  The FULL course has been booked for March 30 & 31, 2013.  Space is limited.
Please register on this event page to hold your spot.
http://www.mkgseattle.com/programs/adult-programs/self-defense/
FREE Bully Buster and Stranger Danger Events For Kids on March 9th
February 4, 2013
Bully Prevention and Stranger Danger Workshops at MKG Martial Arts.  FREE This Weekend.
We will be offering two workshops for kids ages 5 and up on Saturday, March 9th.  Both these workshops are FREE for everyone in the Seattle community.
First will be a Stranger Danger / Safety Awareness class for kids ages 5 and up.  The class will cover anti-abduction / kidnapping prevention principles in a safe, fun and high energy class.
Following the Stranger Danger workshop at 2:30 PM we will begin our Bully Busters / Kids Self Defense class for kids ages 9 to 16.  As you know bullying has become an epidemic in this country and with the advent of computers and social media the channels and severity of bullying is even worse.  This class will go from 2:30 to 4:00 PM.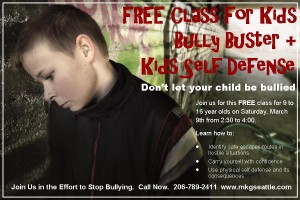 Please join us in our efforts to keep our kids healthier, happier and more confident through our Bully Prevention and Stranger Danger community service programs.
Message to Our Martial Arts For Kids Parents
February 3, 2013
Dear Kid's Martial Arts Parents ,
We hope that you are enjoying the new year as much as we are.  January was a fun month for us as we rolled out some of the changes within the program.
Most of our parents have seen the changes going on, and many have been asking some questions about the specifics, so I wanted to make sure that I shared with  you some of the main details of what is going on with the MKG Kids program in 2013.
As always, some of the belt tests have been altered to reflect refinements within the curriculum.  If your child is green belt or higher, they should inquire about possible changes to their test.
The first major change that we are including more grappling into our curriculum.   Little Ninjas will now be alternating between Kickboxing and Grappling months.  Juniors and Teens will now have the opportunity to work on Brazilian Jiu-Jitsu (BJJ) in the intermediate/advanced classes.  When we added in BJJ we took out the JKD trapping that we had been doing, as the fundamentals were keeping the classes from being as dynamic as we would like them to be.
Juniors and Teens are now moved away from monthly tip tests, and are doing individual attendance cards.  It is the student's responsibility to ring the cards to a Sifu or Sihing (preferably before class) and get their attendance taken care of for the day.  The cards will be kept in the youth oom, in the holder that we have set up.  We cannot mark students off for any day other than the current day.  Responsibility is a key attribute of a martial artist.
Students can do a make up class by coming to an extra day during the week.  If you are a Monday/Wednesday student, that means that you should come to a Tuesday or Thursday within the two weeks after your absence to make up your classes.  Teens and anyone who cannot come on an alternating day can schedule to meet with Sifu Ryan on a Friday at 5:30 pm.
We have a brand new Youth Wall that has been put onto the wall that is in front of the youth mats.  We will have important information up on this wall: flyers and upcoming events, special information, descriptions of programs, etc.
Anyone who would like to share their thoughts/experiences with the MKG Youth Program, please send and e-mail to info@mkgseattle.com and let me know what you would like to put up.
We have a new Black Belt Excellence assignment out right now that we will be  focusing on for the next few months: Goal Setting.  Making and Achieving a goal isn't  something that can truly be done in a single month, it's a task that can take many months, if not years.  If your child has not received a copy of the new Black Belt Excellence assignment, we have extras in the youth room.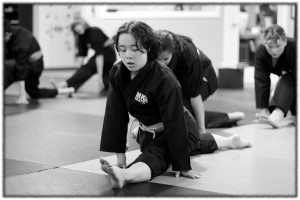 March 2, 2013: "Safety Awareness / Stranger Danger" and "Bully Buster / Self Defense" Workshops.
We will be hosting a pair of seminars to help students focus on being safety conscious.  These seminars will be absolutely free to anyone who wishes to attend them.  Age restrictions are 5+ years old for the Safety Awareness/Stranger Danger seminar, and 9+ years old for the Bully Buster/Self Defense seminar.  Exceptions can be made by instructor approval.
March 29/30, 2013: Black Belt Test.  MKG Youth Program will be hosting it's very first Black Belt Test.  We have two students who have been at MKG for about 7 years, and have shown great skill and focus.  Both will be taking the two day test.  The first day will be a closed test with just instructors.  The second day we invite all of our youth students to join in to watch them complete their test and join in on a potluck!
If you are NOT a student and would like more information on our program please visit this link to get started.

If you have any questions, please let us know.  We are very excited about seeing all of our students continuing to take steps forward in their training.
Sincerely,
MKG Martial Arts Kids Program Staff
Little Dojo Presents: Fook Yueng Chuan Seminar With Steve Smith
February 1, 2013

The Little Dojo / International Fook Yueng Chuan Association Presents:  Fook Yueng Chuan Seminar With Steve Smith
The Little Dojo / International Fook Yueng Chuan Association
(509) 301-2274
Yeungchuan@gmail.com
www.thelittledojo.com
Date: Sat. Feb 23, 12:00-5:00; Sun. Feb 24, 10:00-3:00.
Location: MKG Seattle, 10714 5th Ave NE, Seattle, WA  98125
Investment: $175 for 2 days or $100 for 1 day. CASH ONLY or arrange payment with Steve Smith at the contact information provided.
Will be covering the principles of Fook Yueng Chuan / Shoshin Ryu Karate Jitsu. Fook Yueng was a mentor to the late Bruce Lee and a Chinese Opera player and friend of Bruce Lee's father. Steve Smith is an Inheritor of Fook Yueng's systems.
Topics will include:
- Balance stealing
- Leading
- Skill development drills
- Red Boat Wing Chun
- Mantis / Mantis Chi-na
- Weapons defense
- Partner Work
- Closing and Foot Work
Holiday Gift Ideas For Martial Arts, Fitness and CrossFit
December 18, 2012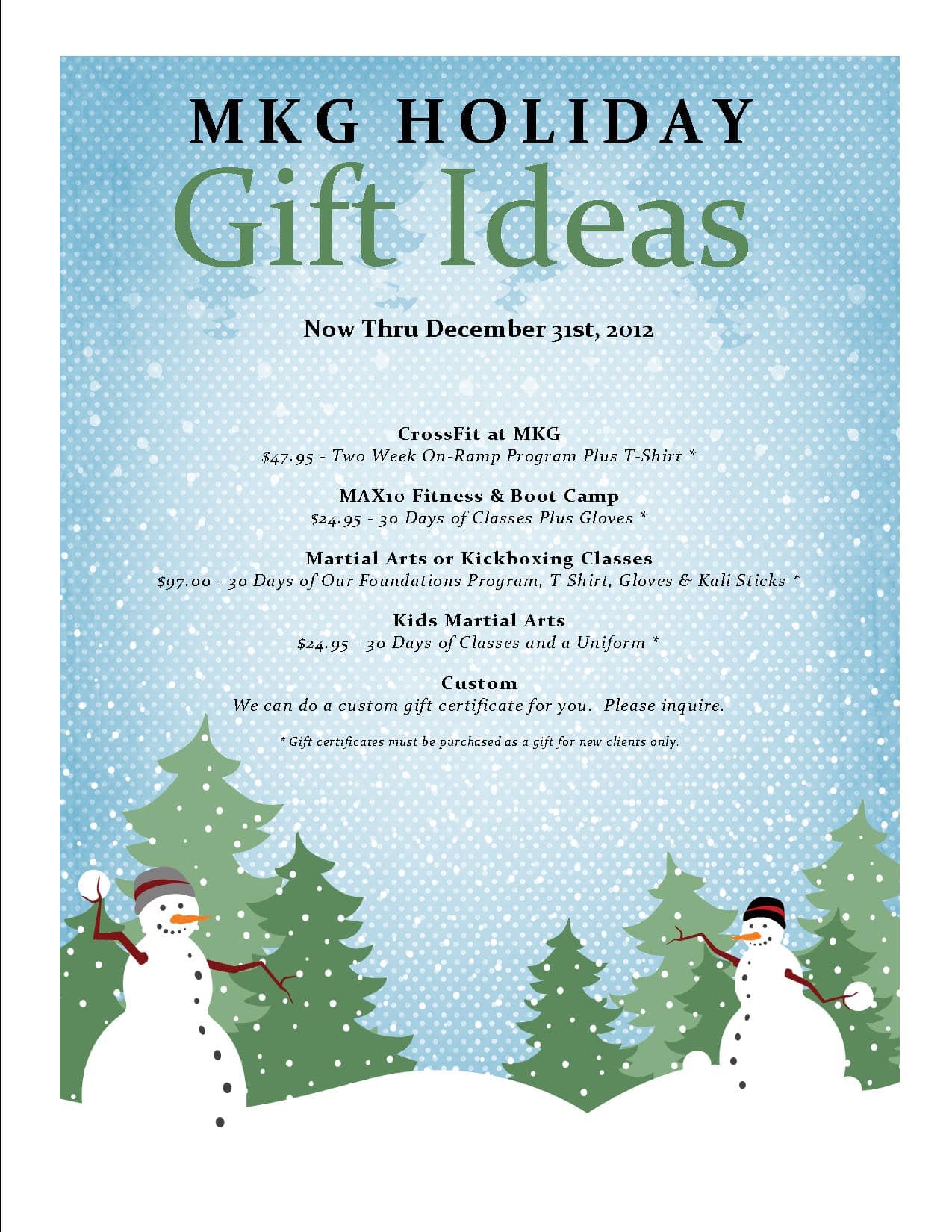 Looking for that last minute holiday gift?
MKG Seattle has a series of great gifts for everyone!
1 Month of MAX Fitness + Gloves for $24.95.

1 On Ramp session + Cross Fit T-Shirt for $47.95.

1 Month of Adult Martial Arts classes + Shirt + Gloves + Rattan Sticks for $97.

1 Month of Kid's Martial Classes + Uniform for $24.95.
Gift Boxes will be available till the end of the month, get them before they are gone!
MKG Seattle – Email Spam Policies / Procedures
December 4, 2012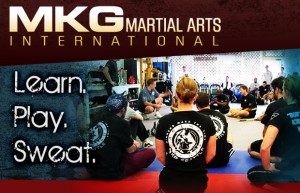 Hello MKG Student and Fans,
We have recently been made aware that some of our e-mails may not be getting to you.  Many of our e-mails come from a third party program called Perfect Mind, and we have been made aware that some e-mail providers see the amount of e-mail coming from Perfect Mind and mark it as a spamming program.  This means that the e-mails aren't being delivered to you, not even to your spam folder.  The e-mail provider is blocking them before they ever get to any filters you can set up.
We do not send email that we would consider to be spam.  We strive to provide content and helpful hints and suggestions rather than simply advertising programs.
We are asking all of our students, including you, to please contact your provider and let them know that you receive e-mails from us that go through a third party (Perfect Mind), and that it is important that they do not block these e-mails from going through.
These e-mails pertain to closures, your account, seminars, and many other urgent matters that you need to know about.  If you have any questions please let us know, and we thank you for your assistance in this matter.
MKG Staff
Black Friday Workout! Burn calories not cash!
November 20, 2012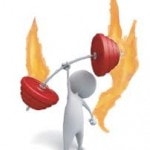 Join the whole MKG crew – martial arts, fitness and crossfit members – for a fun and challenging workout.
Expect nothing; be prepared for anything!  No specific experience required.
Friday, November 23rd at 9:30 am
Closed For Thanksgiving Nov. 22 & 23
November 16, 2012
To All,
We will be closed next Thursday and Friday, Nov. 22 & 23, in observance of Thanksgiving.  Please watch the Facebook page at http://www.facebook.com/mkgseattle for news on a Thanksgiving workout on either Thursday or Friday.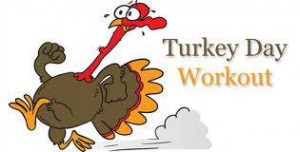 Classes will resume as normal on Saturday the 24th.
Thank you.
MKG Staff
Erik Paulson Seminar in Seattle November 17 & 18, 2012 CSW / STX
November 10, 2012
Combat Submission Wrestling ( MMA ) and STX Kickboxing  in Seattle
Erik Paulson Seminar in Seattle
Date: 11/17 & 11/18
Where: MKG Seattle
10714 5th Ave NE
Seattle, WA  98125
Time: 11:30 to 4:30 Both Days
Price: $140 Both Days / $80 One Day CASH ONLY!
Register On Facebook: https://www.facebook.com/#!/events/373206209429947/
NW Kali/JKD and MKG are proud to announce our first Erik Paulson Seminar in Seattle at the new MKG location.  Sensei Erik is the founder of CSW (Combat Submission Wrestling), and he currently runs the CSW Training Center in Fullerton, California where he trains MMA fighters such as Josh Barnett, Ken Shamrock, Renato Sobral, Cub Swanson, Ben Jones, Craig Wilkerson, James Wilks and Ginelle Marquez. He is closely affiliated with Sean Sherk and Brock Lesnar of the Minnesota Martial Arts Academy. The seminar will be suitable for all levels and is open to the public.  Sensei Erik will cover STX Kickboxing (Savate/Thai/Cross Training) and CSW.
Mixed Martial Arts in Northgate / MMA in Northgate Seattle
MKG Martial Arts Seattle offers mixed martial arts training.  Kickboxing classes, Mixed Martial Arts Classes, Jeet Kune Do Classes, Muay Thai classes and more.  MKG is easily accesible from Northgate, Shoreline, Lake City, Greenwood, Phinney Ridge, Downtown, University District and more.
Functional Movement & Recovery Class For All MKG Students Starting 11/20/2012
November 8, 2012
Phase Functional Movement & Recovery – Starting Tues, Nov 20th  8-8:30p.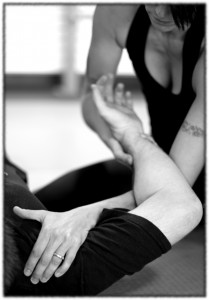 Dr. Ray's New Class
Improve your functional movement & mobility:

Decrease your recovery time between workouts

Enhance your movement and performance

Learn great tips for self treatment for your aches and pains
Open to All MKG, MAX Fitness and CrossFit at MKG Students!
** The class will be a rotating curriculum and will include, but won't be limited to foam roller exercises, core stability and strengthening, basic kettlebell work and dynamic stretching.  It's a great supplement to your workouts.  The class will help you recover faster from your workouts and it will help you prevent and get over those nagging aches and pains.  And it's only 30 minutes!!
Raymond Sue, B.Sc., DC
University Chiropractic
8221 5th Ave. NE Suite 1
Seattle, WA 98115
P: 206.525.2811
F: 206.525.2812
W: www.univchiro.com
4:00 PM CrossFit On-Ramp Starts Tomorrow! 206-367-0981
October 9, 2012
4:00 PM CrossFit On-Ramp Starting 10/09 and 10/10/12
If you are looking for CrossFit in Seattle, MKG has just opened a new Seattle CrossFit location.
We are excited to have the space and interest to finally be able to offer 4:00 pm classes.  The On-Ramp program is required prior to participating in the program so don't miss this opportunity!  You can choose between Tue/Thu or Mon/Wed.
Series C starts 10/09 on T/Th
Series D starts 10/10 on M/W
You need to call right away for more information.  206-367-0981